CME Dean is part of elite circle of CHED Technical Panel for Economics
Details

Written by Ulderico B. Alviola

Published: 28 June 2022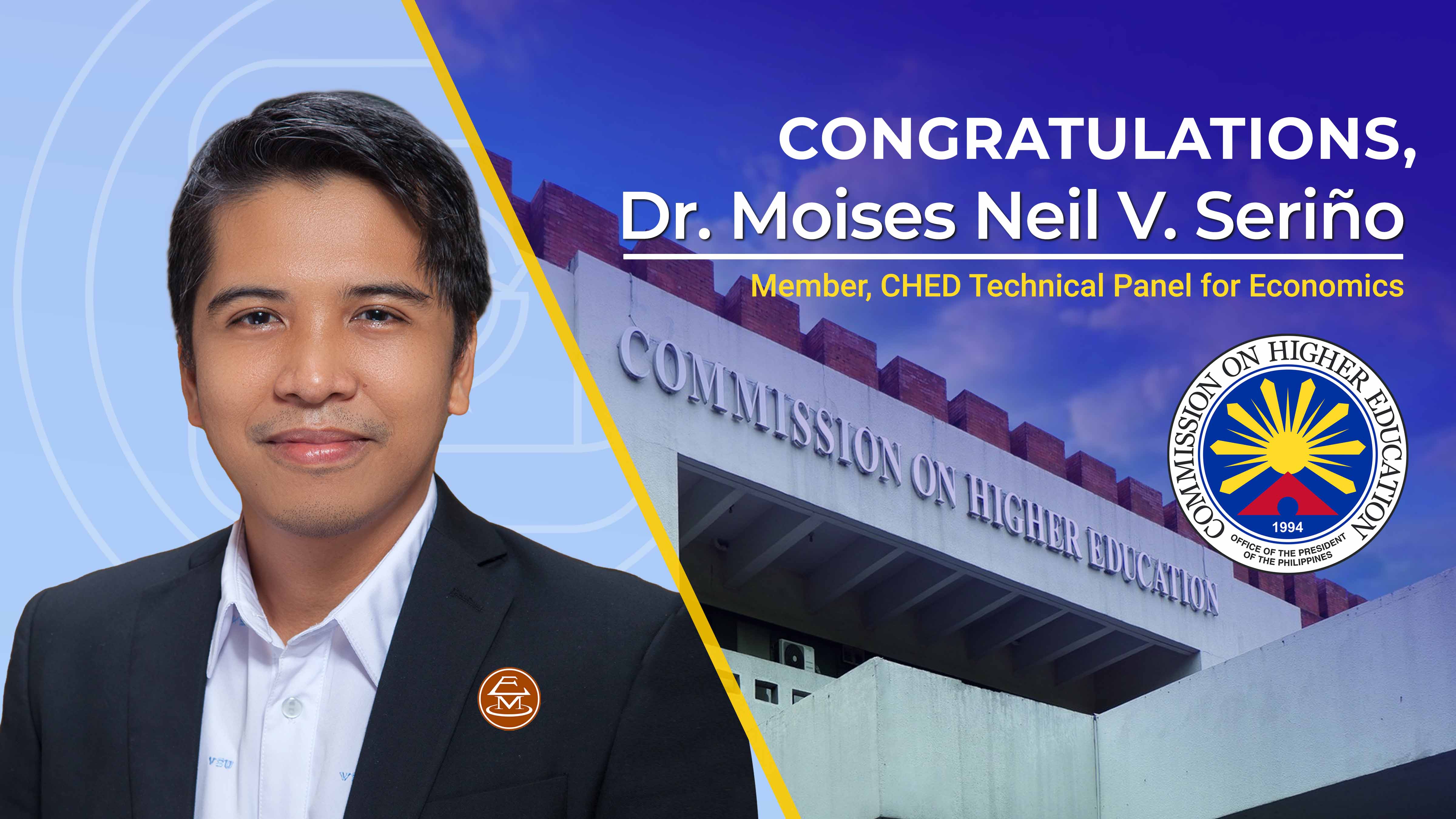 Dr. Moises Neil V. Sereño, the Dean of the College of Management and Economics (CME), joins the seven-member team of the Technical Panel for Economics of the Commission on Higher Education (CHED).
Chaired by no less than the Chancellor of the University of the Philippines Los Baños (UPLB) Dr. Jose V. Camacho, Jr., this new set of technical panel will serve as CHED's advisory and recommendatory body in the field of economics who will serve for the next four years.
Joining this elite circle of seasoned academics and professionals are UPLB College of Economics and Management (CEM) Dean Dr. Agham C. Cuevas, Bangko Sentral ng Pilipinas (BSP) Monetary Board Member Dr. V Bruce J. Tolentino, Philippine Institute of Development Studies (PIDS) Senior Research Fellow Dr. Roehlano M. Briones, De La Salle University (DLSU) Professor Dr. Lawrence B. Dacuycuy, and Northern Bukidnon State College (NBSC) President Dr. Catherine Roween C. Almaden.
All of them took their oath in a virtual ceremony on June 7, 2022 led by outgoing CHED Chairperson Dr. J. Prospero E. De Vera III.
In his speech, UPLB Chancellor Camacho committed to craft the economics education roadmap to make economics education relevant in these challenging times. He also emphasized the mission that the Technical Panel wishes to accomplish in the next four years.
"We wish that this technical panel will contribute in examining curricular programs offered by higher education institutions, in making the economics faculty at par with international standards, and in the conduct of scholarly economics research," Dr. Camacho explained.
For his part, the young and dynamic CME Dean expressed his thanks to both Chancellor Camacho and CHED Chairperson De Vera.
"I would like to thank UPLB Chancellor Camacho for his endorsement to include me as a member of the Technical Panel. I'm also grateful to Chair De Vera for his trust and confidence that he supported my selection as a member of this core group whose main task is to design a more inclusive economics curriculum that will match the industry practice," Dr. Sereño said.
The CME Dean also described how his inclusion to the CHED Technical Panel will be beneficial for VSU.
"As a member of the Technical Panel, it will benefit VSU and CME for the development of our curricular offerings that will be at par with national and international standards. It can also help us strengthen our programs because of better access to information that will lead to increased collaborations among universities and various agencies, enhance our scholarly works and improve the delivery of our research activities," Dr. Sereño added.
Dean Sereño is currently an Associate Professor of the VSU Department of Economics. He earned his master's degree in International Development Program (IDP) at the International University of Japan in 2009 and finished his doctorate degree in economics at the University of Göttingen in 2014.
The CME Dean is also the Founding Director of the Visayas Socio-Economic Research and Data Analytics Center (ViSERDAC), one of the three newly established centers in the Philippines funded by the Philippine Council for Agriculture, Aquatic and Natural Resources Research and Development (PCAARRD).
This new research unit in VSU offers socio-economic research and development services including data analysis, training, research writing, and publication, among others.
Recently, ViSERDAC also launched its own academic journal called Socio-Economic Research and Development Studies (ReSERDS) where Dean Neil serves as the Editor-in-Chief.