An accomplished banker's 7 lessons to VSU grads
Details

Written by ELTBestil

Published: 19 April 2016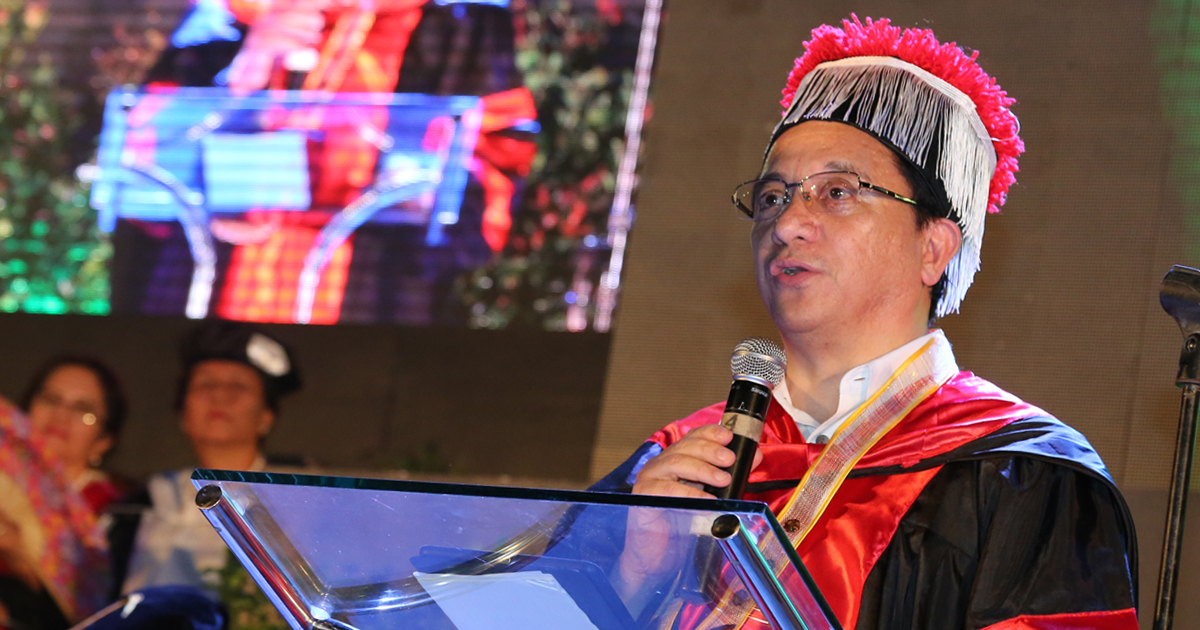 From being a roving teller, cashier, and bookkeeper in the United Coconut Planters Bank after his college graduation in1982, Bernie Tocmo rose up the ladder to become today's Executive Vice President of the Philippine National Bank. He had led several banks to their success, and received several awards.
But, life is not always fair, Tocmo said.
A VSU alumnus, Tocmo shared to 1,054 VSU graduates the seven principles he lives by to overcome life's challenges.
Learn continuously. Tocmo emphasized to the graduates to never stop learning. "The university will not be able to support you, but it will always be there to remind you to continuously learn," said Tocmo.
Think positive. What you can conceive, you can achieve. But the path may be difficult, Tocmo reminded.
Great works are not performed by strength, but by perseverance. The secret is to first know your weaknesses, Tocmo said. He shared his own experience when he tried to improve his English speaking skills by going to work very early in the morning to read the memos many times.
Don't be afraid of failures. Think of doing something as if in a dress rehearsal, Tocmo inspired. He recounted his own troubled times and reminded the graduates to remain truthful and lead honest lives. "I learned to be truthful and honest in VSU," said Tocmo.
Uphold honesty and humility. "VSU taught me to be humble and to go on with integrity," said Tocmo. Take your integrity intact, Tocmo added. Being humble is more important than being wise, he said.
Be generous. "When you help others, you start planting happiness," inspired Tocmo.
Serve others. Tocmo regards serving others as the most important value.
"Life is not about enriching ourselves; we should all do our share in nation-building," said Tocmo. He said that by holding the degree they earned, the graduates also hold the opportunity to change the Philippines. Leave with the ideals our university carries, Tocmo emphasized.
"Life is not always fair," Tocmo declared as he shared to the graduates that there are people who were born rich and can afford life's luxuries or expensive education from well-known schools.
But when he graduated 34 years ago, he said to himself, "I will not feel inferior [nor be] bound by self-imposed limitations."
At the end of his speech as the 63rd Commencement Exercises speaker, he reminded the graduates of what he will always be: "proud of what the university has taught [us]."