Prominent Cebu businessmen tour VSU for agri-enterprise exposure
Details

Written by Ulderico B. Alviola

Published: 05 May 2022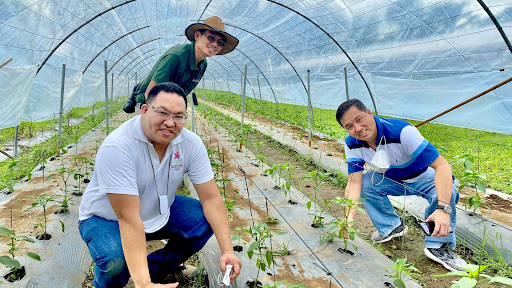 Benedict Y. Que, the President and Chief Executive Officer (CEO) of Golden Prince Hotel and Suites and the Golden Valley Hotel drops a visit to the Visayas State University for an agri-enterprise exposure on April 7 and 8, 2022.
The Golden Prince Hotel is an emerging three-star accomodation and leisure place located near the Cebu Business District and is the pioneer of rooftop agriculture in the Visayas wherein they grow some of the vegetable produce that they serve inside their hotel.
Because of Mr. Que's achievement in the local hotel industry, he earned the moniker the Golden Boy of the Hospitality Industry in the South for introducing innovations like heritage exhibitions to feature the rich culture of Cebuanos in his hotel chains including urban gardening that utilizes hydroponic technology for lettuce production.
He is also a prominent member of the Cebu Chamber of Commerce and Industry (CCCI) and has been appointed chairperson of local business month celebrations in Cebu City.
In his first visit to VSU, Mr. Que was joined by GoNegosyo mentor Rey E. Calooy who is considered as the Tiger Entrepreneur of the South because of his rags to riches story after making it big in the competitive world of local retail and micro-packing industries.
Mr. Calooy, on the other hand, is not new to VSU as he has been invited twice by the College of Management and Economics (CME) as speaker in business and leadership summits for agribusiness and economics students.
He has been active in accepting interns from the university for his company called RNC Marketing Philippines, a leader in micro-packing innovation, where he currently serves as the Founding Chairman. Mr. Calooy is also a former public servant for being elected as Vice Mayor of Libagon, Southern Leyte from 2013 to 2016.
Together, Mr. Que and Mr. Calooy now co-manages an agricultural business startup called the Philippine Inno-Ventures Agriculture Cooperative (PIVAC) that mainly aims to strengthen the local cacao industry in Central and Eastern Visayas regions.
With VSU's international reputation in sustainable agriculture and environmental conservation, the two businessmen arrange an agri-enterprise tour for two days to visit some of the demonstration farms of the university including the major research centers to expose themselves with some of the promising technologies that are generated by the university.
Mr. Que and Mr. Calooy were also joined by Mr. Aaron Que, a young hotelier, marketer, entrepreneur, tourism advocate and a motivational speaker who is also serving as the de facto public relations officer of PIVAC by packaging the many activities of the organization in social media.
On their first day of visit, the group were toured in two research centers and 2 academic departments of VSU which include the National Abaca Research Center (NARC), the National Coconut Research Center in the Visayas (NCRC-V), the Department of Food Science and Technology (DFST) and the Department of Tourism and Hospitality Management (DTHM).
At NARC and NCRC-V, they were oriented with the various technologies that were generated at the VSU and were even convinced to purchase hundreds of tissue-cultured macapuno planting materials that they intend to cultivate in Southern Leyte.
At DFST and DTHM, they were briefed with the shared service facility of the DTI called the food testing laboratory while also engaging in a meeting with the hospitality and tourism management faculty members for future collaborations and possible internship opportunities for students.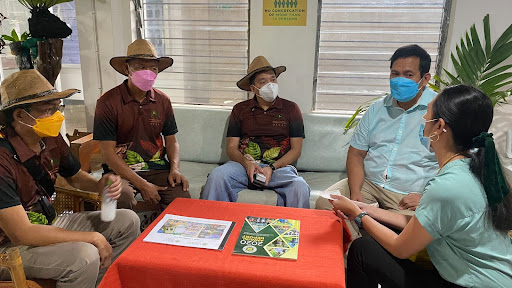 The Cebu businessmen engaged in a short exploratory talk with DTHM faculty members for possible internship opportunities for VSU tourism and hospitality management students.
On their second day, the group spent most of their time at the Philippine Root Crops Research and Training Center (PhilRootcrops) for facilities tour and a quick orientation on the many root crop technologies and food products that were developed by VSU scientists and researchers.
It was also at PhilRootcrops that they were introduced to the Portable Vacuum Dryer Machine, a technology developed by the team of Dr. Daniel Leslie S. Tan who previously bagged the Regional Unlad Award of the Department of Science and Technology - Technology Application and Promotions Institute (DOST-TAPI).
They were amazed with the many potentials of the portable vacuum dryer in developing innovative and healthy food products that are not yet available in the Philippine market today.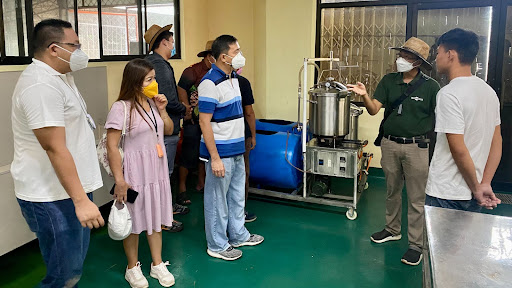 Mr. Que (in blue and white striped shirt) and Mr. Rey Calooy (in dark green shirt) asked questions on the many possible uses of the Portable Vacuum Dryer as they were shown with a working prototype of the machine.
They concluded their VSU tour by seeing the demonstration farm of the Ampatola, a grafted bittergourd that combines ampalaya and patola that is proven to provide greater yield and is resistant to both bacterial and fusarium wilts. These are common diseases that affect solanaceous crops.
This demonstration farm is funded by Australian Center for International Agricultural Research (ACIAR) with support from the Philippine Council for Agriculture, Aquatic and Natural Resources Research and Development (PCAARRD) and is currently managed by the VSU Department of Horticulture (DoH).
Mr. Que was so impressed with the many technologies and food products developed by the university that he is currently interested in bringing in more members of the Cebu Chamber of Commerce and Industry (CCCI) for an arranged exposure trip and a more extensive training on food processing and agricultural production.
"If only I knew of VSU before in my younger years, I may have chosen to study here and learn the many things you can offer in this university. I see VSU even as a gift to the whole Philippine islands considering all the amazing things you do to achieve sustainable development," Mr. Que said.
Mr. Calooy agreed and expressed how many people in Cebu are missing out so much because they are not aware of the many potentials of VSU as a global leader in agricultural research.
"This is the place where you can be smart, where you can learn the practical things that are based on tested scientific practices including how to execute it in the field. You can see everything here from A to Z, from the bottom to up. I see VSU as a major player in ensuring food security, technology generation, and of course in employment especially that agri-based enterprises are very recession-proof, whether during the pandemic or in other global crisis that may come in the future," Mr. Calooy explained.