Blood is thicker than struggles: A VSU endeavor awardee's story
Details

Written by Hanna Joyce Macawili

Published: 25 June 2018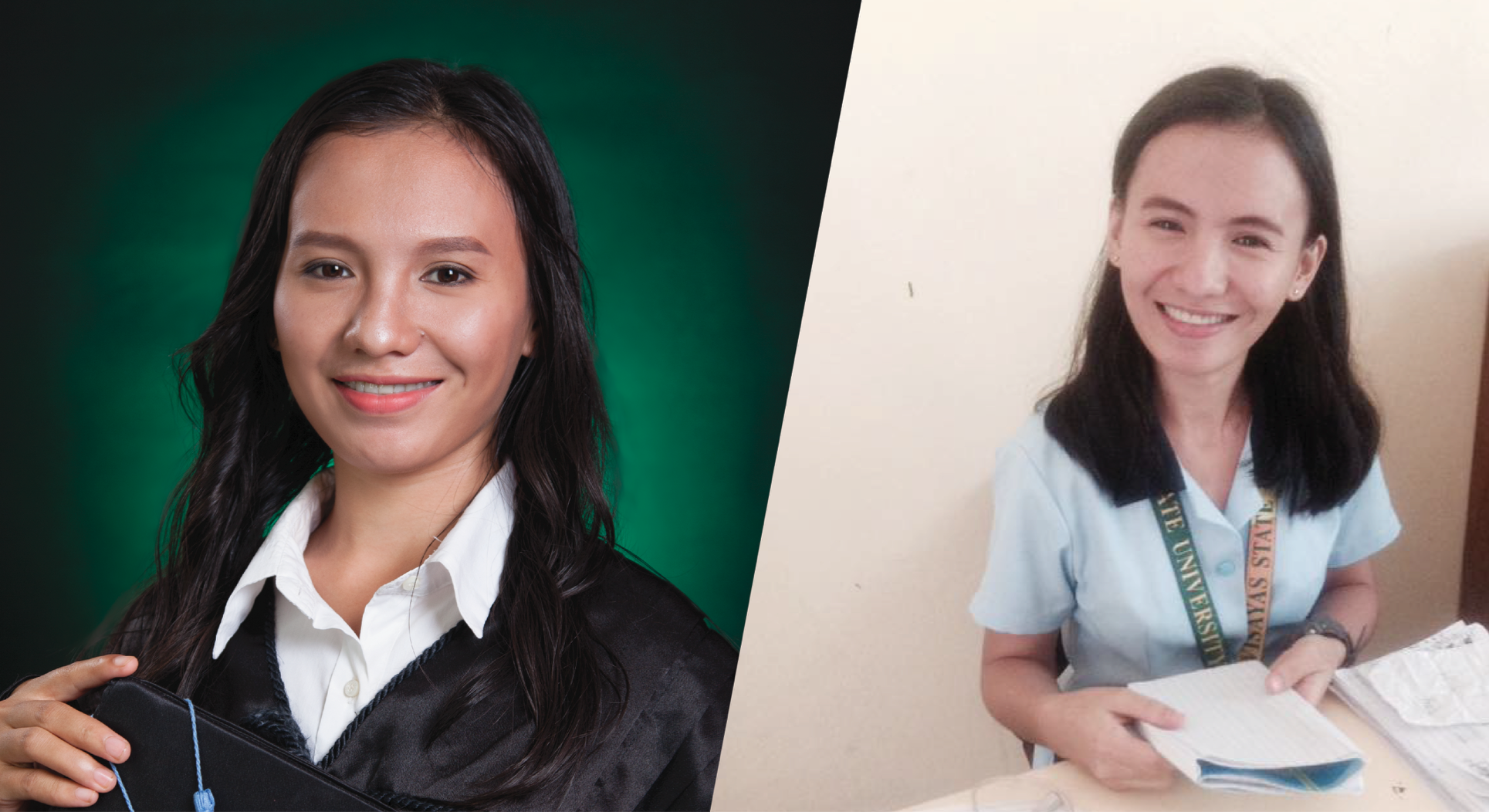 Born fifth to a family of 9 siblings, Evangeline had no choice but to make a living at a very young age; else her family would not have anything on their dinner plate.
"Pag grade 1 ug grade 2, magtinda-tinda naman ko. Akong ihatag ni Mama ang uban halin hangtod naanad ko nga naa ko'y income."
[I started selling goods when I was in Grade 1 and 2. I would give some of my earnings to my mother. Eventually, I got used to earning money from work.]
Natives of Barangay Tagaytay, Mahaplag, Leyte, the hardships of the Mazo family root from her parent's lack of stable occupation, and her father's severe drinking habits. All children of the family had to set aside their studies to work and find food for the family.
"Ako Papa kay naa ra sa balay kay palahubog man lage so wa siya'y income. Magpasuhol si Mama pero wala nama'y magsuhol ngadto sa amo. So, naanad mi tanan nga magtrabaho para sa among kaugalingon."
[My father just stays at home. He earns no income because he was always drunk. My mother used to do odd jobs for others but that was before. We all got used to working for ourselves.]
Evangeline's mother asked her to stop schooling but she insisted. Despite the difficult situation, she did not want to give up on her studies.
Earning money is tough even for adults, but elementary pupil Evangeline had to endure this to survive. To be able to buy her school uniform, she would clean her neighbors' houses and wash their laundries. She would also cook in her friend's house and help in her classmate's bakery shop to get free meals.
Giving up is not in her options.
"Bisag uwan o init, mosulod ko'g klase. Magpandong ko og dahon sa saging kung uwan."
[Even when it rains, I would still go to school and even use banana leaves as my instant umbrella.]
However, life's challenges are not the only things that always get in the way. Evangeline's family also had to bear the discriminations of their neighbors.
She told that their neighbors would look down on them because they are poor and her father was a drunkard. She recalled when she was in elementary that she was bullied by other kids. She would usually cry but would wipe her tears when she gets home because she's not used to crying in front of her mother.
"Pero usahay kinahanglan pud ka muhilak para mugaan imong paminaw."
[But there are just times when you need to cry your heart out to feel better.]
She realized this when her favorite elder brother passed away. She told that when her brother died, she never shed tears in front of her mother to show her that they can get through it. But when she's on her own, that's when she allows herself to cry.
Her brother, Carlo, was her greatest motivator when he was still alive. From him, she learned that finding ways must be the only option. Her brother would encourage her to go back to work so that she wouldn't live a life like them, with nothing to eat. He would only go to school a day or two so he could work for the rest of the week.
College happened and Evangeline had to continue. The hardships given to her are endless but she has to move forward.
"Pag-graduate nako'g high school, nakahunong ko'g one year. Nag-trabaho ko sa balay sa magpa-eskwela nako, tabang-tabang. Tanan na trabaho, magpa-tuktok ko'g manok, atiman sa baboy, farm ug basakan. Naghuwat pa ko ato kay ang magpa-eskwela nako, naa pa'y gipahuman og eskwela."
[I stopped schooling for a year after graduating from high school. Someone promised to send me to school but I still had to wait for the other scholar to finish. So while waiting, I helped out with the chores around their house. I would feed the chickens and the swine and would tend the farm and the rice field.]
But after a year, she found a way to send herself to school. She then made her way to Baybay, Leyte to pursue college. She applied for DSWD's Pantawid Pamilyang Pilipino Program (4Ps) and went to VSU on her own, having the only money left from the Yolanda assistance her family got.
She once again resorted to part time jobs to survive her first months in VSU. She worked at eateries in Baybay and started selling goods. She would do laundry of other people, too. Sometimes, Prof. Manolo B. Loreto Jr., Dean of Students, would ask her to help with paper works in the University Student Services Office (USSO) and in the Department of Teacher Education (DTE), as well. She would apply as a student assistant in Ilang-Ilang and Sampaguita dormitories during summer terms. She did some tutorials in Baybay and helped during fiestas.
Interested in entrepreneurship, freshman Evangeline enrolled in BS Agribusiness. However, after a semester, she decided to shift to Bachelor in Secondary Education (BSEd) and majored in Filipino as this was her mother's dream for her.
Living alone in VSU taught Evangeline important life lessons.
"Naa to'y time nga nahutdan ko'g kwarta kay ako mang gihatag sa ako pamilya tanan. Unya wala ko'y maduolan kay wala ma'y magpautang. Wala ko'y kaon ato usa ka adlaw, arang gutoma! Sukad ato naka-learn ko nga kung naa kay kwarta, dapat ka-antigo ka mobalance-balance. Dili jud hutdon kay kung wala kay maduolan, at least naa ko'y magamit. Kadtong higayon wala na jud to nautro. Basta naa ko'y kwarta kay mohipos gyud ko."
[There was a time when I gave all the money I earned to my family. I later realized that I left nothing for myself. I tried asking money from some people, but no one is willing to lend me some cash. I didn't eat for a day. After that, I learned to budget my money and to really save some amount for tough times. That experience didn't happen again. Whenever I have money, I would really save it.]
Evangeline proved that sustaining her college studies and her family's needs could be possible. From time to time, she would give a little amount to her family for their needs as well. She eventually saved up some money to start a small business venture. She was able to provide for her mother and even allocate some allowance to her younger siblings.
If there is one core lesson that life taught Evangeline, it is to remain thankful in the midst of struggles.
"Ayaw pangutana nganong ing-ani man ka, nganong ing-ana man. Blessed gihapon ka kay naa pa gyu'y mas grabe, mas worse og gi-agian kaysa nimo. Magpasalamat ta nga naa'y problema. Kung wala kay problema, di ka kahibalo kung unsa'y imong target, asa ka padong, asa ka dapit. Okay ra nang naa'y problema kay ang problema mao nay makapa-strong nimo. Mao to sa akong papa nga bug-at kaayo ang impact kay wala mi naka-eskwela. Siya ang akong gihimong motivation ngano nga naningkamot ko. Mao to nga wala nako nag-lagot ni Papa."
[Don't ask why you have this kind of life. You are still blessed because there are people out there who had been through worse experiences. Let us be thankful for problems because without them, you wouldn't know your target, where you are and where you're going in life. Problems make us strong. My father's inability to send us to school had a great impact on me. So, I made him a motivation to work hard and do better. I don't have grudges against my father anymore.]
"Work hard and work wise," the 21-year old dreamer also says. For her, while working hard is significant, being wise in work by knowing your worth as a worker is also equally important.
Evangeline Mazo, future educator, is this year's VSU Endeavor Awardee. She graduated this 15th of June and she is proud to be the first to finish college among her siblings. Evangeline proved that when family is put as a motivation to reach goals, no struggle would stand in the way. Blood is thicker than struggles, this is her story.