VSU reaches out to stranded dormers through counseling
Details

Written by Allen Gil

Published: 11 July 2020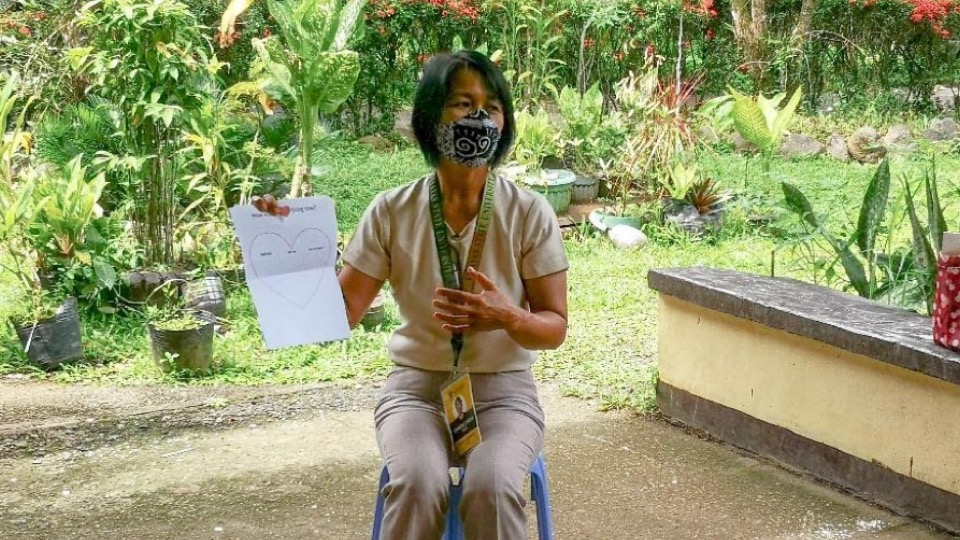 The University Student Services Office (USSO) spearheads a mental health counseling session to more than 40 stranded dorm occupants who are currently billeted inside the Baybay City campus since March 16, 2020.
This initiative was launched sometime in June as part of an intensified psychosocial support program of the university on top of an online telecounseling session offered not just to students but also to some VSU faculty and staff including locally stranded individuals (LSIs) who were affected by the COVID-19 pandemic.
For the first week of July, USSO guidance counselors clustered the remaining 40 stranded students into small groups for a face-to-face mode of counseling with social distancing. In this way, the dormers were able to have an interactive sharing of experiences using some counseling techniques and resources that have been tailored-fit to students for a more open discussion of their feelings and their current emotional state.
In a session held in Molave Men's Hall, Ms. Mary Ann Cobico, USSO guidance counselor emphasized the impact of this pandemic on the mental and psychological health of a lot of people.
"It is okay not to feel okay. It is okay to feel anxious, sad, or stressed because it is a normal reaction to this abnormal situation," she said.
As a way of coping with this challenging situation, Ms. Cobico encouraged the stranded dormers including other VSU students who are now stuck in their respective homes to be more open to people around them and pursue new things that can possibly spark their interest.
"In the meantime, you can try to pursue things that will motivate you, you can reach out to others, develop your talents, or take the opportunity to learn something new now that we have the time to do it. It is important to stay mentally healthy and remember that this too will pass," she concluded.
Mr. Adrian Luchavez, a sophomore agriculture student, expressed his gratefulness to VSU and USSO for holding a free counseling session for them.
"Nindot man siya kay nahatagan mi'g higayon nga makapagawas sa among mga gibati kay mingaw baya gyud kaayo. Kahilakon baya ko gamay kadtong gipa-share na mi sa amo experiences pero lu-ag sa kasing-kasing oi nga nahimo to namo," the stranded dormer shared.
[This is a nice program because it gave us the opportunity to freely express our sentiments especially that we miss home so much. I was teary-eyed when we were asked to share our personal experiences but it also gave me relief when I was able to release what I felt.]
Another student, Mr. Reynaldo Pamanian, Jr., revealed how VSU took care of them for four months now.
"Sa sugod pa lang sa quarantine kay gitabangan man jud mi sa VSU even up to now. Gihatagan mi'g weekly relief goods tapos karon, personal gyud bitaw ka bisitaon sa taga-USSO so kabalo gyud ka nga concerned gyud kaayo namo ang VSU kay wala gyud mi nila pasagdi," the forestry student said.
[Ever since the quarantine started, VSU has been there for us to take care of our basic needs. We were given weekly relief goods then right now we get to be personally visited by the staff of USSO for a counseling session. So we are assured here that VSU cares for us and that they have been there for us all throughout this pandemic.]
Aside from face-to-face counseling, VSU has also reached out to its students through an online telecounseling program aired via Facebook called 'Serbisyo Kabataan Online'. This program airs twice weekly from June until August with the aim of connecting to all Viscans in the time of COVID-19.
VSU students who wish to reach out to USSO for personal psychosocial support can arrange an online meeting with one of VSU guidance counselors by sending a message to the USSO Facebook page.