2016 students' fair now open
Details

Written by AGSarmiento

Published: 16 November 2016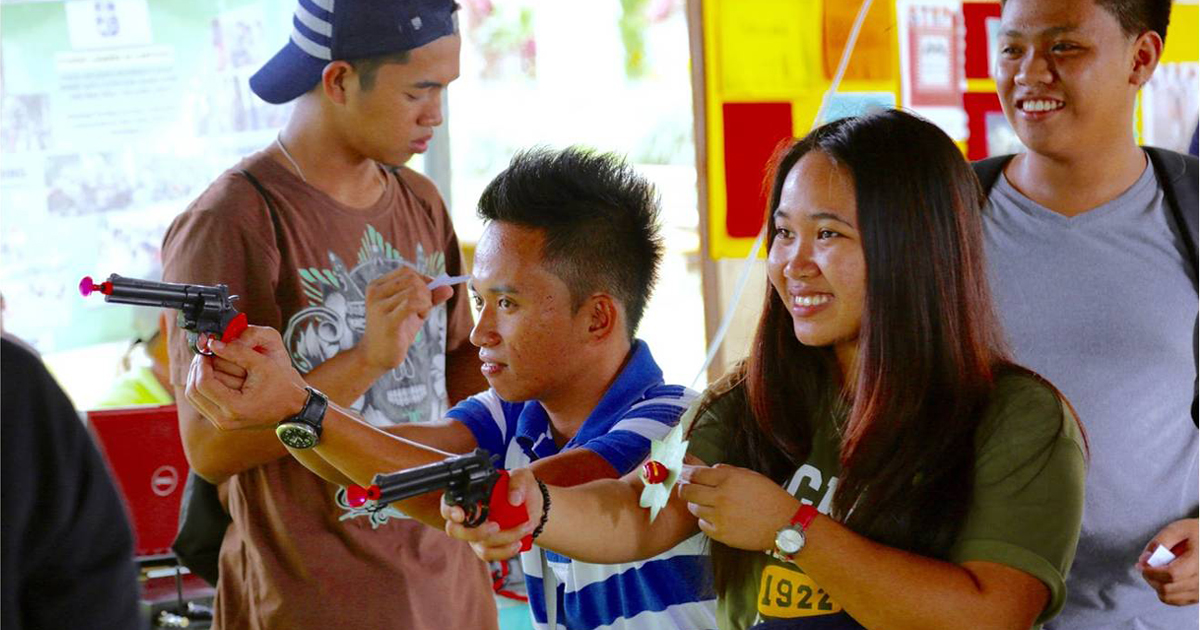 The students' fair dubbed as University Student Services Days 2016 officially started today, November 16, at the VSU Eco Park.
Initiated by the University Student Services Office (USSO), the three-day activity seeks to deliver guidance services closer to the students of the university, said Marwen A. Castaneda, one of the guidance counselors at VSU.
Castaneda said the USSO Days started out as Guidance Services Days in 2014 as an initiative to help students feel less intimidated in availing of the university's guidance counseling services.
"This year, we are bringing not just guidance services but also other student and university-related services closer, literally, to students...We cannot provide such services to students if they feel apprehensive in approaching us," said Castaneda noting that most students were usually unaware of the student-related services being offered.
Since the Guidance Services Days, USSO has been implementing the activity annually. More than 90% of the students who participated in the fair over the last two years, Castaneda said, gave a positive response and were suggesting the conduct of the activity in the next years.
Besides guidance counseling, the booths at the Eco Park offer games and services related to scholarship and financial assistance, career development, testing and appraisal, information on student organizations, and student wellness.
Activities during the student fair include:
Day 1 (November 16, 2016)
8:00 - 9:00 AM - Opening Program
9:00 a.m. - 5:00 p.m. - Simultaneous activities in the different booths for all
10:00 a.m. - 12:00 nn - Poster-making contest (1st schedule)
1:00 p.m. - 3:00 p.m. - Poster-making contest (2nd schedule)
Day 2 (November 17, 2016)
8:00 a.m. - 5:00 p.m. - Simultaneous activities in the different booths for all
8:30 a.m. - 12:30 nn - 1st session for M.A.R.K. Program (Making A Remarkable Knowledge),
2nd session for M.A.R.K., Venue: ISRDS Training Hall
2:30 p.m. - 4:00 p.m. - A.B.L.E. Program (A Beautiful Learning Experience), Venue: ISRDS
Training Hall
5:00 p.m. - 6:00 p.m. - 3rd Session for M.A.R.K., Venue: Eco Park
Day 3 (November 18, 2016)
8:00 a.m. - 3:00 p.m. - Simultaneous activities in the different booths for all
8:30 a.m. - 5:00 p.m. - ESGP-PA General Assembly, Venue: Convention Center
2:00 p.m. - 3:00 p.m. - Closing Program
The following booths are open to all students:
Information Booth - C/DBGF Seniors Bulletin, C/DBGF Juniors Info, Campus Ministry Sharing,
HIV-AIDS Organization of Peer Educators (HOPE VSU)-poster sessions, trivia quiz, film showing, red ribbons pinning, hand painting)
Scholarship and Financial Assistance Booth - "Mission Possible"
Career Development Booth - Skills and Resources Appreciation (S.A.R.A.) for 2nd-year students, Self-assessment, R.I.A.S.E.C., Focus and Succeed Tomorrow (F.A.S.T.) for 3rd-year students, shooting and aiming games, vision board collage, goal buddies, PESO Info Bulletin for graduating students
Testing and Appraisal Booth - Testing info bulletin, Updating SIS for all upper-level students
Student Organization Booth - Student organizations fair
Guidance Wellness Booth - Art Attack (expressive arts through Mandala, express arts through Interactive Christmas Tree Express, poster making contests on three relevant issues)