ECOSystem: VSU's centerpiece for development
Details

Written by ELTBestil

Published: 11 November 2016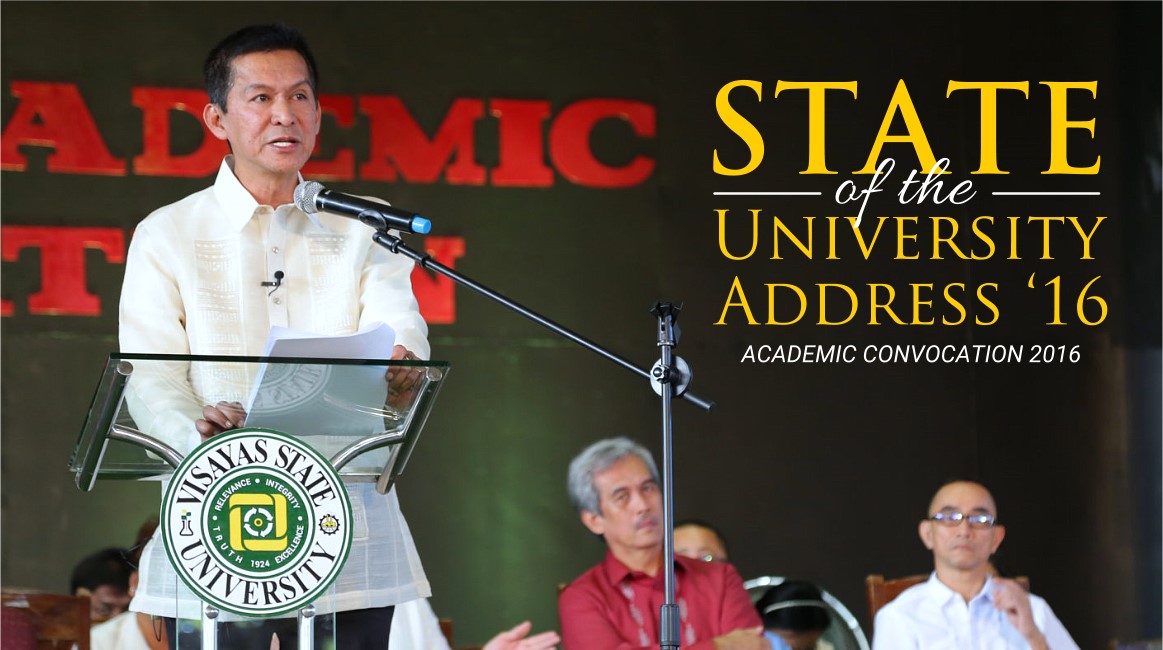 In his State of the University Address, VSU President Dr. Edgardo E. Tulin disclosed the strategy for the development of the university, during the Academic Convocation, November 11.
The centerpiece of VSU's progress, Dr. Tulin summarized, is ECOSystem, where the first three letters form the acronym for Expanded infrastructure and human resource, Competitiveness through strategic knowledge hubs, and On-time accreditation and quality assurance.
Expanded infrastructure and human resource
Year 2017 will see the following developments in infrastructure:
New Balay Alumni which will serve as a home not only for VSU alumni who wants to visit the university, as well as for visitors who treat the university campus as their second home.
Biotechnology Building in support to the Biotechnology curricular program at VSU.
Connectivity and online enrollment
Expansion of the VSU Gymnasium that will soon house academic and cultural events
Alumni Plaza that will serve as a venue to highlight the contributions and significant achievements of the alumni of this university. The plaza aims to endow students with a beautiful oasis for study and interaction while providing a pathway through the heart of the campus. It will be an appropriate venue for small group discussions, student meetings to foster learning and harnessing their talents.
VSU also prides in the number of faculty members and staff sent for graduate studies here and abroad. Some 123 faculty and staff were provided scholarship and fellowships this year, an unprecedented number sent for graduate education.
Competitiveness for strategic knowledge hubs
Creation of the following knowledge hubs are in the pipeline:
Environment conservation hub as a repository of knowledge and technologies in environmental management, climate change and disaster risk reduction.
Innovation and advanced technology hub worth PHP 36M to provide an enabling environment for faculty and researchers to pursue creativity and knowledge discovery. This will also serve as a learning environment for students who wish to undertake cutting-edge research.
Ecotourism hub to serve as a model of an environment-friendly university campus.
Tulin said the university will capitalize on its reputation as one of three "dark green" schools in the Philippines.
"Our goal is not only to attract tourists in campus; rather our primary responsibility is to educate tourists and let them appreciate things that we are doing to preserve and protect nature…demonstrate farm-based and processing technologies [which generate ideas] for business and other purposes" said Dr. Tulin.
On-time accreditation and quality assurance
VSU had started its ground work for ISO 9001:2008 Accreditation, an international standard thatdeals with the fundamentals of quality management systems. The university is also gearing up for ASEAN University Network accreditation to gain recognition in the ASEAN community, Dr. Tulin said.
In his speech, Dr. Tulin commended all faculty and staff who have earned recognitions from various scientific bodies and government agencies.
Held every school year, the Academic Convocation is a venue for VSU's key officials to be introduced to the new students and partners, and to pay tribute to returning scholars of VSU.