#AAACU2018: S&T education as a powerful tool for sustainable growth
Details

Written by Isabelle Amora

Published: 22 October 2018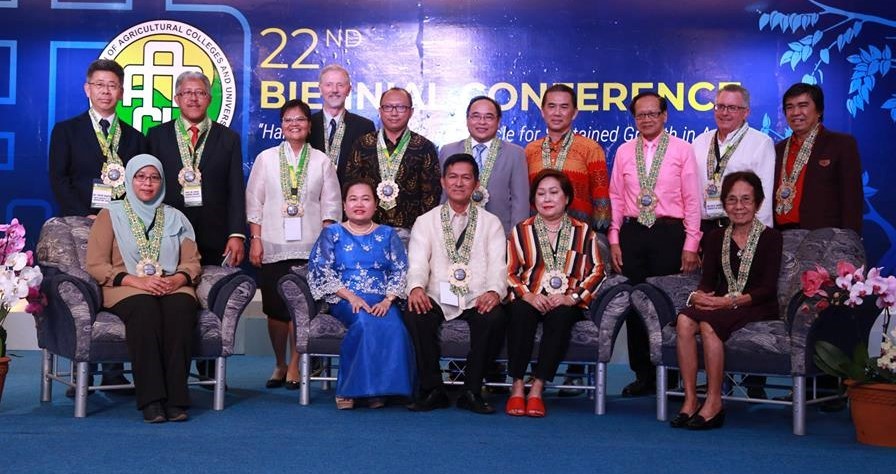 During the 22nd Biennial Conference of the Asian Association of Agricultural Colleges and Universities at Visayas State University, international and national plenary speakers highlighted the critical role education plays towards sustainable growth in the changing global setting, particularly in the field of agriculture, science and technology, environmental conservation, and allied fields.
Dr. Fernando A. Bernardo, first president and founder of the then Visayas State College of Agriculture (ViSCA), now Visayas State University (VSU), and former AAACU president, said that the 21st century is changing and higher education institutions (HEIs) should be ready to address emerging challenges by having a strong focus on science and technology (S&T).
"A university should be able to establish strong extension projects, address environmental issues such as climate change and biodiversity loss, improve the curriculum on agriculture and entrepreneurship, among others," Bernardo said.
Dr. John J. Kennelly, President of the Global Confederation of Higher Education Associations for the Agricultural and Life Sciences (GCHERA) in Canada, firmly believes that university graduates can become agents of positive change in addressing global challenges in agriculture.
"Graduates have the ethical foundation, knowledge, skills—especially leadership, entrepreneurship, and creativity—to succeed in their future careers," Kennelly said.
Dr. Lee S. Yudin, Dean of the College of Natural and Applied Sciences at the University of Guam, complemented Kennelly's notion when he talked about the trends/challenges on sustainability in today's setting including population growth, increasing competition for natural resources, food loss and waste, climate change, agricultural productivity, and innovation, among others.
Yudin said that curriculum changes, internships or real-world experiences, and science-based research help prepare students to meet these challenges.
Mr. Arsenio G. Barcelona, President of Harbest Agribusiness Corporation, back these up, advocating for a constant improvement of the curriculum and student exposure to professionals in different industries. Apart from the knowledge and skills that schools provide, though, Barcelona believes that institutions should also help form good character.
"The formula to be a successful agri-entrepreneur is 10% science, 40% skills through experience and 50% good character," Barcelona said.
Dr. William D. Dar, President of the InangLupa Movement, a social movement working for an inclusive, science-based, resilient and market-oriented Philippine agriculture, said there is a link between education, agriculture, agri-business, and sustainable development.
"HEIs play a big role in science, technology, and innovation. Extension programs should anchor on the research programs of the academe, which in turn should anchor on its curriculum programs," he said.
Dr. Abdul Shukor Juraimi, Dean of the Faculty of Agriculture at Universiti Putra Malaysia (UPM), drove the same point when he talked about transforming agricultural education, research, and extension towards sustainable development.
Juraimi highlighted that revised curriculum agriculture education should be relevant to the current status of agriculture; research endeavors should address issues on agriculture, and extension projects should be able to disseminate the findings and technology of the research to the community.
As Atty. Joselito C. Alisuag, Director IV of the CHED Office of Internal Quality Assurance Governance, has this to say, "Peace and development for our country should come from university systems."
Dr. Weerapon Thongma, Vice President for Student Development and Alumni Relations at Maejo University, Thailand, focused on environmental conservation through education.
More than 20 colleges and universities in the Philippines participated in the four-day international forum, anchored on the theme, "Harnessing Education as a Vehicle for Sustained Growth in Asia." The 2018 conference was held at VSU from October 15 to October 18.