VSU grad tops August 2018 special teachers' exam for OFWs
Details

Written by Kim Kenneth Roca

Published: 22 October 2018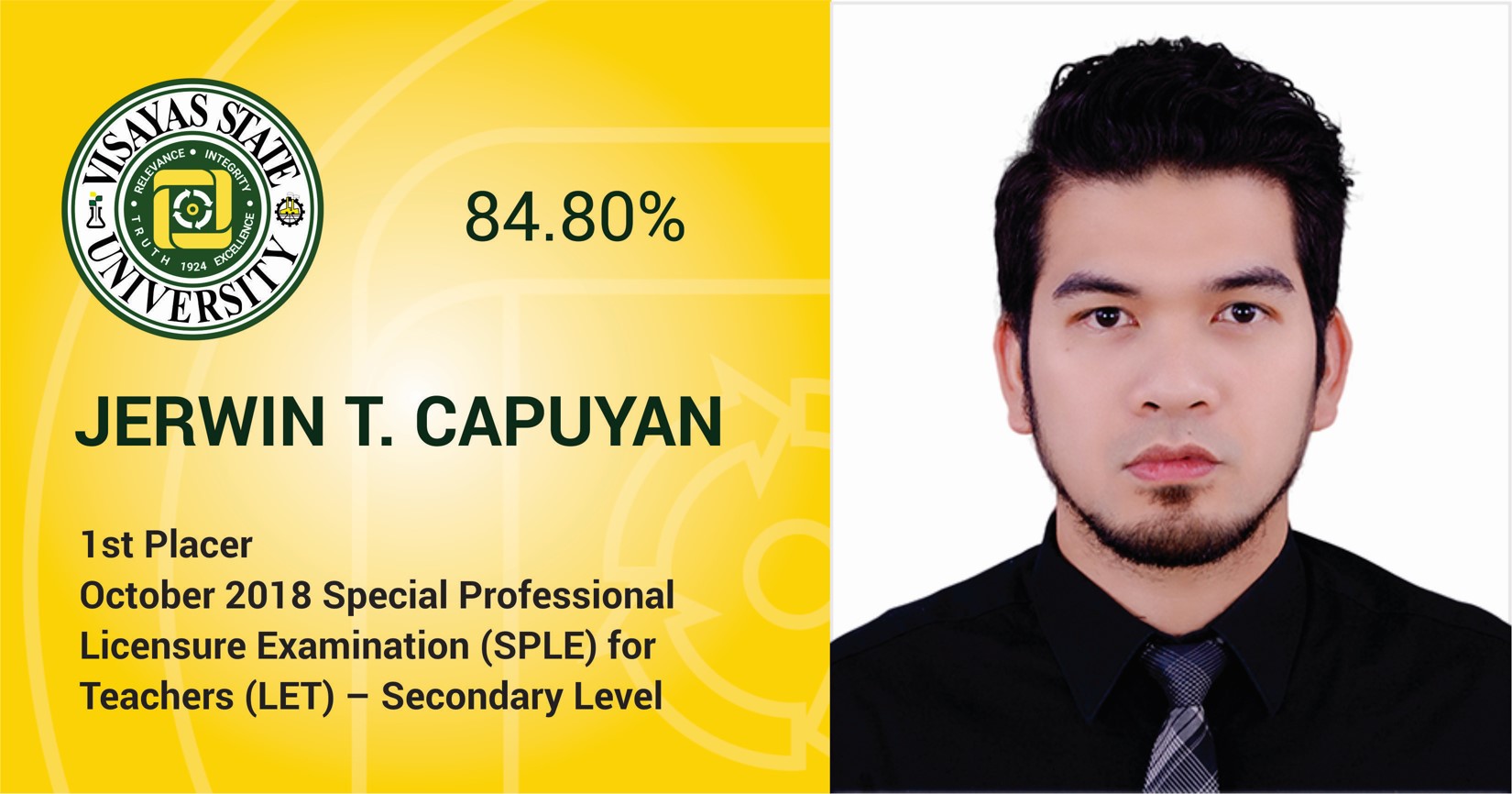 Baybay City – Jerwin Tude Capuyan of Visayas State University (VSU) topped this year's Special Professional Licensure Examination (SPLE) for Teachers (LET) – Secondary Level with a passing rate of 84.80 percent.
A native of Ormoc City, Capuyan is a graduate of VSU's Bachelor of Science in Development Communication (BSDC) program major in Community Broadcasting in 2010. He earned his professional education units via distance learning through the University of the Philippines Open University (UPOU) while he is working fulltime as a teacher in an international school in the Middle East. He also obtained his Master's in English degree at the Leyte Normal University (LNU).
"I did not get my target score, but I made it to the top," Capuyan said in a Facebook post that he shared few hours after the release of official exam results.
Mr. Capuyan also revealed that he kept his target very high even if he felt that he was not well prepared for the exam considering his very hectic teaching schedule and the huge demands required from them by his current employer.
In an exclusive online interview with the VSU Media Team, he also expressed his sincere thanks to his family and the institutions that molded him to become a better person.
"Now I am just grateful to my family, my friends, my former professors and teachers and even to my neighbors whose trust and confidence in me were valuable in making me accomplish amazing things in life. And of course, thanks and praise goes to our Lord God for making this possible."
As released by the Professional Regulation Commission (PRC), only 17 out of 164 takers (10.37%) for the elementary level passed the exam and 56 out of 277 examinees (20.22%) passed for the secondary level.
The exam was conducted last August 24, 25 and 26, 2018 in Abu-Dhabi, United Arab Emirates; Al Ahmadi, Kuwait; Al-Khobar, KSA; Doha, Qatar; Jeddah, KSA; Manama, Kingdom of Bahrain and Riyadh, KSA, Muscat, Oman; and Singapore.
The Board for Professional Teachers who administered the examination is composed of Dr. Rosita L. Navarro, Chairman; Dr. Paz I. Lucido, Vice Chairman; Dr. Paraluman R. Giron and Dr. Nora M. Uy, Members.
Mr. Capuyan is presently working as a middle school teacher of English, Language and the Arts at the Abu Dhabi National Oil Company (ADNOC) Schools based in Madinat Zayed, Western Region, Abu Dhabi.