VSU registers 21 new agric'l, biosystems engineers in 2018
Details

Written by Isabelle Mae Amora

Published: 30 August 2018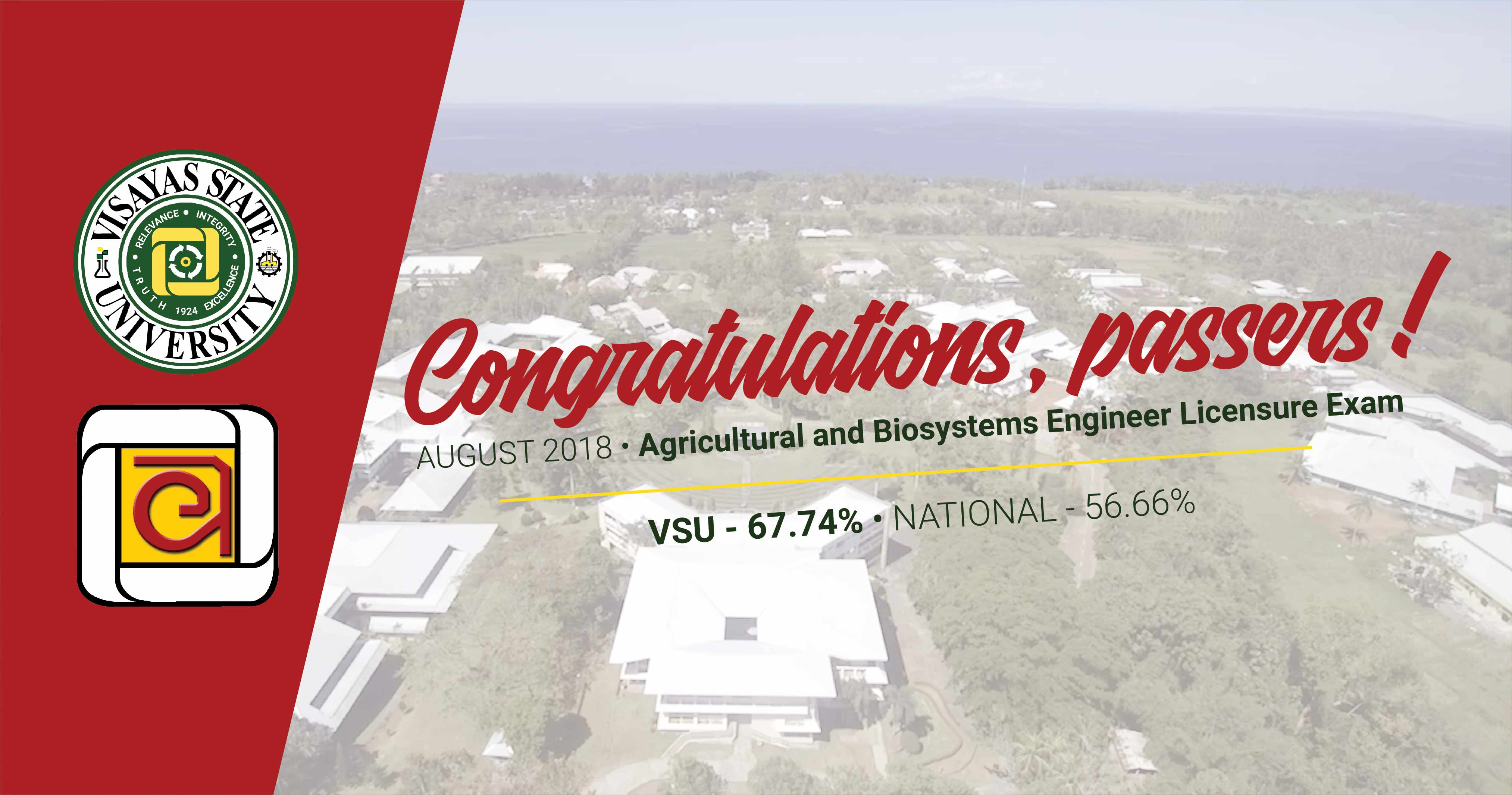 A total of 21 out of 31 Viscans successfully passed in the August 2018 Agricultural and Biosystems Engineer Licensure Exam, registering an institutional passing percentage of 67.74%. Of these, 18 were first time takers.
The national passing rate is 56.66%, with Central Luzon State University making it as the top performing school, registering an 80.46% passing average.
Mr. John Carlo Llamoso Navasero of the University of the Philippines Los Baños is this year's topnotcher with a grade of 84.96%.
Here is the full list of VSU passers in the 2018 Agricultural and Biosystems Engineer Licensure Exam:
Asilo, Everdell B.

Austria, Rojen F.

Bartolabac, Bryan Alvin P.

Calipon, Jerome James Gideon E.

Capuras, Madelyn C.

Cormanes, Jan Marc Y.

Ecoben, Anne Glorence L.

Flores, Rogen Jan P.

Inciso, Ma. Divine Grace T.

Infiesto, Mylyn R.

Lamoste, Jane Christine L.

Lor, Roland Jay P.

Lua, Jaysonh B.

Moncada, Christine L.

Pedraza, Jaecelle A.

Pepito, Banjomar S.

Rebuyas, John Rey L.

Sacay, Jonalyn F.

Semillano, Romelyn M.

Sioc, Jenneth B.

Toron, Jessica A.
The licensure exam was administered on August 22 and 23 in the cities of Manila, Baguio, Cagayan de Oro, Cebu, Davao, Legaspi and Tuguegarao. The results were released by the Professional Regulation Committee on August 28, 2018.