VSU is 3rd top vet school, 50 Viscans pass 2018 board
Details

Written by Kim Kenneth Roca

Published: 20 August 2018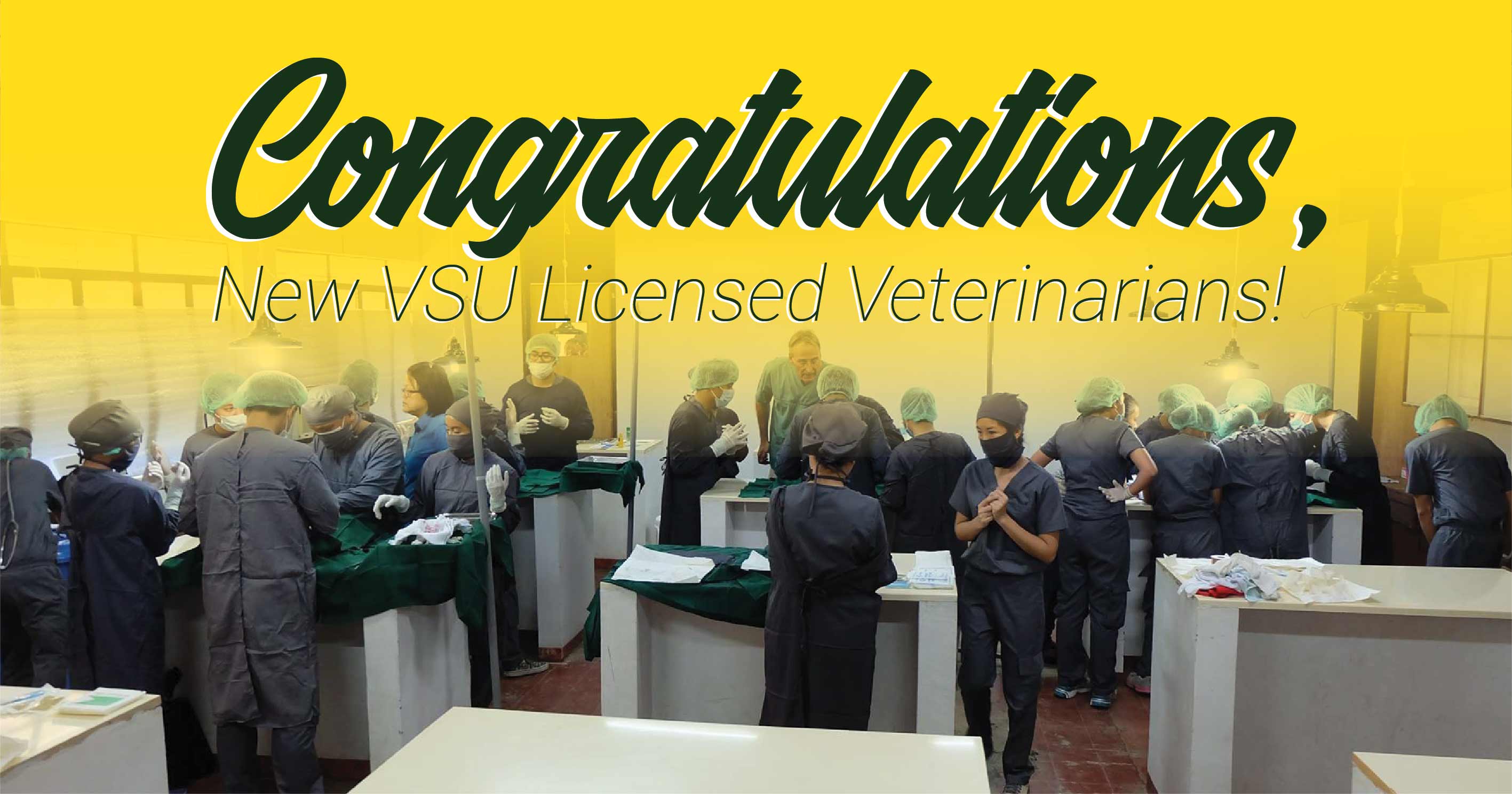 A total of 50 out of 70 takers from VSU successfully passed the August 2018 Veterinarian Board Exams, as released by the Professional Regulation Commission on August 20, Monday.
VSU garnered an institutional passing average of 71.43%, with 79.03% passing rate for first-time takers, higher than the national average of 47.89%. This placed the university on the 3rd spot as the top performing school.
The University of the Philippines Los Baños placed first as the top performing school with an average of 93.55%. Central Luzon State University came in second with 73.49%.
Dr. Philip John Sajol of Central Mindanao University tops the exams with a passing rate of 83.66%.
Overall, only 455 of the 950 takers had passed the exam.
The licensure exams were administered by PRC Board of Veterinary Medicine headed by its Chairman, Dr. Ma. Elizabeth D. Callanta and its members, Dr. Mariano LL. Jovellanos and Dr. Maximino M. Montenegro on August 15-17, 2018 at PRC testing centers in Manila, Baguio, Cagayan de Oro, Cebu, Davao and Tuguegarao.
Here is the full list of VSU passers for the 2018 Veterinarian Board Exams:
ABALLE, CORTEZ RIEVE LANTICSE
AGUILAR, ADOLF JON LOUISE PABALATE
ALINSUB, CHARLES JARDIAN CONSAD
ANDAG, VENNY JOSEPH PATILLA
ANLAP, AVE AYM AUSTRIA
ARQUION, JESSA MARIE ARNIGO
ARTAJO, ZEAL CONBRIO ALPAY
BALASO, IVY MAE CENIZA
BANZON, DA VINCI LANTONG
BERCADES, NANNETTE JOY ARSENIO
CABODIL, DUANA MAY VILLAMOR
CAIBIGAN, VIENA MIRA ESTOLERO
CELIZ, JOSE ROY ROCABO
CORTES, JERICO SENECA
CORTES, MARK JOSHUA
CRISPO, MA NIKKI XENNIA ARMENIA
DAGANTA, FERNANDO REY ACABO
DALAGUIADO, HAZEL LACHARON
DE LOS REYES, NNEKA MAILEE CAPEÑA
DUARTE, CERISE NATAÑO
ENRIQUEZ, CAMILLE RESMA
FEGI, JOANNE PATRIZ PEPITO
FEGIDERO, ELYN MAE OPARIL
GABAY, IRENE MAE TUBONGBANUA
GABUAN, MNASOR PAUL LEDESMA
GACITA, HOPE DESIREE LOYOLA
GADONG, SHEEN ERICA QUILOS
GARCIA, SHAIRAH MARIE IMAN
GEMOYA, SHINLY CUMAWAS
HOPE, JEAN ALIBIO
IGNORO, LEONYBEL CUENO
IGOT, DONNA MAE ITAC
INCISO, CYNTHIA FORTUNE DULFO
ITOM, SAMANTHA BELLE MERQUITA
KATANGKATANG, MARION GRACE NARIDO
KUSIN, ALI-AKBAR MACOG
LUDEVESE, FLOREMAY LLORENTE
MANGINSAY, JHEA GUINTO
MENDIOLA, CRYSTAL DALUNOS
MIGRIÑO, RAULITO VILLANUEVA
NUÑEZ, HEXELSA JOY CUESTA
ONG, PERKIN CHARLES NEMENZO
ORIG, EDU GELO LABTANG
PANTONINO, VENCIE RAMOS
PAPONG, ROMARICO ONDRAS
RAÑIN, ROSELLE ANN PEÑONES
REZAGA, CHERRY LUZ LINCO
SANGALANG, LOVELY LEAH VILLARGA
SUMAGANG, JOHN CARLO BUHIAN
VILLARTA, BERNIE CANDELADA