VSU's performance in 2017 vet licensure exam upped
Details

Written by ELTBestil

Published: 21 August 2017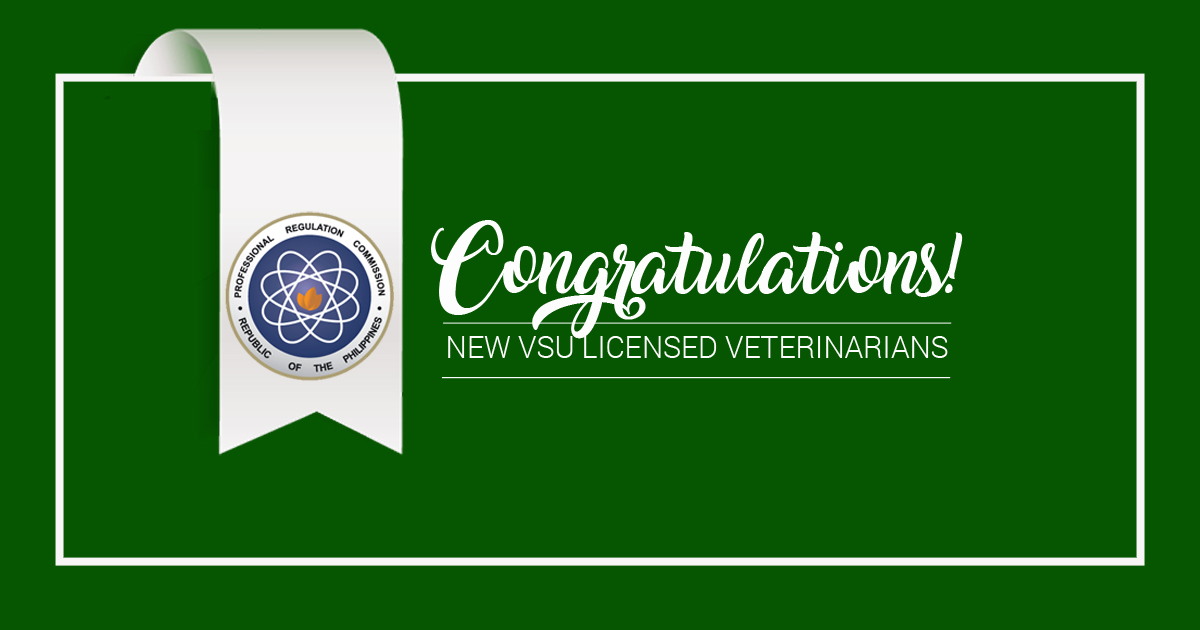 VSU's performance in the 2017 veterinarian licensure examination had increased by around seven percent from its 2016 feat, the Professional Regulation Commission (PRC) disclosed, Aug. 18.
The passing rate improved from 56.67% in 2016 to 64.29% this year after 18 out of 28 takers finished the examination successfully.
The newly licensed veterinarians from VSU are the following:
ABIT, Jo-Ann Salada
ABRINICA, Glen Tumala
ALMOSA, Andy Matunog
AMOTO, Marjorie Goson
BACULE, Bernard Campo
BICO, Jerome Palejaro Jam
DESCALLAR, June Clyde Bitolinamisa Jc
ESCARLOS, Mary Ann Tabada
GABAY, Donna Lynn Tubongbanua
GARCIA, Dave Gardner Tapayan
LUMAIN, John Philip Lou Machica
MANGINSAY, Natalie Molo
MANUTA, Sharmaine Kay Abes
MARGALLO, Warren Gay Arpilleda
NIYO, Yanilyn Llanto
POLINAR, Jesa Ken Loayon
SALARES, Erik Francis Orais Sicnarf
VILLEGAS, Ma. Anicka Limaco
PRC said that 391 out of 862 takers nationwide passed the exam, registering a national passing percentage of 45.36. This is an increase from the 42.91% national passing rate last year.
This year, Central Mindanao University emerged as the top performing school with an 80% passing rate.
PRC released the results one day after the last day of the examination on Aug. 15-17.