#ProudViscan: Espejo lands 4th place in 2021 Vet's board
Details

Written by Allen Glen C. Gil

Published: 10 February 2021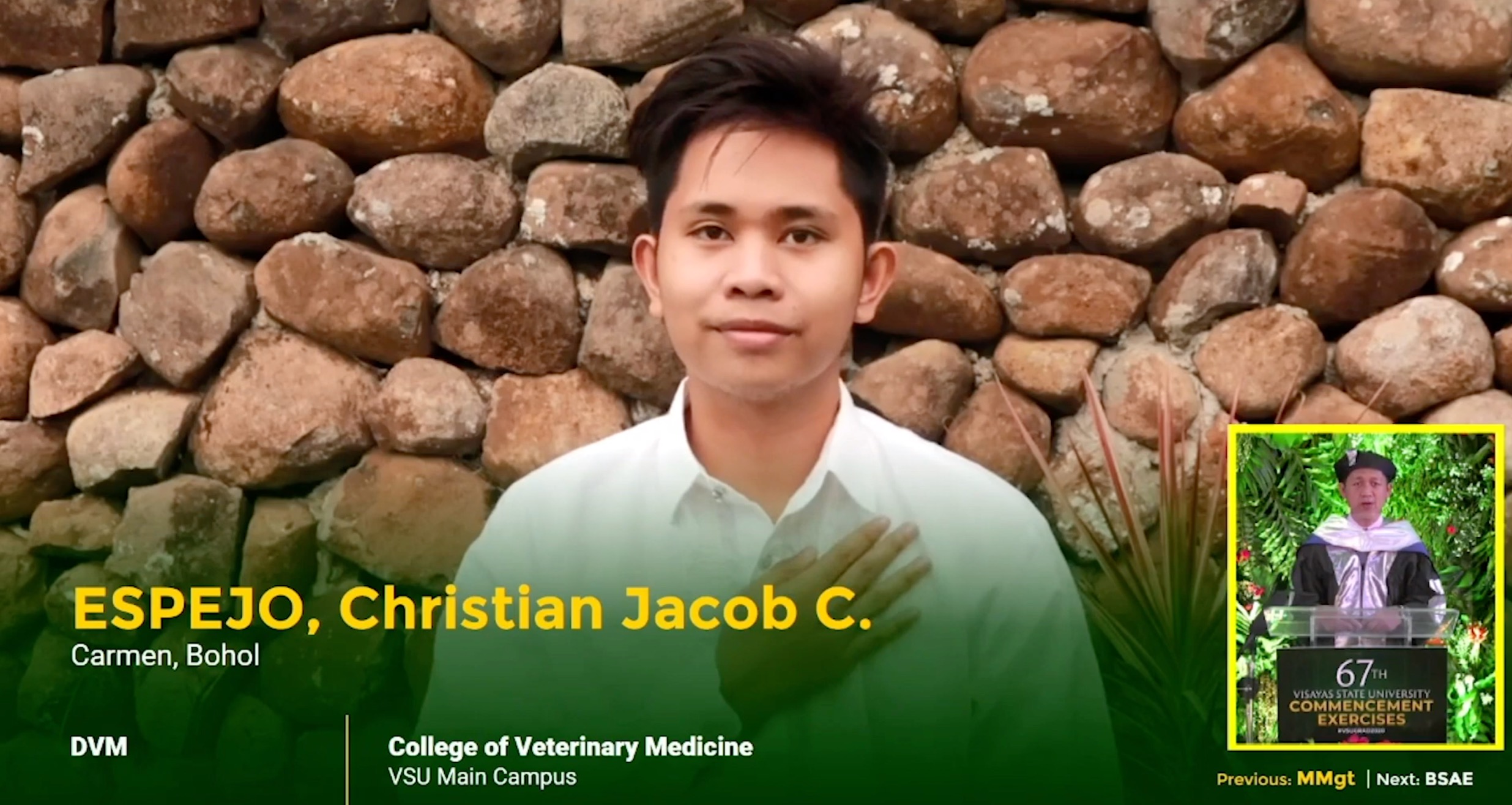 Viscan Christian Jacob C. Espejo turned out to be one of the topnotchers of the February 2021 Veterinarian Board Exam, taking 4th place among 696 passers across the country.
Joining Dr. Espejo are nine other newly licensed veterinarians from the Visayas State University:
Dr. Shiela Mae G. Bolambot
Dr. Kirk Michael C. Caniga
Dr. Marie Irene Therese D. Casas
Dr. Ellen Joy Cuyacot
Dr. Maria Fe Teresa Fores
Dr. Mari Denise Amphy A. Layola
Dr. Inna Mari F. Mago
Dr. Antonette Sia
Dr. Kyle D. Tubigan
In an interview, Dr. Espejo said that he was surprised to be included in the list of topnotchers because of the overall level of difficulty of this year's board exam.
"I'm very happy to hear this news because never did I expect to land fourth place. All of my friends whether from VSU or from other schools really felt that this year's board exam was quite tough," says Dr. Espejo.
Asked about his plans after taking the boards, Dr. Espejo said he hopes to get a master's degree in the future.
"Currently, I will fulfill my two-year required service from my scholarship provider. But I'm hoping to pursue a master's degree in public health or zoonosis very soon."
Dr. Espejo is a native of Carmen, Bohol and will soon be working in Bacolod City with the Lakpue Drug, Incorporated (LDI), which is one of the country's leading providers of quality medicines for the gamefowl industry.
"On behalf of VSU-CVM, I highly congratulate our VMLE 2021 takers for braving it out during this pandemic," said Dr. Santiago T. Peña, Jr., the Dean of VSU's College of Veterinary Medicine (CVM).
"For those who passed, we wish you the very best. For those who didn't make it this time, remember the Dedication you have put in, that this result does not define your Value, and that Miracles still happen. God has great plans for you, to give you success and a good future. Don't despair, keep the faith. Keep on keeping on!," he added, using D-V-M as an acrostic.
The Professional Regulations Commission (PRC) will hold one more licensure exam for veterinarians this year. The first was on February 2-4, 2021 and the next one will be conducted sometime in August.