VSU campus radio launches program on disaster preparedness with East-West Center
Details

Written by Allen Glen Gil

Published: 15 February 2021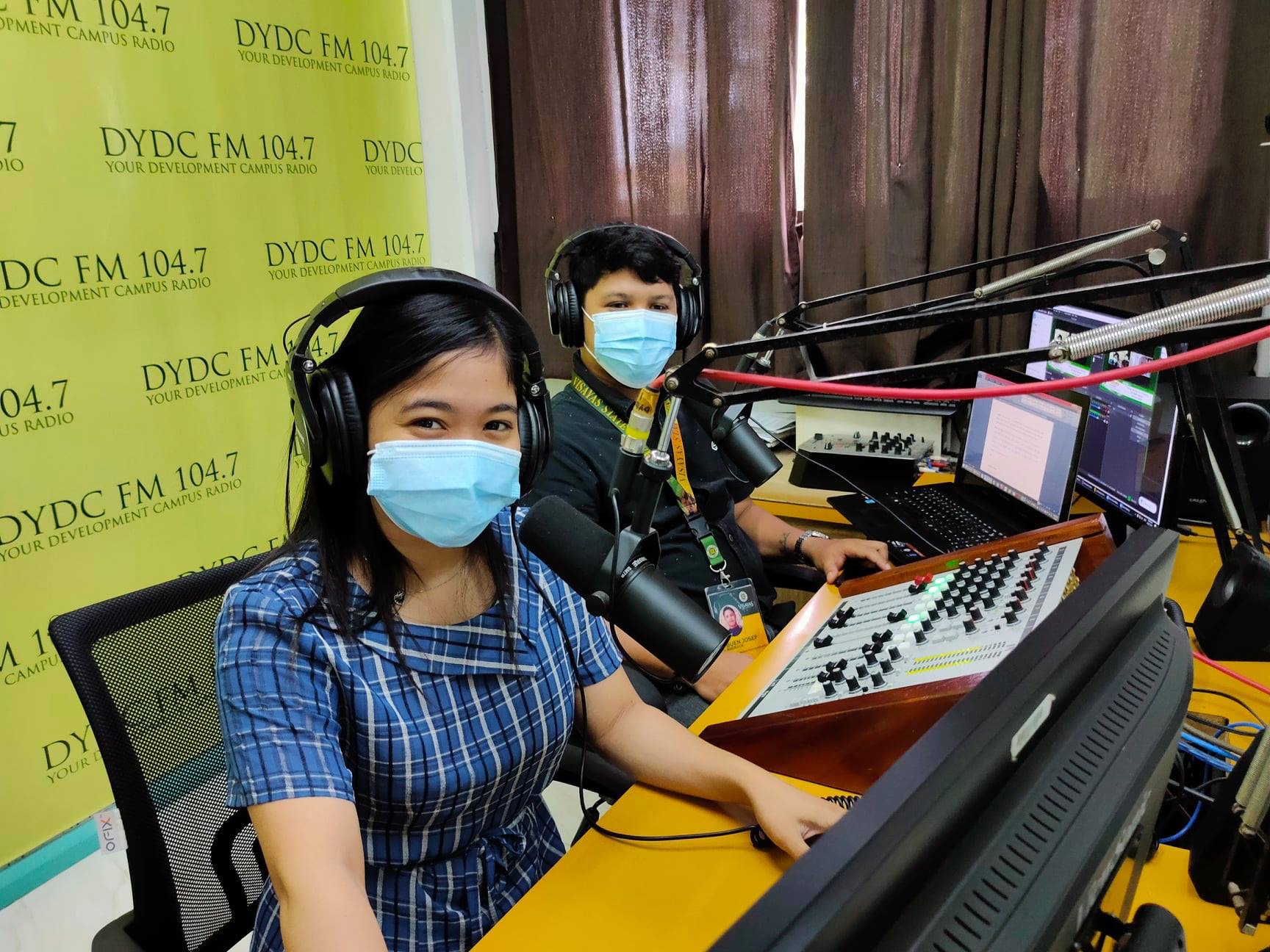 DYDC-FM 104.7, the official campus radio of the Visayas State University, launched its first-ever community drama laboratory on disaster preparedness held on December 22, 2020.
While the official launch was held in 2020, the re-airing of this radio drama was continued in January up to February of this year via a replay broadcast of a partner community radio station.
East-West Center in Hawaii funded this radio drama with support from the University of Montana in the United States and the Young Southeast Asian Leaders Initiative (YSEALI).
Dr. Christina A. Gabrillo, the Head of the Department of Development Communication (DDC) and the concurrent Station Manager of DYDC-FM, was the main proponent of this project as part of her short-term fellowship program with the Asia Pacific Leadership Program (APLP) in 2019.
This project included the production and local broadcast of a radio drama tackling the adverse effects of natural disasters and how people can prepare for them.
It followed the tragic story of a couple, Maricel and Bryan, and their son Samuel, as their family was torn apart by a typhoon including the family struggles they encountered in recovering from a disaster.
DYDC-FM partnered with the local government of Baybay City in airing this radio drama for greater audience reach.
Aside from the premier broadcast aired in DYDC-FM, the radio drama was also simulcast at GROOVE-FM with broadcast coverage that can reach all the 92 barangays of Baybay City.
Other cooperating government agencies in implementing this project include the City Disaster Risk Reduction and Management Office (CDRRMO), the community leaders of Barangay Candadam, and the Sangguniang Kabataan (SK) Federation.
As a support to this project, Baybay City SK Federation President Mark Michael Unlu-cay pledged to promote this radio drama to the more than 40,000 members of their organization.
"We want to establish co-ownership and impart our meaningful and creative contributions for the successful implementation of this program. We are 100% committed to supporting this project by introducing this to all our youth members here in our City," the SK Federation President said.
Remembering Super Typhoon Yolanda
According to Dr. Gabrillo, the story concept behind this radio drama was inspired by the struggles of the survivors of Super Typhoon Yolanda (Haiyan).
"My initial idea was to come up with a story that directly hits home for greater relatability from our target audience. I thought that among all the disasters that we've experienced, nothing is more comparable to what we went through during Super Typhoon Yolanda," the Station Manager said.
It was originally planned for airing in the first quarter of 2020. The launch was, however, extended until December 2020 because of mobility restrictions brought by the global pandemic.
"For our planning meetings, we had to do it virtually. We also had to do our local partnership meetings online. We also tapped the help of our graduate students in Development Communication for some technical assistance. We also sought help in the recruitment of voice talents," reveals Dr. Gabrillo.
Buen Joseph Andrade and Perlyn Fernandez who are resident broadcast producers of DYDC-FM served as the main characters in this radio drama.
Together with Dr. Gabrillo, this radio drama was locally produced with the assistance of Engr. Sean O. Villagonzalo, Carmela A. Yamada, Kathleen Mae B. Valencia, Danica P. Godinez, Jeanie Rose S. Deluza, and other graduate students of the DEVC 218 class.
DYDC-FM is also equally grateful to VSU President Edgardo E. Tulin, Karen Y. Teves from APLP G18, Lance C. Boyd from the East-West Center, and Jerica Marie Casal, Mary Jane Lamoste, and Ferdinand Tamulto of YSEALI for their support of this project.
This radio drama is available for replay through the official Facebook page of DYDC-FM: https://www.facebook.com/vsudydcfm104.7/videos/844393556403721.