DevCom Head bags best paper award in nat'l agri confab
Details

Written by Rey Martin L. Reoma

Published: 04 May 2018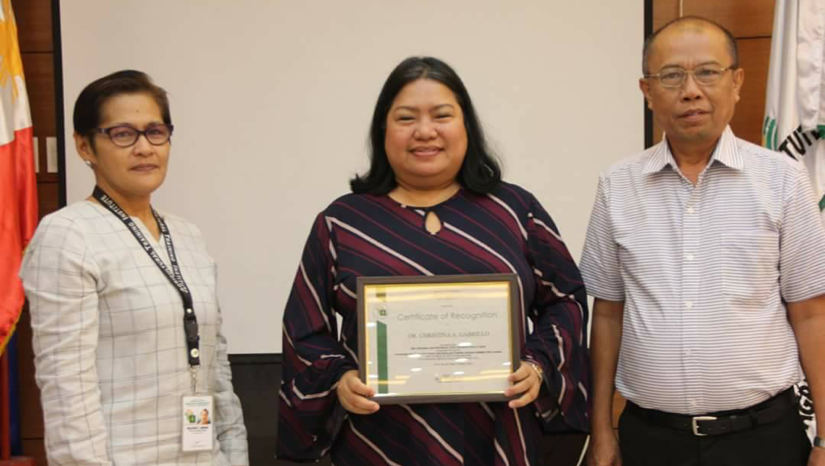 Dr. Christina A. Gabrillo, head of the Department of Development Communication (DDC) and station manager of the development campus radio DYDC-FM 104.7, won the Best Regional and Provincial Level Extension Policy Paper Award during the Knowledge Sharing on the Agricultural Training Institute (ATI)-Funded Agriculture and Fisheries Extension-Related Policy Studies held at the ATI Compound in Quezon City on March 22, 2018.
Dr. Gabrillo's paper entitled "Outcomes of Farmers' Participation in the Agricultural Training Institute-Regional Training Center 8 (ATI-RTC 8) 'School on the Air' Program on Organic Agriculture in Leyte and So. Leyte" bested other entries that were critiqued by panel of evaluators.
The DDC head said she was grateful to represent Visayas State University and ATI-8 on the competition.
"It was an honor presenting in front of the representatives from the different government agencies… I am also thankful to ATI RTC 8 for believing in my study," she added.
Organized by ATI – National Training Center, the conference aimed to evaluate policy studies that were shortlisted for presentation. The paper presentations were divided into two categories based on the scope of the study, namely, the National Level, and the Regional and Provincial Level.
The panel of evaluators consisted of experts from the Bureau of Agricultural Research, Agricultural Systems Institute, and the College of Public Affairs and Development at the University of the Philippines Los Baños.
Six policy studies were presented during the conference. In the Regional and Provincial Level category, where Dr. Gabrillo won the first place, the papers from the Polytechnic University of the Philippines and the Tarlac Agricultural University won the second and third places, respectively.
Dr. Gabrillo, who was also the last year's Visayas State University Extensionist of the Year, continues to share her expertise in various fields of communication research and extension.