Multi-awarded VSU alumna, agri-entrep spills secrets to success
Details

Written by Kim Roca

Published: 23 November 2016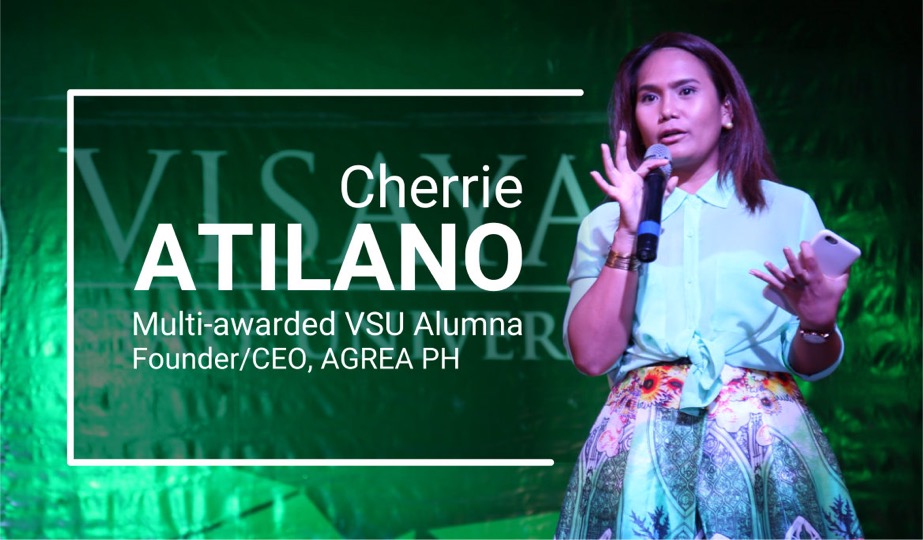 Cherrie Atilano's passion for agriculture started at a young age. Her love for farming deeply rooted from her parents' desire to help elevate the lives of Filipino farmers and their family.
After receiving her bachelor's degree in agriculture and graduating magna cum laude from VSU, Atilano strived to pursue the advocacy that her parents had passed on.
Now, she has made a name for herself and has been globally renowned for her advocacy for agriculture and agri-entrepreneurship. Believing that farming is cool, smart, sexy, and humane, (http://www.vsu.edu.ph/articles/news/11-news-obelisk/1141-farming-is-cool-vsu-alumna-towns-awardee) she founded AGREA, an organization for social farming enterprise, based in Marinduque where importation of goods is high and farmers are poor.
Cherrie envisions Marinduque to become a net exporter of its indigenous products in the future.
"I believe that when you do something and you put your heart in it, something big will happen", said Cherrie.
Here are eight lessons Cherrie learned as a farmer:
Align your inner compass
"There's an inner compass within you that is strong enough to move you forward."
It pays to know what the world needs now and start from it. Know your passion and work hard to achieve your goals. As Cherrie puts it, "Work not to be recognized; work because you love what you do."
Pay it forward with generosity
"To be generous is a gift."
Generosity is giving without expecting something in return. The kind of generosity shown by our farmers is something to be admired, Cherrie said. These farmers are feeding 100% of the population yet they, themselves could barely eat enough for a day.
Learn the value of commitment
"Commitment is something you would learn the hard way."
Cherrie did not regret turning down the Fullbright Scholarship. A life-long dream. She believed that she was up for something bigger. She fulfilled her promise to support the farmers from her community. Her choice to stay in the country is something she considered as a genuine commitment.
Gratitude goes a long way
"Gratitude is attitude."
The simple act of saying thanks is a virtue, Cherrie said. Even after making a name and global success, gratitude for Cherrie, is something she treasures. In every blessing she receives, she never forgets to thank God and the people around her. As her way of giving back, Cherrie committed herself to share these blessings to those in need.
Stay grounded and humble however big you become
"It's a privilege to be at a position where you can inspire people."
Cherrie advised to always keep your feet on the ground and look back to where you come from. "Be humble enough that even when you are on top, people would not hesitate to come you. Stay grounded that people would feel that you are one with them," said Cherrie.
Work hard and have fun
"We work hard to help more people but never forget to have fun."
Working hard doesn't have to mean working dully, Cherrie quipped. Having time for recreation was never a bad idea, she said, especially when it's with your team.
Great things take time
"I need to live up to the challenge of my Alma Mater, VSU."
Cherrie said even after leaving the portals of VSU, she still lives up to the university's mission of excellence. It was in the university, she said, where she learned the true essence of being an agriculturist and some facts about life. There's no such thing as overnight success, Cherrie assured, saying that what she has achieved now is a product of hard work and unceasing pursuit for excellence.
Life is sweet
"The sweetness of life should start with our farmers and fishermen who are very caring enough to give us a sweet life that we enjoy everyday."
Cherrie founded AGREA because she believes in changing the unfair rules in the farming business in the country. For Cherrie, the farming situation in the country does not favor the farmers who, she said, have world-class skills and attitudes.
Cherrie was identified as one of the Ten Outstanding Students of the Philippines in 2007. Recently, Cherrie was given the Earth Mover recognition through Rappler's Move.Ph Awards for her advocacy in agriculture.