PH crop science society awards 2 VSU researchers
Details

Written by ELTBestil

Published: 21 June 2016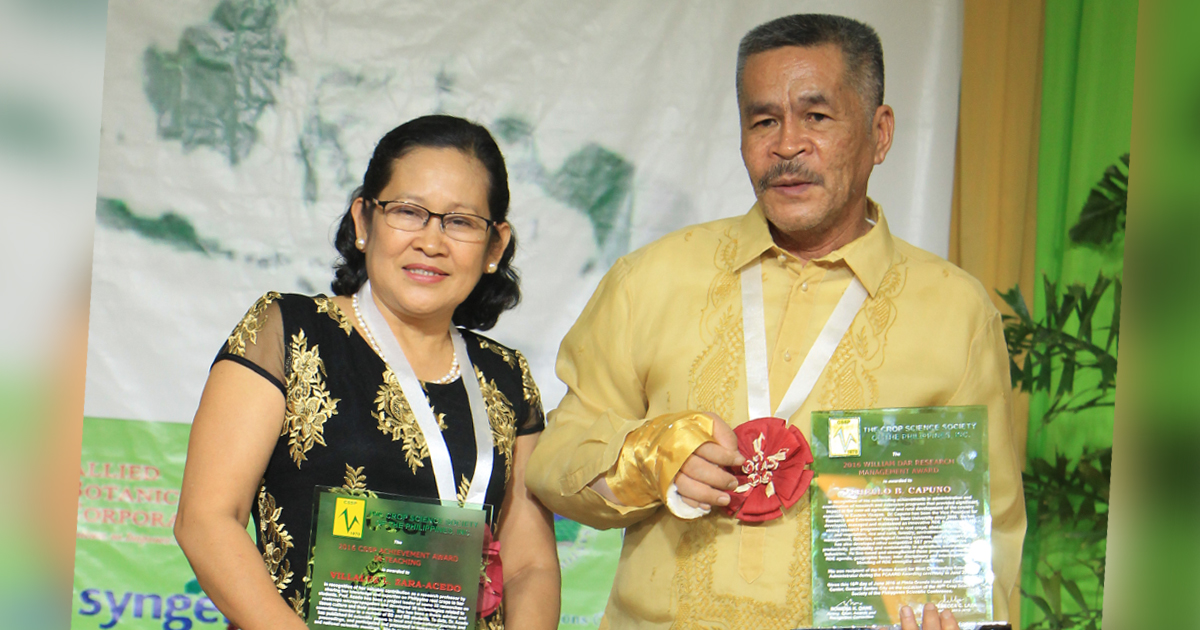 The Crop Science Society of the Philippines (CSSP) recognized two VSU researchers at the Awarding Ceremonies of the 46th CSSP conference, June 16, at the Phela Grande Convention Center, General Santos City.
Dr. Othello B. Capuno, VSU vice president for research and extension, was given the 2016 William D. Dar Research Management Award for his "outstanding achievements in administration and coordination of research and extension programs that provided significant impact in the overall agricultural development of the country especially in Eastern Visayas."
As chief of VSU's research and extension, Dr. Capuno developed, managed, and maintained an RDE system with 185 research programs in root crops, abaca, coconut, fruits, and vegetables, rice and corn, forestry, environmental resource management, fisheries, ecological farming systems, and engineering.
The William D. Dar Research Management Award is a recognition given to outstanding research administrators, in honor of Dr. William Dar, a Filipino international research administrator and former Director-General of the International Crops Research Institute for the Semi-Arid Tropics based in India.
Meanwhile, Dr. Villaluz Acedo, VSU academic researcher based at PhilRootcrops was given the 2016 CSSP Achievement Award in Teaching.
The award is given to recognize teachers who have stimulated the interest of students and inspired them to become recognized leaders in their chosen fields of science.
CSSP recognized Dr. Acedo for her endeavor as research professor who constantly "[shares] her knowledge and expertise in the Philippine root crops to her students." Dr. Acedo is not only a research professor at VSU but also a project leader at PhilRootcrops.
The 46th CSSP Scientific Conference aimed to empower crop scientists for ASEAN leadership.