Gulles re-elected VSU student regent for AY 2018-2019
Details

Written by Isabelle Mae Amora

Published: 24 July 2018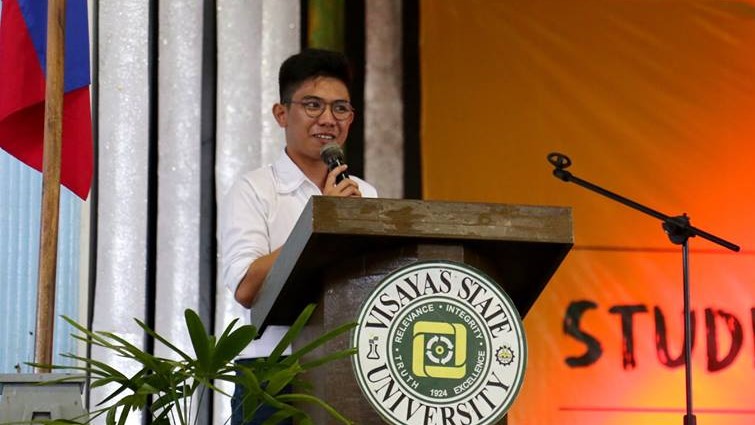 John Allan A. Gulles, president of the University Supreme Student Council (USSC) of Visayas State University, retains the position for the incoming academic year 2018-2019.
Gulles won 8-3 against the College of Arts and Sciences (CAS) president-elect Junrey Goles. The election for USSC officers was held on July 21, Saturday, as part of the five-day Leadership Congress on July 18, 2018.
This is the first time in recent years that a single individual has held the highest position in the student body for two years in a row.
Weeks before, he was re-elected as president of the College of Engineering Supreme Student Council (COE-SSC). In USSC's structure, the elected college SSC presidents vote the federation officers from among themselves. The USSC president then sits as student regent at the VSU Board of Regents, the highest policy making body of the university.
Gulles, in an interview, revealed that it is challenging yet so much more rewarding at the same time.
"[Being elected as USSC president] gives me the same chills but it's more overwhelming than before knowing that they [college president-elects] are giving you their trust once more," Gulles told.
The re-elected student regent admitted that the previous term was a rough journey for the council and for the students. In his upcoming new term, Gulles hopes to fill in the gaps and correct the lapses from the previous year.
"Every council is not perfect. But this time, we will strive to be better than yesterday," Gulles added.
Gulles even sees it as an advantage to be re-elected as it gives him the opportunity to really do better and achieve the council's goals.
"The adjustment period is over. This time, I can guide the council to where we really want to go," Gulles quipped.
The student regent also expressed his trust in the newly-elected officers of the council and is hopeful that working with people with the same commitment as his will bear good results for the whole studentry.
Below is the complete set of newly-elected USSC officers for AY 2018-2019:
President: John Allan Gulles (BS Civil Egineering-COE)
Vice-President: Dexter Ramirez (B Secondary Education-CE)
Secretary: Chad Christian Wales (BS Forestry- CFES)
Treasurer: Jemaica Mueda (BS Agri-business- CME)
Auditor: Randy Senado (Tolosa)
Board Members:
Ben Daniel Gamotan (BS Civil Engineering-COE)
Jerecho Garatta (Alang-Alang)
Shanelle Gogo (BS Nursing-CON)
Junrey Goles (AB English- CAS)
Jornel Hinoguin (BS Hotel, Restaurant and Toruism Management- CME)
Rhea Excell Mejia (Doctor of Veterinary Medicine- CVM)
Jonathan Misperos (BS Agriculture- CAFS)
Kim Osma (Isabel)