VSU leapfrogs from 114th to 33rd in PH university web rankings
Details

Written by KPRoca

Published: 31 January 2017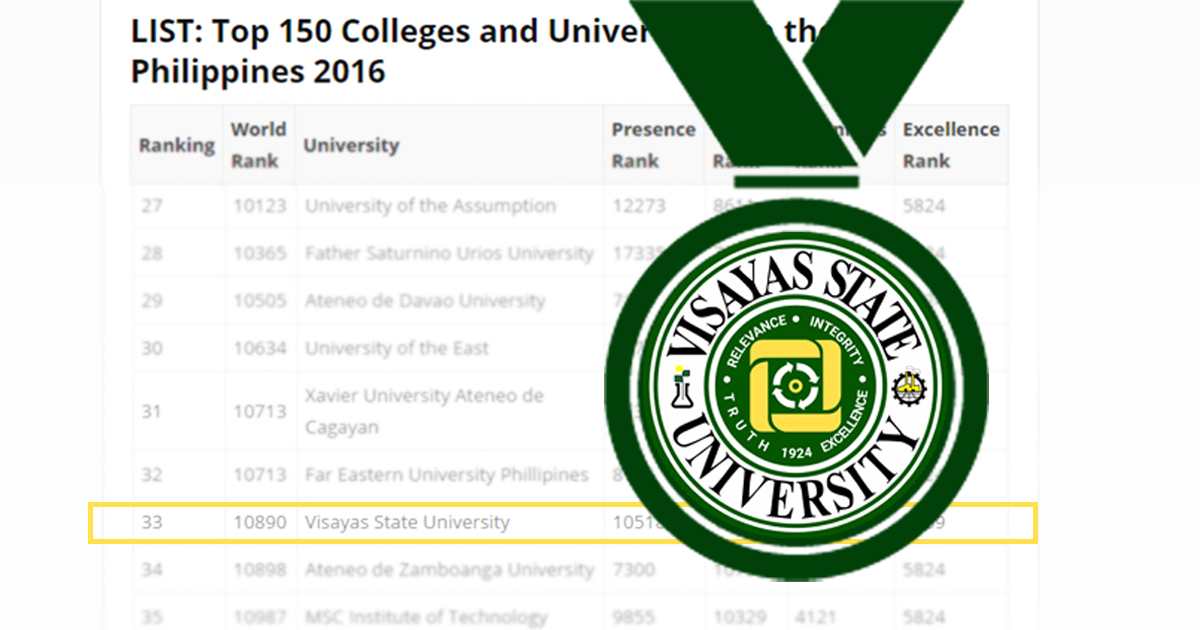 VSU jumped 81 places up from 114th in 2015 to 33rd in 2016 in the Webometrics ranking of Philippine universities.
The 2016 data of Webometrics, a ranking system that evaluates the performance of websites of more than 22,000 universities in the world, was released by the Spanish National Research Council's Cybermetrics Lab in January this year.
Webometrics creates the ranking based on a composite indicator that assesses a website's visibility and activity. Visibility is evaluated through a count of the external links that a university web domain receives from third parties. These data indicate the university's "conventional prestige, academic performance, the value of information, and usefulness of services," the Webometrics website said.
The activity criterion is based on the number of web pages hosted in the main web domain and the number of files. This criterion also assesses the number of academic papers published in high impact international journals.
VSU's website, www.vsu.edu.ph, ranked 10,890th among more than 22,000 universities in the world.
Only VSU was included in the top 40 universities among its Eastern Visayan counterparts. Among universities in the whole Visayas, only University of San Carlos in Cebu, John B. Lacson Foundation Maritime University and Central Philippines University in Iloilo, Silliman University in Dumaguete, and VSU were among the top 40.
The University of the Philippines (UP) Diliman topped the list, followed by the Dela Salle University Manila. The whole UP system ranked 7th in the country and 3,186th in the world.
The Webometrics' list of top 200 universities in the Philippines can be seen athttp://www.webometrics.info/en/Asia/Philippines.