Ormoc youth head keynotes 2nd VSU student leadership congress
Details

Written by Isabelle Mae Amora

Published: 18 July 2018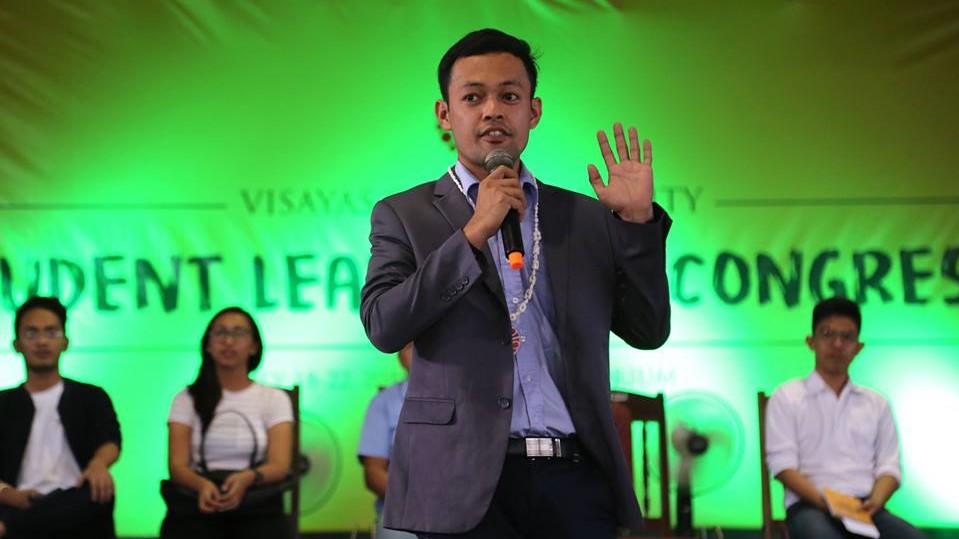 Mr. Rolando Jhay Gaspar, Jr., Ormoc City Youth Development Officer, addressed about 100 student leaders from the five-campus system of the Visayas State University, as they convened for the opening of the 2nd leadership congress held at the VSU Gymnatorium, July 18, 2018.
The congress aims to equip the incoming student officers of the different college councils with the essential skills and values that will help them better carry out their responsibilities as student leaders.
In his keynote speech, Gaspar talked about good leadership in five (5) key concepts: commitment, character, courage, communication, and constructive engagement.
He elaborated that being committed to serving entails gaining skills to bring about the change that a leader desires. Moreover, one should also build the right character to compliment the skills. He boldly said that leaders tend to stick to the traditions, even when they don't fit in the modern era anymore.
"Courage is making things happen, and making things right, even when it means challenging traditions," Gaspar told.
The youth development officer also encouraged the participants to exchange insights and views by communicating with a wide range of people.
Finally, Gaspar talked about constructively engaging with people, because according to him, a leader cannot do things single-handedly. He added that constructive engagement is the key to nation building.
"Our pride should be based on our merits, not on our position," Gaspar said.

VSU key officials graced the ceremony, including Dean of Students, Prof. Manolo B. Loreto, Jr., and the Vice President for Planning, Resource Generation, and External Affairs, Dr. Dilberto O. Ferraren. Former VSU student regents, John Allan Gulles and Mark Michael Unlu-cay, were also present.
The election for the University Supreme Student Council president and officers will be held on July 21, Saturday. The USSC president-elect will also serve as the new student regent.
The five-day congress will run from July 18 to 22, 2018.