USSO mainstreams different student services at the Eco Park
Details

Written by Marwen Castañeda

Published: 04 May 2018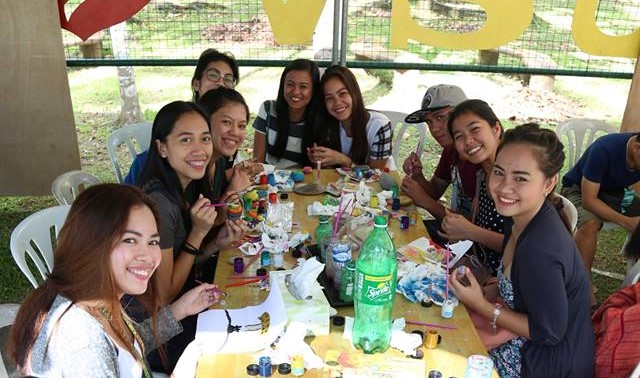 Now on its fourth year, the University Student Services Office (USSO) brought its different student services and programs at the Eco Park to extend and promote student welfare initiatives of the university.
Anchored on the theme #SerbisyoEstudyante, USSO Day at the Eco Park ran from March 22 to 23, 2018. With the ambiance of mother-nature, different booths were set up to conduct free counseling and guidance sessions, seminars and workshops including fun-filled games and other related activities.
Prof. Manolo B. Loreto, Jr., VSU Dean of Students, led the USSO personnel in initiating, implementing and monitoring the two-day activity. The different services offered at the Eco-Park were the following: student admissions services; testing, guidance and counseling services; scholarship and financial assistance; student organizations and its services; housing and accommodation services; health information services; and the campus ministry for the spiritual development of students.
Different creative activities were also provided to the students such as expressive arts for psycho-emotional wellness for all year levels; skills appreciation for the sophomore students; maintaining focus for junior students, and PESO information dissemination for the graduating students.
The following simultaneous seminar/sessions were also initiated during the two-day event: the anti-hazing awareness seminar; the study enhancement program; the clerical examination for job applicants; and the re-launching of #SerbisyoEstudyante program aired over VSU radio station DYDC.
The celebration was concluded with Bio-Danza activities facilitated by the Cebu Deliverance and Uplift in the Wonders of the Arts (CDUWA) where Ms. Rosebelle Daculan and Ms. Daphne Bacus demonstrated expressive arts approach to mental wellness. CDUWA was founded by a Cebuano priest, Rev. Fr. Loreto A. Jaque, who studied this innovative modality in Europe.
Prof. Loreto expressed his gratitude for the overwhelming support of the VSU administration for the fourth edition of the USSO Day. In his speech, he vowed to continue initiating similar activities that will mainstream student welfare in the university.
The senior high school students and the Gender and Development (GAD) Council of VSU also took part in this year's USSO Day.