#VSUAnniv: DENR reg'l director accentuates strong partnership with VSU in supporting local communities
Details

Written by Isabelle Amora

Published: 06 May 2018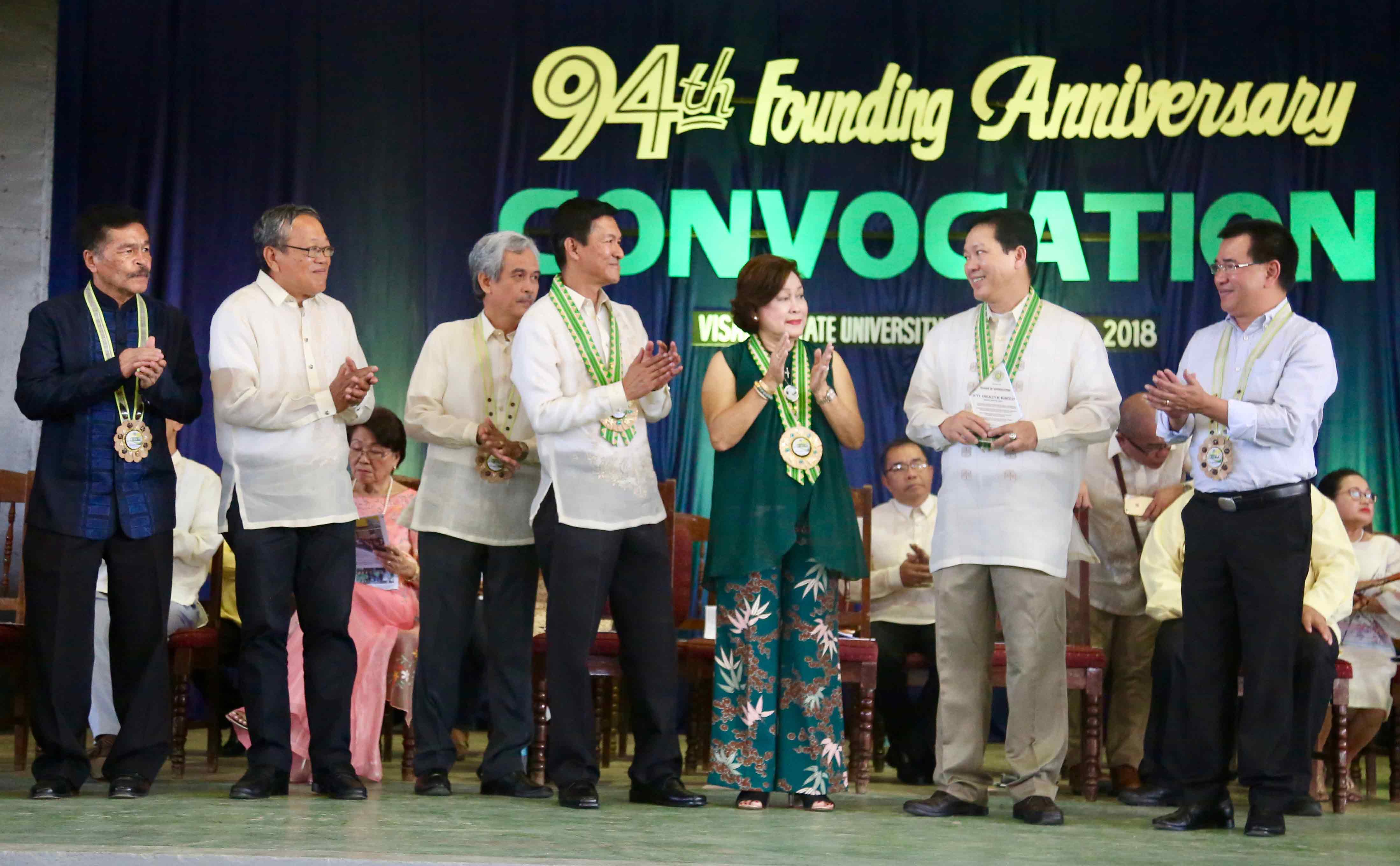 Atty. Crizaldy M. Barcelo, Regional Director of the Department of Environment and Natural Resources (DENR)- Regional Office VIII, highlighted the significant role of Visayas State University in the agency's thrusts in supporting local communities through its different rainforestation and livelihood programs.
This was during his keynote message at 94th VSU Anniversary Convocation held at the VSU Gymnatorium, April 26.
"VSU, as a partner [of DENR], has collaborated with us on a number of programs, projects, and activities by providing its communication experts, project leaders, scientists and researchers," the director added.
VSU played a big part in the success of the Visayas-wide Integrated Livelihood Project of DENR to support beneficiaries of the National Greening Project (NGP). This program, first signed in February 2011, seeks to grow 1.5 billion trees in 1.5 million hectares nationwide from 2011 to 2016. The implementation is extended to 2028, forged in 2015, to cover the remaining 7.1 million hectares of unproductive, denuded and degraded forestlands nationwide.
VSU collaborated by providing resource persons and experts for the different livelihood trainings on climate-smart high value vegetable production, agroforestry establishment, beekeeping under coconuts, noodle processing, rootcrops production, and feed processing and livestock integration. Other trainings include the biofertilizer production, farm enterprise management, economics and marketing support, quality seedling production, and bambusetum establishment.
The regional director ecstatically shared that there is an upcoming project on forest landscape restoration to be implemented by and among VSU, Australian Centre for International Agricultural Research (ACIAR) and DENR.
Atty. Barcelo furthermore mentioned VSU's aid in the conduct of impact assessment zeroing in on environmental enhancement and poverty reduction, establishment of a clonal nursery to produce quality planting materials, maintenance of marked mother trees of premium tree species, and resource valuation studies in some of the protected areas in Eastern Visayas, among others.
The director also recognized the people behind the working gears of VSU, commending them for their invaluable contributions to the university's successes for the past nine decades.
"At its heart, it is the people who made this [VSU] possible and a cohort of exceptional staff that have put their hearts and souls into this campus," Barcelo said.
Atty. Barcelo, as he ended his speech, expressed his high confidence in VSU to still be able to fulfill its vision of global competency against the challenge of climate change and changing times.
"We [DENR and VSU], will be pushing the boundaries of our innovative technologies and researches across a far wider geography. I believe that VSU is now ready to face a new horizon with demand-driven courses offered and curricula attuned to the realities of the times," the director said.
VSU's 94th anniversary is anchored on the theme, "Building Sustainable and Resilient Communities through Rainforestation and Climate-smart Agriculture" and ran from April 17-27.