Jackfruit takes center stage in #VSUAnniv 'FIESTA'
Details

Written by ELTBestil

Published: 24 August 2017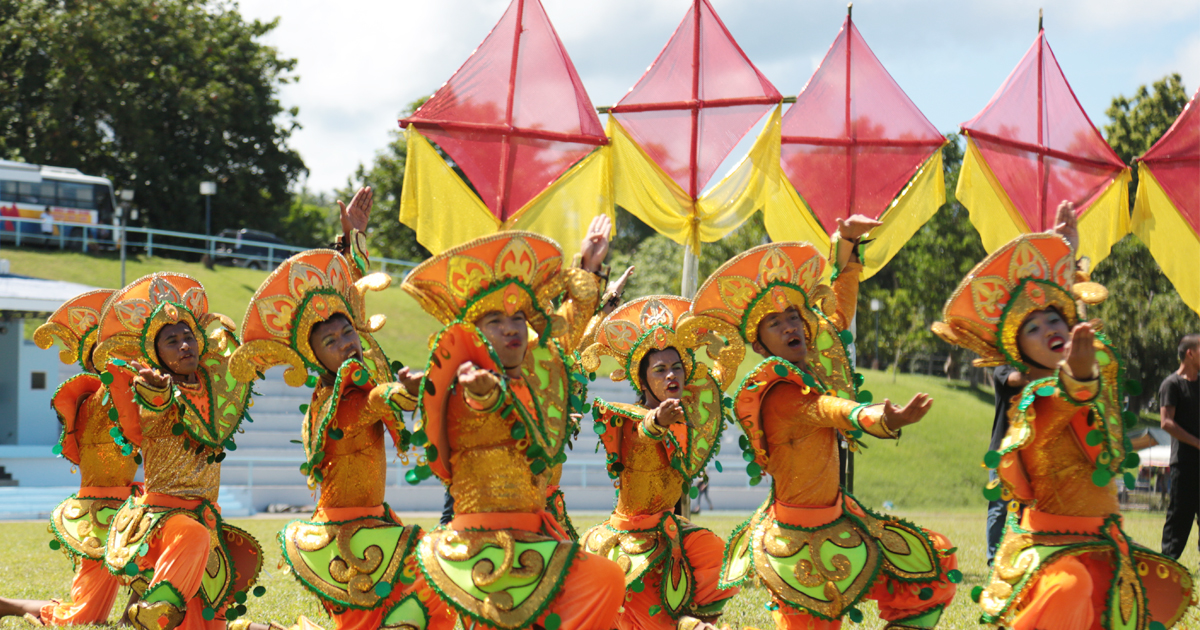 Jackfruit took center stage among other crops including pineapple, coconut, and shellfish, during the 2017 FIESTA, Aug 8-9.
FIESTA, which stands for Farms and industry encounter through science and technology agenda, was celebrated during the commemoration of VSU's 93rd Anniversary.
Sponsored by the Department of Science and Technology, Department of Agriculture (DA-RFO8), and the Agricultural Training Institute in Region 8, and the Philippine Council for Agriculture, Aquatic, and Natural Resources Research and Development, the FIESTA celebration commenced with the Kaugmaran Festival which showcased mass dances depicting growth in farming.
Some 300 farmers in Eastern Visayas flocked to VSU to participate in the Farmers Forum that tackled strategies in cultivating jackfruit, pineapple, coconut, shellfish, and seaweeds as well as the ways one can add value to these commodities.
The cookfest and poster-making, essay-writing, and jingle-composition contests attracted students from schools in Baybay and Ormoc cities to join.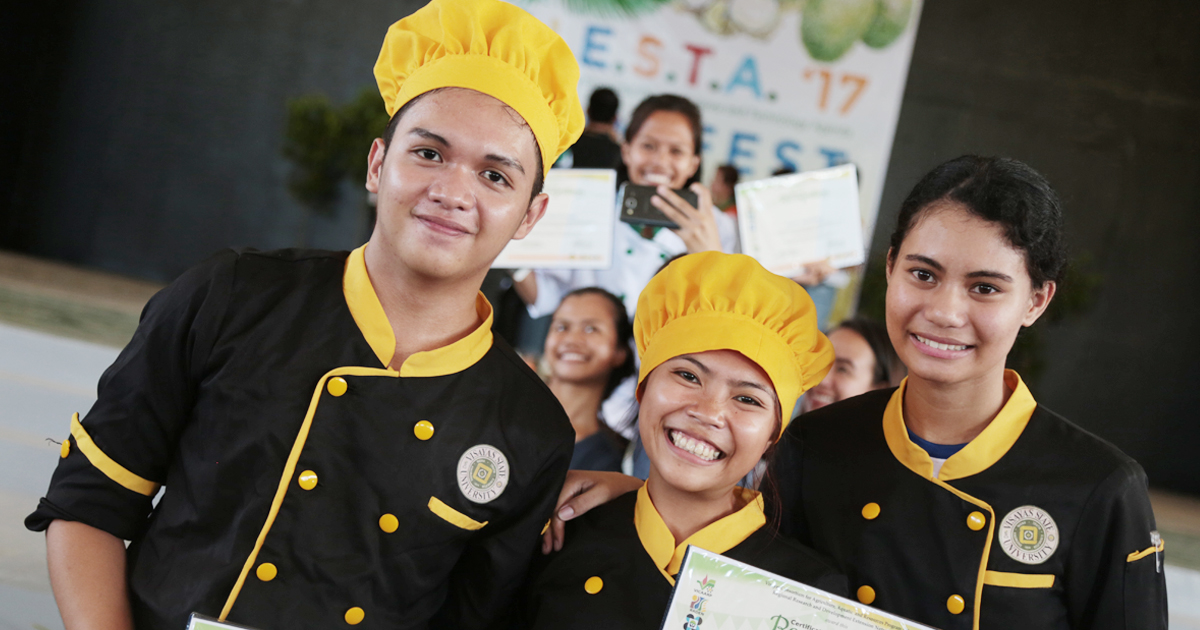 The newly established jackfruit processing plant supported by the local government unit of Baybay City was also inaugurated during the two-day FIESTA celebration. The processing plant produces vacuum-fried jackfruit among other jackfruit-based food products developed through various food technology researches by VSU.
Meeting the demand for jackfruit
Dr. Francisco Dayap, officer-in-charge of DA-RFO8 Field Operation Division, said that Eastern Visayas is heading into the direction of becoming the lead producer of high-quality fresh and processed jackfruit for exportation in 2022. EVIARC Sweet variety also called AES
This target puts pressure on the jackfruit farm industry to increase the number of hectares for jackfruit plantation. The DA High-Value Crops Development Program aims to develop 4,409 hectares in Eastern Visayas for jackfruit. Not only that, the program also aims to upscale pest management technologies, and improve post-harvest handling by implementing price incentives and improving farm-to-market roads.
VSU had led the research in developing management strategies against Phytopthora palmivora, a fungi that causes yellowing of the jackfruit tree leaves, and in severe cases, rotting of the fruits.
Lead researcher Dr. Lucia Borines, VSU plant pathologist, advised for a thorough understanding of the pathogen to be able to adopt appropriate cultural practices against it. Managing the Phytopthora disease, Dr. Borines said, always involves management of three important factors: environment, plant, and pathogen.
Controlling the pathogen using biocontrol agents or fungicides will not be enough to fully manage the disease, Dr. Borines said. This strategy should also involve improving plant nutrition and establishing a sanitary environment that can prevent fungal growth.
Jackfruit of all trades
The research team of VSU's food scientists Dr. Roberta D. Lauzon and Dr. Lorina A. Galvez had led to the development of the jackfruit-based food products that can add more value to the farmers' jackfruit harvests.
Instead of selling fresh jackfruits, Dr. Lauzon suggested converting the parts of the jackfruit into food products.
Dr. Lauzon said that only 40.44% of the jackfruit is pulp and thus, around 60% is wasted. In their research, Dr. Lauzon and her team developed the non-pulp components into food products, leaving no part unturned. She called this "zero-waste" food product development.
Among the food items that can be produced from jackfruit include coffee from jackfruit seeds, jam, from the peel, burger patty from the pith and seeds, and chorizo or sausage from the rags.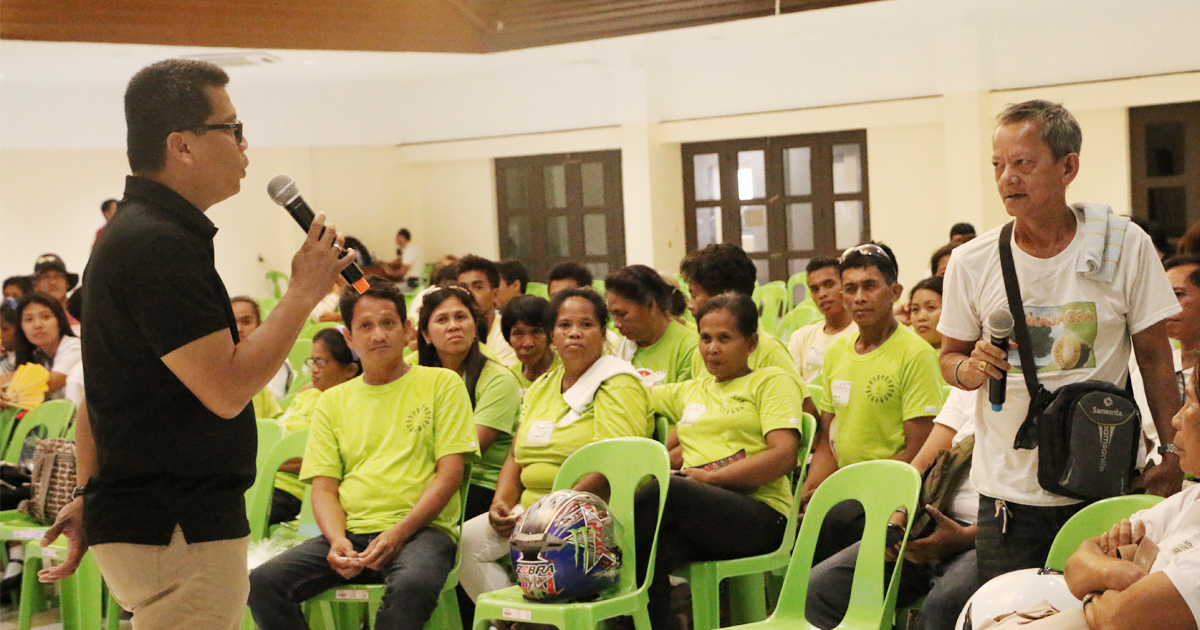 DA-RFO8 Regional Executive Director U-Nichols A. Manalo graced the farmers' forum and inspired the farmers to increase production in order to meet the demands for jackfruit in the international market. (with reports from Jade Moreno)