VSU launches first socio-economic research, data analytics center in the Visayas
Details

Written by Devone Baradillo

Published: 10 August 2018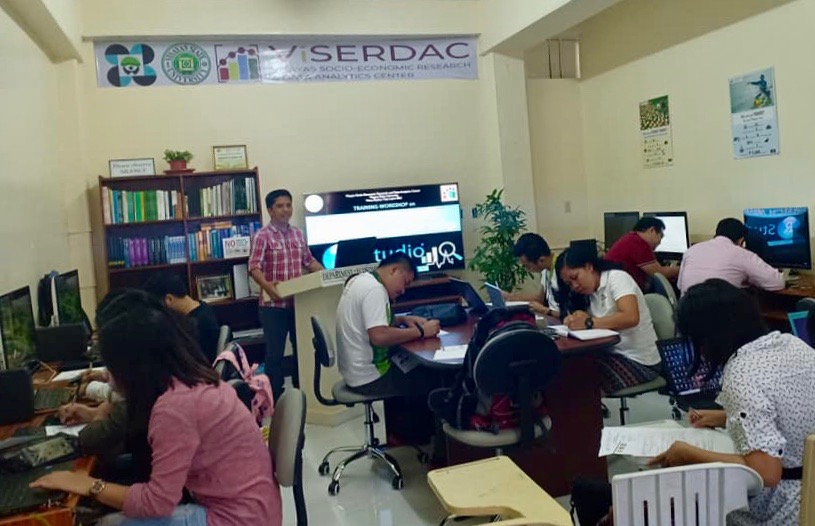 The Visayas State University, through the Department of Economics (DOE), launches the Visayas Socio-Economic Research and Data Analytics Center (ViSERDAC), the first of its kind in the Visayas, on August 5, 2018.
The center, headed by DOE Head Dr. Neil Moises V. Seriño, aims to enhance the capacity in socio-economic research in the Visayas and tap the potential of the socio-economic research and data sector in providing technical assistance to other research sectors.
ViSERDAC has a database to track changes in development of farmers and innovation in the Visayas using powerful licensed statistical software like Stata 15, Statistical Package for Social Sciences (SPSS), and General Algebraic Modelling System (GAMS), among others.
Moreover, the center's services are for free.
"We have ten computers available. Anyone who would like to access can just approach and coordinate with us," Dr. Seriño told.

The Department of Economics have conducted a series of trainings and workshop on capacitating researchers inclined in doing socio-economic research.

Dr. Seriño also stated that the center will initiate research capability building activities such as the provision of trainings and workshops, consultancy services and services on analysis of socio-economic data.

DOE will be having a training in the end of September on selective methods on quantitative impact assessments which will be attended by participants from Capiz State University and Western Visayas State University.

Two other similar centers in the country are based in the Central Luzon State University and in the University of Southeastern Philippines in Mindanao.

The ViSERDAC was established with funding support from the Department of Science and Technology (DOST) through the Philippine Council for Agriculture, Aquatic, and Natural Resources Research and Development PCAARRD with a fund of 5 million.