VSU Chief Librarian recognized as Region 8 outstanding librarian
Details

Written by Hanna Joyce Macawili

Published: 03 September 2018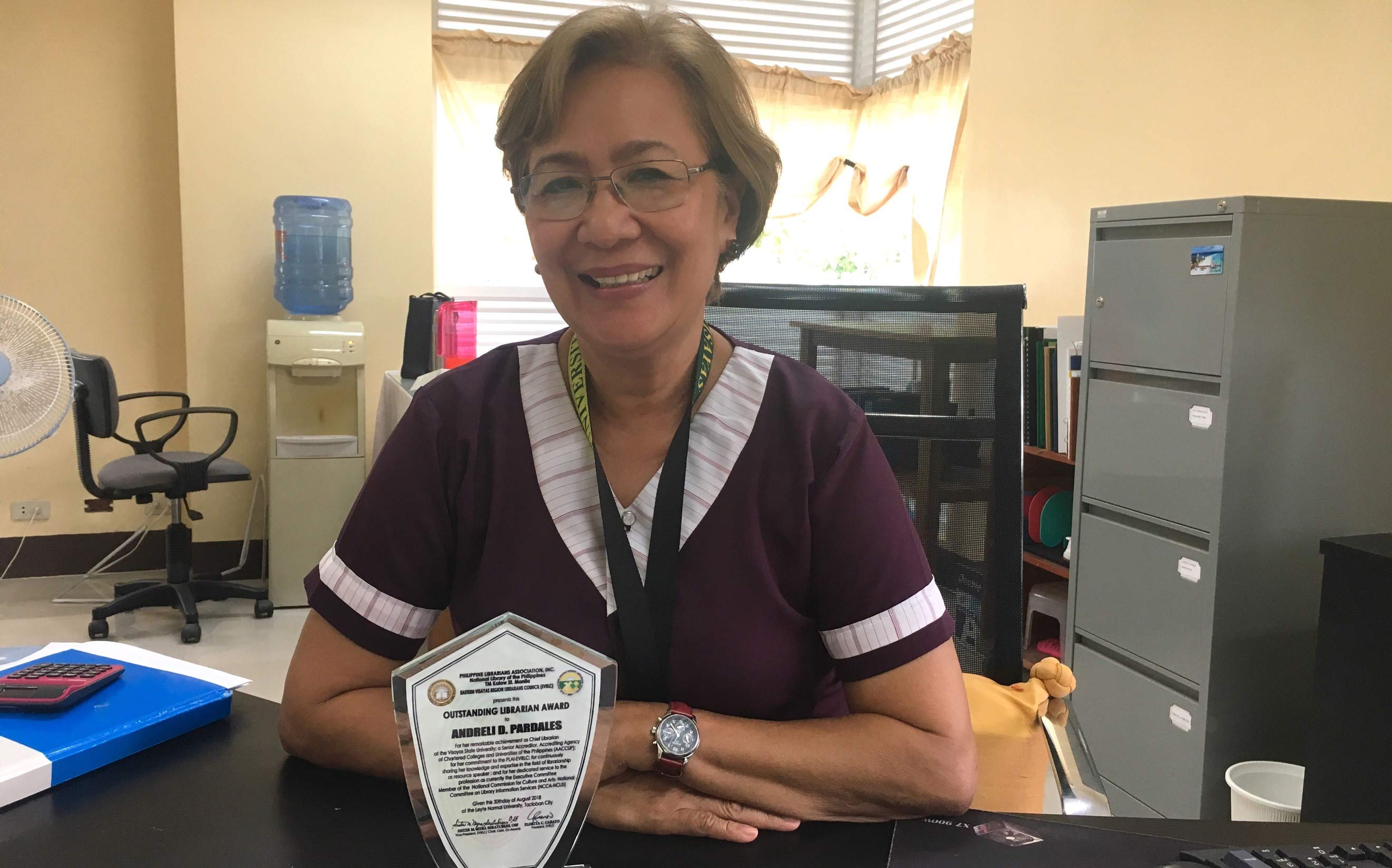 Ms. Andreli Pardales, VSU Chief Librarian, was accorded the Outstanding Librarian Award in the whole of Eastern Visayas.
The Philippine Librarian Association, Inc. (PLAI), Eastern Visayas Librarians Council (EVRLC) conferred the distinguished award to Pardales during the 2nd Eastern Visayas Librarians Summit held at the Leyte Normal University, Tacloban City, Philippines, August 31.
This is the very first award given to Pardales after 36 years of service as a librarian.

"The award has given me a boost as a librarian for the whole region. Afterwards, I was also shortlisted as one of the most outstanding librarian in the Philippines, among two librarians from the other regions of the country," the Chief Librarian added.

Pardales was part of the council that reorganized the region's librarians' association in 1982. One of her major projects then was the "Books for the Barrio," a program helping small reading centers in barrio schools by donating books that were no longer needed by bigger libraries.

Currently, she is a senior accreditor of the Accrediting Agency of Chartered Colleges and Universities of the Philippines (AACCUP) and an Executive Committee Member of the National Commission for Culture and Arts – National Committee on Library Information Services (NCCA-NCLIS).

This year, the VSU library plans to materialize a program to be called, the "Book in the Bag," in partnership with the VSU College of Education.

The library will be holding a poster making contest on October 19 (deadline of submission) and October 27, 2018 (judging). On the second week of November, they will be having a book character parade for elementary pupils, monologue for Senior High School students, and a quiz bowl contest for college students as part of the National Book Week.