Join the Inter-High School Statistics Quiz Show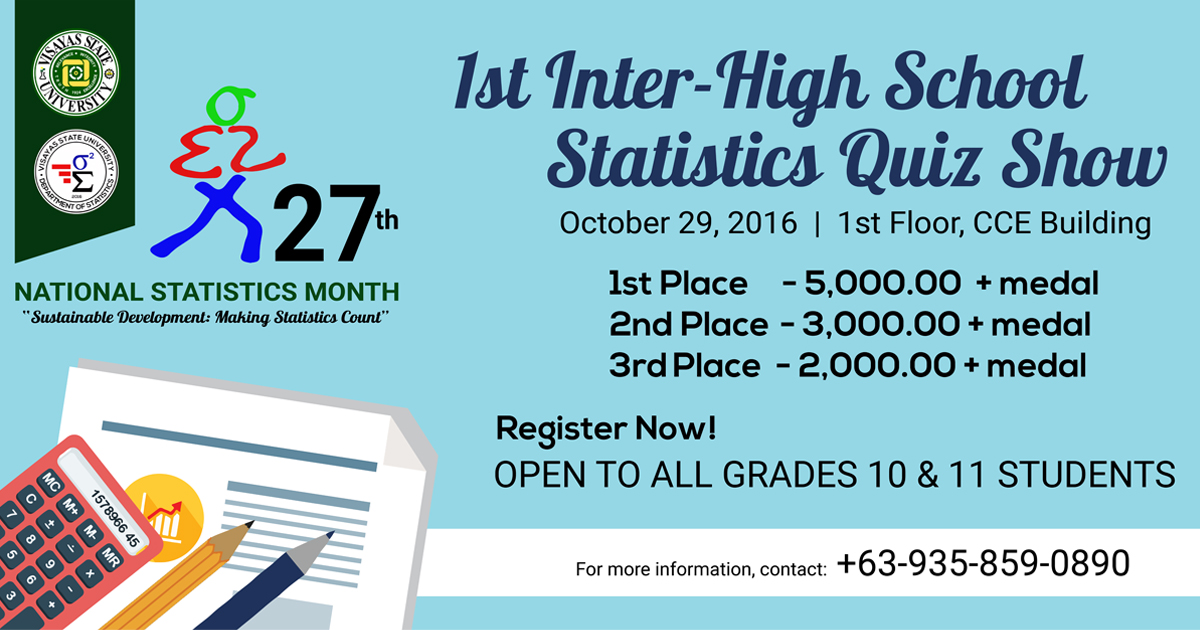 Who are qualified to join?
The contest is open to all Grades 10 & 11 students of nearby junior and senior high schools.
Each participating school can send at most three (3) contestants.
The contest is an individual competition.
Only one teacher is allowed to act as coach and official chaperon/guardian of the contestants from the same school.
General Guidelines
The questions for the entire contest will cover basic statistical concepts (measures of central tendency, location, and variation, exploratory data analysis, basic probability, use of statistical tables, interpretation of graphs, and general information).
The contest is divided into three (3) rounds: Easy, Average, and Difficult.
Each round consists of ten (10) multiple-choice questions, each with four (4) choices.
The participants are allowed to use percentile calculators but shall not be allowed to use cell phones, tablets, or any other electronic communication devices.
Contestants will be provided with sheets of paper to write their solutions and answers during the contest. Contestants have to provide their own pen or pencil.
The contestants should be at the contest venue thirty (30) minutes before the scheduled time. Registration starts at 12:00 noon and the contest proper will begin at exactly 1:00 PM.
Each contestant should wear his or her school uniform and ID during the contest.
A registration fee of P50.00 shall be collected from each participant and coach.
Certificate of participation will be given to all participants and coaches.
Prizes
1st Place: PHP5,000.00 and a medal
2nd Place: PHP3,000.00 and a medal
3rd Place: PHP2,000.00 and a medal