#ProudViscan: Former Student Regent is top 6 in veterinary boards
Details

Written by Ulderico B. Alviola

Published: 20 April 2022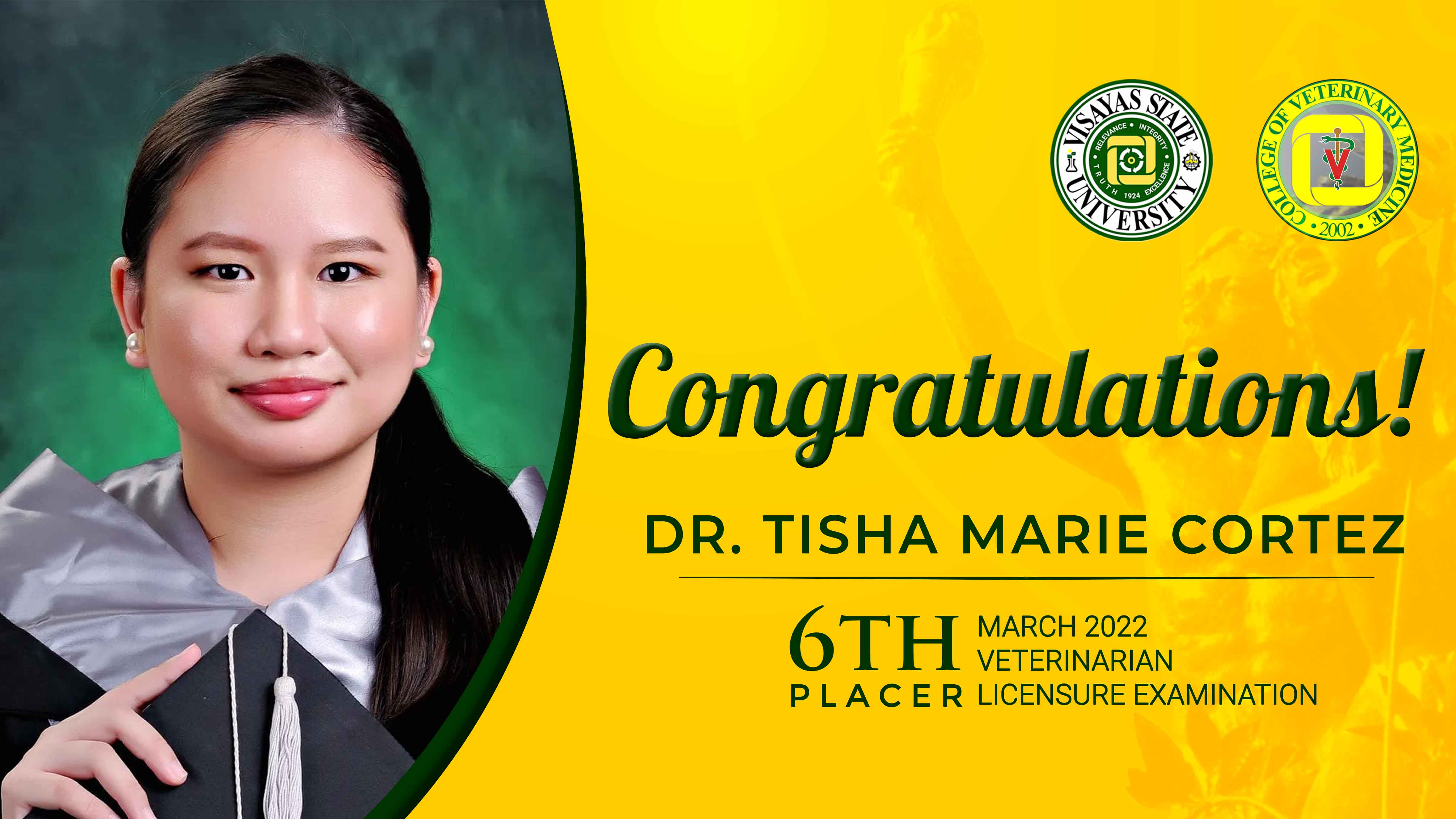 Dr. Tisha Marie L. Cortez has once proven that one can effectively balance academics with student leadership roles.
As if graduating Cum Laude in a six-year grueling veterinary program is not enough, she was also last year's recipient of the prestigious 2021 Leadership Award for being the first Federation President of a newly reconstituted University Supreme Student Council (USSC).
Immediately after graduation, she invested her time and efforts to prepare and focus for the boards that earned her the 6th highest spot in the March 2022 Veterinarian Licensure Examination (VLE).
Dr. Cortez hails from Ormoc City and is the lone daughter of Mr. Santos S. Cortez Jr., a professional mechanical engineer of the Energy Development Corporation (EDC) and Mrs. Melissa L. Cortez, a senior high school teacher in Ormoc City Senior High School (OCSHS). The board topnotcher has one younger brother.
Coming from a middle income family, Tisha believes that one of the many ways she can honor the sacrifices of her parents is by doing well in school, whether this is in her academics or in her extracurricular activities.
Dr. Cortez attributed her success to the enabling support of her family that even during reviews, her father helped her memorize important information about the board examination.
"Yes, my father was there for me to help me in my review. My mom even videotaped one of our online review sessions wherein my Dad was throwing me some questions about parasites, bacteria, and even pharmacology that I need to remember. That experience was very helpful because it allowed me to reduce my stress and anxiety as I was reassured of the moral support being given to me by my family," the board topnotcher revealed.
It was Tisha's father who broke the news of her achievement as she was in a local restaurant taking her dinner with her boyfriend. Upon hearing the news, she immediately went home teary-eyed and in disbelief.
Aside from being the Student Regent who mainly represented the concerns of all VSU students in the highest governing board of the university, Dr. Cortez is also very passionate for the arts as she can express herself and her artistic vision through paintings.
In fact, she served as President of the Banaag Visual Arts Group in her sophomore year, which is one of the core student organizations that collaborates with the VSU Culture and Arts Center (CAC) for art festivals, exhibits and even important social events.
For Dr. Cortez, while extracurricular activities may be a burden for other students, her exposure to both the student council and the arts group allowed her to get a breathing space that nurtured her overall growth.
"I believe that being part of various student organizations provides you with real-life experiences that cannot be felt inside the four walls of the classroom. It tests your character and your ability to deal with different kinds of people. It also gives you the discipline to manage your time well so that you can both excel as a student leader while also maintaining good grades. As a veterinarian, I think these skills will soon guide me in pursuing a productive career in the future," she explained.
Tisha hopes that her achievement inspires other Viscans to not only to focus on their academics but also seek balance by pursuing other interests while studying in VSU.
Her experience is consistent with the findings of many mental health studies conducted among adolescents who participated in extracurricular activities. According to research, students who are active in both academics and extracurricular activities demonstrated higher levels of satisfaction with life and optimism and lower levels of anxiety and depressive symptoms.
VSU-CVM produces 14 new veterinarians
Aside from Dr. Cortez, the VSU College of Veterinary Medicine (CVM) also produced 13 other new veterinarians for the March 2022 VLE. They include the following:
Dr. John Kenneth Bermudo
Dr. Alyssa Alyanna Cala
Dr. Deo Abel Cebreros
Dr. Kia Grace Estos
Dr. Maria Isabel Mallillin-Gawan
Dr. Cerela Silao-Looc
Dr. Angelic Mae Millanes
Dr. Diana Dawn Miñoza
Dr. Lourence Mison
Dr. Delma Mirasol
Dr. Joel Mondala
Dr. Princess Minelle Pino
Dr. Charles Kimvan Sabanal
VSU obtained an institutional passing of 69.23% for the first time takers with additional 5 passers from the board exam retakers. Overall institutional performance for this year is at 46.67%.
CVM Dean Dr. Santiago T. Peña Jr. expressed his gratitude for another impressive performance of VSU veterinary medicine students.
"On behalf of our college, my very warm congratulations to our newly licensed veterinarians. This is a manifestation of the commitment of your college despite everything that we all went through. This is also a testament of your dedication to pursue your dreams despite all the odds. My special thanks also goes to Dr. Tisha Cortez for placing 6th place in the VLE. Your extra effort brought honor to our college that will truly inspire everyone here in VSU-CVM," Dean Peña expressed.
The Professional Regulation Commission (PRC) administered this year's VLE in Manila, Baguio, Cagayan de Oro, Cebu, Davao, Legaspi and Tuguegarao from March 29 to 31, 2022.