President's Notes: Goodbye friend and our longest-serving Board Secretary
Details

Written by Edgardo E. Tulin

Published: 07 April 2022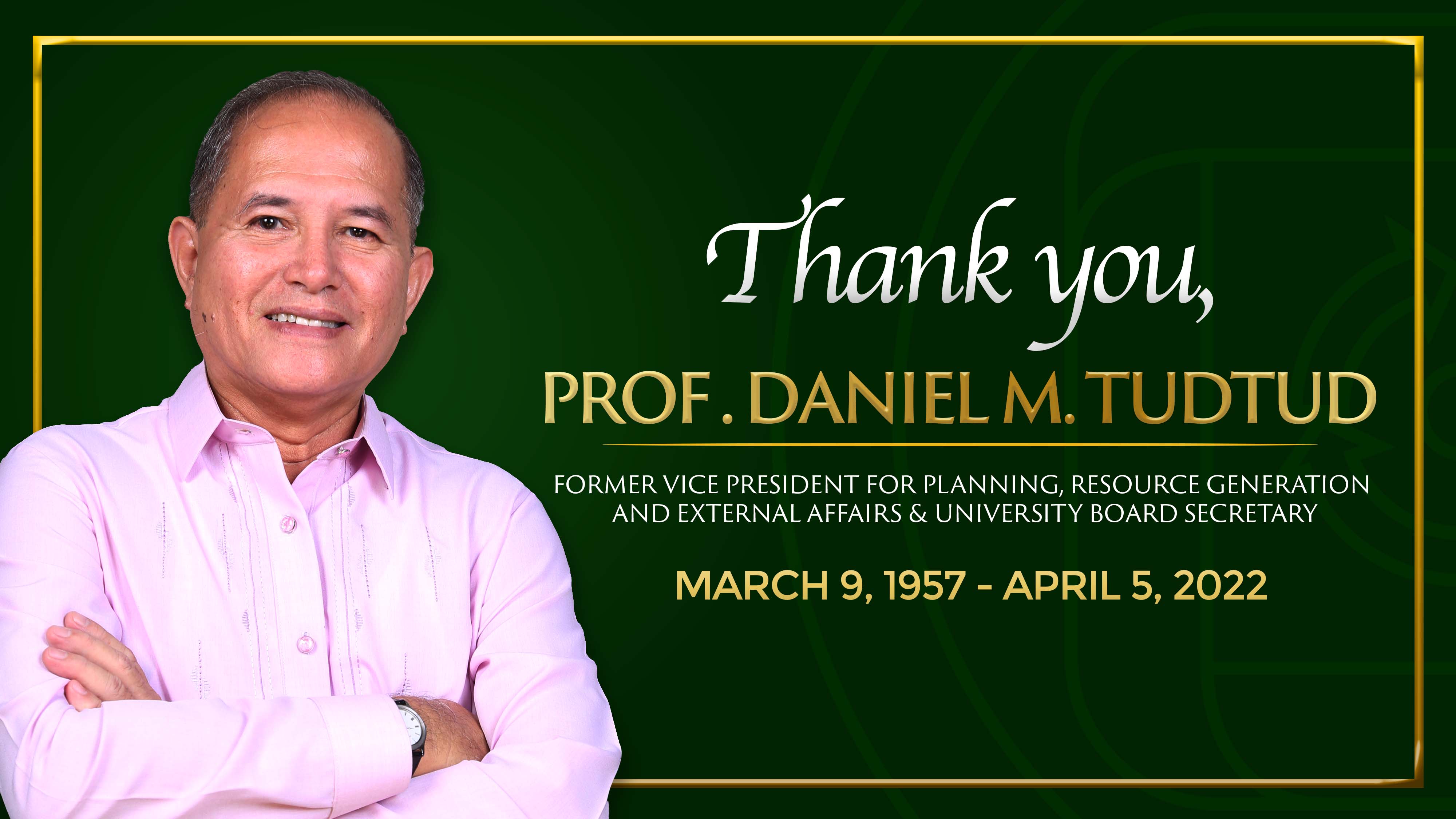 Yesterday early morning, April 5, we received sad news about the passing of Prof. Daniel M. Tudtud, our longest-serving Board and University Secretary who served a total of three Presidents of this prestigious institution.
Prof. Tudtud was also our Vice President for Planning, Resource Generation, and External Affairs from 2015 up to 2019. He was also the former Campus Director of VSU Isabel when this was integrated into our system in 1999.
As Board and University Secretary, he has been instrumental in critical policy-making initiatives of the university including the conversion of the erstwhile Visayas State College of Agriculture (ViSCA) to Leyte State University in 2001 and later on as VSU in 2007. In fact, Prof. Tudtud crafted many policy directions that we continue to use and take advantage of even up to the present.
Under the presidency of Dr. Paciencia P. Milan, he was one of the key officials of VSU who pushed for computerization and digitization that allowed us to acquire top-of-the-line computer sets including the establishment of our very first internet shop that connected Viscans to the World Wide Web.
Because of his innate networking skills, he was able to establish a great linkage with the Commission on Higher Education (CHED) which enabled us to enjoy many funded projects that spurred growth and development for the university.
Prof. Tudtud may be misinterpreted by a lot of people for his short temperament, but he is very much respected here at VSU because he makes things happen and he has an unparalleled dedication to public service.
I'm pretty sure that his colleagues in the Office of the University Secretary (OUS) have very high regard for him because they witnessed both his strong and soft spots that made him accomplish many things for VSU.
As for me, I will remember Danny as one of the most dependable officials here at VSU who will persistently pursue excellence so that VSU becomes better at fulfilling its mandate of making quality education accessible for everyone. For a time, I even relied on him for some valuable advice in many situations that required immediate action.
The Tulin family is mourning with the entire community of Viscans for this tragic loss. Allow me to extend my heartfelt condolences to his wife Dayday and his beloved children Angel, Danny Boy, and Stephie. I cannot fathom what you are exactly going through right now but please know that we are one with you in prayers as you heal and recover from this very challenging experience.
We in VSU are forever grateful to Prof. Tudtud and the many things he sacrificed for the greater growth and development of this humble institution. I'd like to leave a quote from Khahil Gibran that says, "For life and death are one, even as the sea and the river as one."
We will forever honor him by continuing to make this humble institution great in the many years to come. Goodbye and rest in eternal peace, Danny.