President's Notes: Congratulating a fellow Viscan on her formal installation as LNU's prime mover
Details

Written by Edgardo E. Tulin

Published: 18 November 2021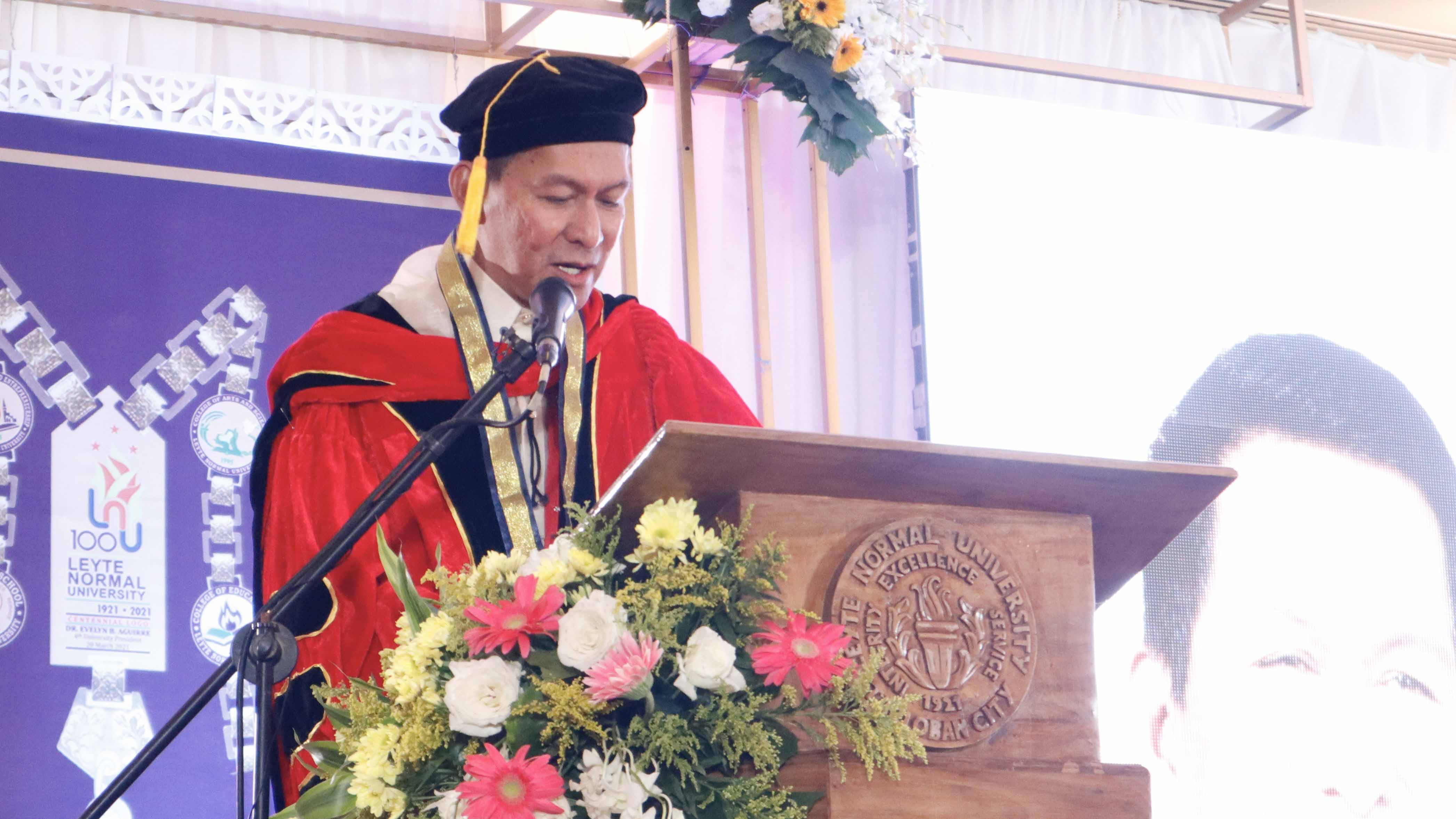 Dr. Tulin addressing the guests of the investiture ceremony of newly installed LNU President Aguirre. Photo courtesy of LNU student journalist Dean Brando Cinco.
[This speech was delivered on November 18, 2021 at Summit Hotel in Tacloban City for the Investiture Ceremony of Dr. Evelyn B. Aguirre, the 4th President of the Leyte Normal University.]
As President and also an alumnus of the Visayas State University, we in the whole VSU community celebrates the investiture of our fellow #ProudViscan, Dr. Evelyn Bernal Aguirre, as the 4th President of the Leyte Normal University.
Now speaking as the Regional Chapter President of the Philippine Association of State Universities here in Eastern Visayas (PASUC-8), we welcome Dr. Aguirre with full enthusiasm and positive energy. We are very excited to work and cooperate with her for the continued growth and development of our beloved region.
While Dr. Aguirre is undeniably a #ProudViscan, let me emphasize though that she is a true-blooded Normalista at heart, someone who climbed up the academic ladder with her sheer dedication and commitment to public service that she offered only to LNU for 31 long years.
And while Dr. Aguirre credits her formative years to VSU, she clearly attributes her current leadership achievements for the greater growth and development of the Leyte Normal University. Her humble accomplishments here in this prestigious university is one of the important building blocks in making LNU as one of the leading universities of teacher education in the Philippines.
Before assuming the Presidency, Dr. Aguirre was one of the servant leaders of LNU who rose to the ranks because of hard work, professional experience, and technical capability.
While she has long been prepared to serve as the prime mover of LNU, she had to wait and continuously serve in the background as a major team player in propelling this university to greater heights. The perseverance and commitment of Dr. Aguirre is a concrete testament of what Woodrow Wilson said and I quote, "All things come to anyone who waits, provided that you know what you are waiting for."
The leadership journey of Dr. Aguirre is such a remarkable reminder to our young faculty and staff who have been persistently waiting for their right time to grow in institutions like the academe. Yes, our system of promotions may be quite longer as compared to other professions in public service but I also believe that this is a great test for someone's personal commitment.
Charles Stanley beautifully captured this in a quote that says, "Our willingness to wait reveals the value we place on the object we're waiting for."
I'm confident given the long track record of administrative experience that Dr. Aguirre has in this university, LNU is surely on a safe and right path towards greater accomplishments and continued academic excellence.
The amazing part here is that, Dr. Aguirre also has a very formidable mentor and advisor at home who has also endured 8 years of professional service as former President of EVSU and PASUC-8, my good friend, Dr. Dominador O. Aguirre, Jr.
Imagine how powerful and blessed the Aguirre couple is. They come from neighboring universities and they both serve as stewards of LNU and EVSU.
Dr. Aguirre's more than three decades of service here in LNU will surely be valuable in crafting exciting directions and brand new frontiers for this humble institution. Her motherly approach to leadership and participatory nature will also be effective in mobilizing the outstanding men and women of LNU for collective action towards the fulfillment of LNU's threefold motto of integrity, excellence and service.
The role of LNU in propelling progress and development of our beloved Eastern Visayas region is quite compelling because this institution's mandate is to produce teacher educators who will train a new breed of leaders of our home region, and even beyond. Remember that the very strength of the basic education sector has always been the foundation of the overall quality of tertiary education.
Also, countries today compete on literacy rates, which ultimately leads to higher economic growth and thereby greater economic development. The role of LNU in improving our overall literacy rate in our country will definitely be very vital with the quality of basic education teachers that they will produce for our region.
LNU, through Dr. Aguirre's able leadership, will surely go a long way. And I'm just excited about how LNU and PASUC-8 can work together in various areas so that we can all grow as leading institutions of higher learning not just in the Philippines, but also overseas.
Again, from me and my family including the entire VSU community, along with your PASUC-8 family, congratulations Dr. Evelyn Bernal Aguirre on your formal installation as 4th President of the Leyte Normal University.
I wish you and LNU greater success as we forge exciting directions towards a more prosperous Region 8.
Mabuhay ka, Dr. Aguirre! Mabuhay ang LNU! At At mabuhay ang PASUC-8!