#ProudViscan lands 4th in recent geodetic engineering board; VSU is 2nd top performing school in GE
Details

Written by Neil Bryan B. Fulache

Published: 06 January 2022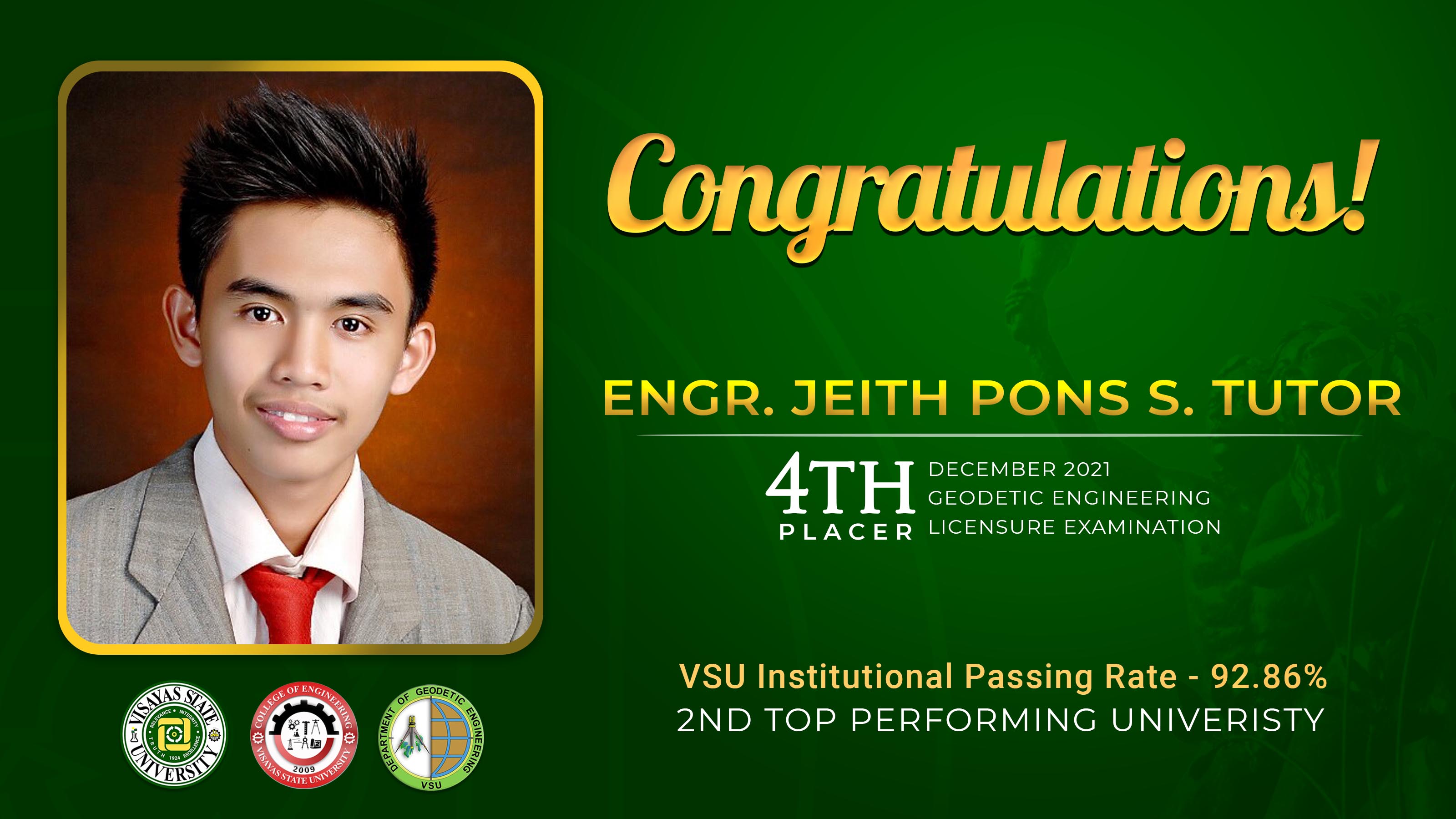 A Viscan did it again!
Engr. Jeith Pons S. Tutor places fourth and led 13 other new #ProudViscan engineers in the December 2021 geodetic engineering licensure examination (GELE) administered by the Professional Regulations Commission (PRC).
The young lad from Bontoc, Southern Leyte was also among the 375 passers in the entire country and obtained an individual rating of 90.20%. He graduated Cum Laude at VSU Main Campus in September 2020.
Before passing the boards, Engr. Tutor worked for a short time in Bohol. But to prepare for the upcoming licensure exam, he temporarily stopped working to focus on his review.
Engr. Tutor's hometown was heavily devastated by Typhoon Odette and he said that receiving this good news was a relief and morale boost for him and his family after enduring a natural disaster.
"I offer my achievement to the Lord, my family and the entire people of Southern Leyte who experienced a lot of difficulties these days because of Typhoon Odette. I hope that I inspire many people with this humble recognition that we can indeed stand up and recover even in the toughest of times," the topnotcher shared.
But on top of acing the board exam, the Visayas State University is also the second top performing school in the December 2021 licensure examination for geodetic engineers.
Here is the complete list of passers from VSU Department of Geodetic Engineering (DGE):
Engr. Jeith Pons S. Tutor - 4th place
Engr. Jaya C. Colorito
Engr. Elbert C. Colubio
Engr. Jenevieve Z. Compendio
Engr. Graciel Lyn G. Bello
Engr. Al Jay A. Dandoy
Engr. Donna Rose E. Godin
Engr. Thea Nathalie C. Lungay
Engr. Kristel Anne A. Oppus
Engr. Jason Rey L. Oracion
Engr. Ma. Emmaliza S. Orillano
Engr. Espelita V. Sio
Engr. Queenie A. Tagalog
VSU garnered an institutional passing rate of 92.8%, placing 2nd among top universities in the country, with a national passing percentage of 54%. University of the Philippines Diliman (UPD) took the top spot with 97.53%.
Dr. Jannet C. Bencure, College of Engineering and Technology (CET) Dean, extended her congratulations to the new set of engineers that have risen beyond the challenges of the pandemic even with the added challenges brought by Typhoon Odette.
"The pandemic may have disrupted your time and Typhoon Odette may have damaged your home, but never your dreams of becoming a full-fledged geodetic engineer. This accomplishment demonstrates that VSU has prepared you in many ways–to treat problems as challenges, see opportunities in every problem, and thrive in the face of adversity. Thank you for making us proud!," the CET Dean expressed.
Dean Bencure also gave her appreciation to the mentors and faculty members of DGE for consistently producing outstanding graduates that has placed VSU's track record among the country's best.
"This is the 13th batch of BSGE graduates taking the Geodetic Engineering Licensure Examination (GELE) since 2008. For the last 12 batches, VSU has continuously been among the top-performing schools in GELE performance," she revealed.
VSU President Edgardo E. Tulin expressed his congratulations to Engr. Tutor, the 12 other new VSU geodetic engineers and the faculty and staff of DGE.
"My sincere congratulations to Engr.Tutor including the other passers from VSU and most especially to the Department of Geodetic Engineering for proving once again that our program here in our university is one of the country's best. Placing 2nd top performing school in this board examination is another feather in our cap that we hope to maintain in the many years to come. My administration will continue to provide support to further strengthen our geodetic engineering program here in VSU," Dr. Tulin expressed.
The Professional Regulation Commission (PRC) along with the Board of Geodetic Engineering conducted the examination in Manila, Baguio, Davao, Legazpi, Pagadian, Tacloban, Tuguegarao and Zamboanga from December 22-23, 2021.
Examination in Cebu, on the other hand, was postponed and has been rescheduled to March 10-11 because of Typhoon Odette.