From academe to local politics: the transition of Dr. Jose L. Bacusmo
Details

Written by Ulderico B. Alviola and Margraf Von Jean G. Eslopor

Published: 08 February 2022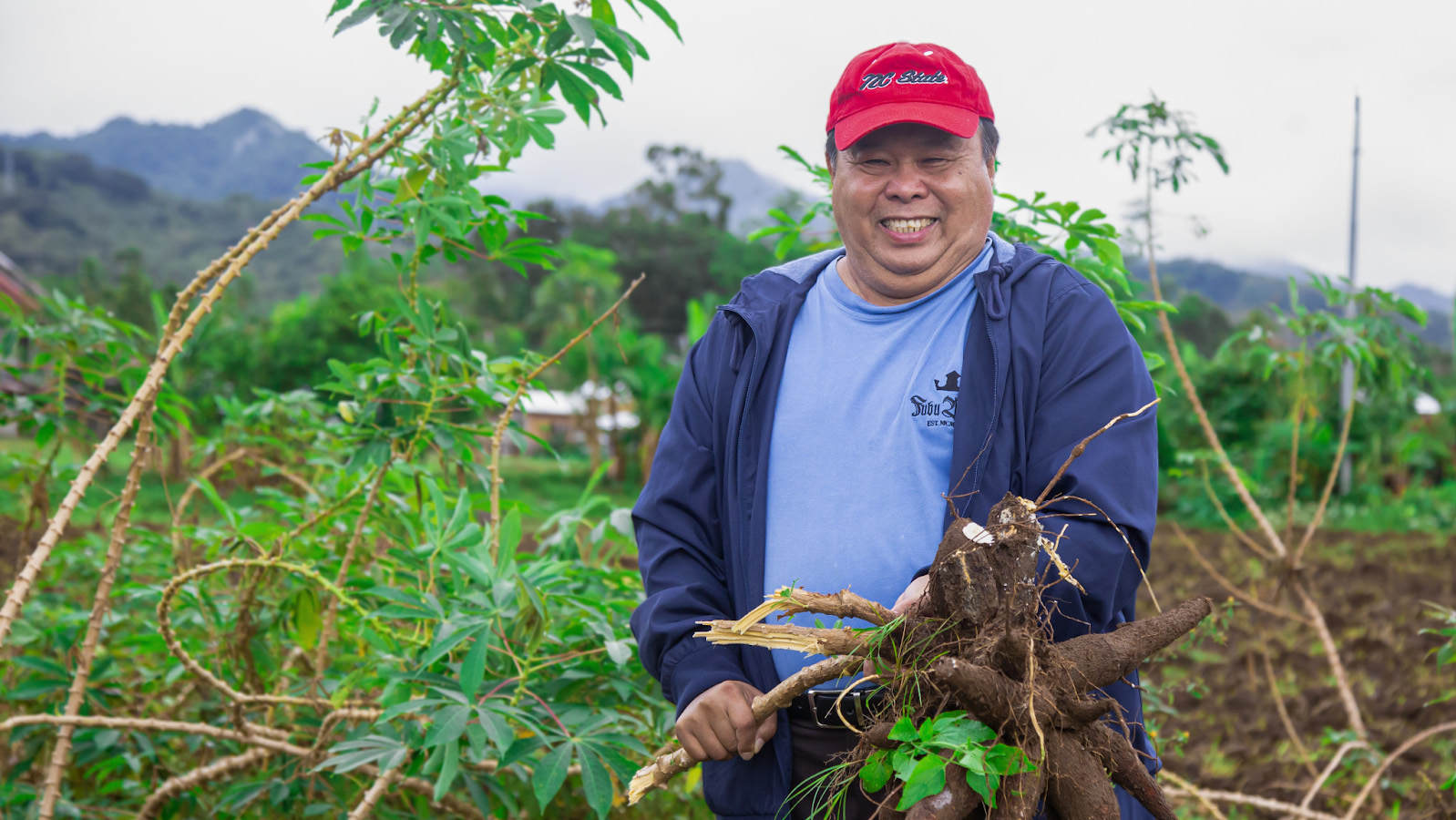 After spending four decades of his professional journey at the Visayas State University, Dr. Jose L. Bacusmo is now ready to face a brand new challenge—a career leap from the academe to the world of local politics.
Popularly known to Viscans as "Sir Joe", Dr. Bacusmo is the 5th President of the VSU system who served two consecutive terms from 2007 to 2015. As an administrator and agricultural scientist, he steered VSU to many institutional accomplishments that made it a premier state university of science and technology in the Visayas.
Because of this, Dr. Bacusmo was accorded the Presidential Lingkod Bayan Award by no less than President Rodrigo Roa Duterte in a special ceremony held in Malacanang on December 19, 2016. This recognition is touted as the highest award given to public servants working in government.
In terms of research and extension, Dr. Bacusmo was also included in the elite roster of 50 Men and Women of Science in 2008 given by the Department of Science and Technology (DOST) in their golden year anniversary.
Likewise, he is also a recipient of the Pantas Award in 2010 as the country's most outstanding research administrator by DOST's main sectoral council on agriculture, aquatic, and natural resources research called PCARRD.
He also led many infrastructure and beautification projects like the new VSU Library, the construction of a gazebo at the Ecopark including a Japanese-inspired garden in the College of Engineering and Technology (CET) complex to solidify VSU's brand as a 'Very Scenic University'.
Honed first as a prolific plant breeder and later on as an academician, politics was never part of Dr. Bacusmo's lifeplan. He spent his life teaching, doing research, implementing extension projects in communities, and eventually as the chief steward of VSU.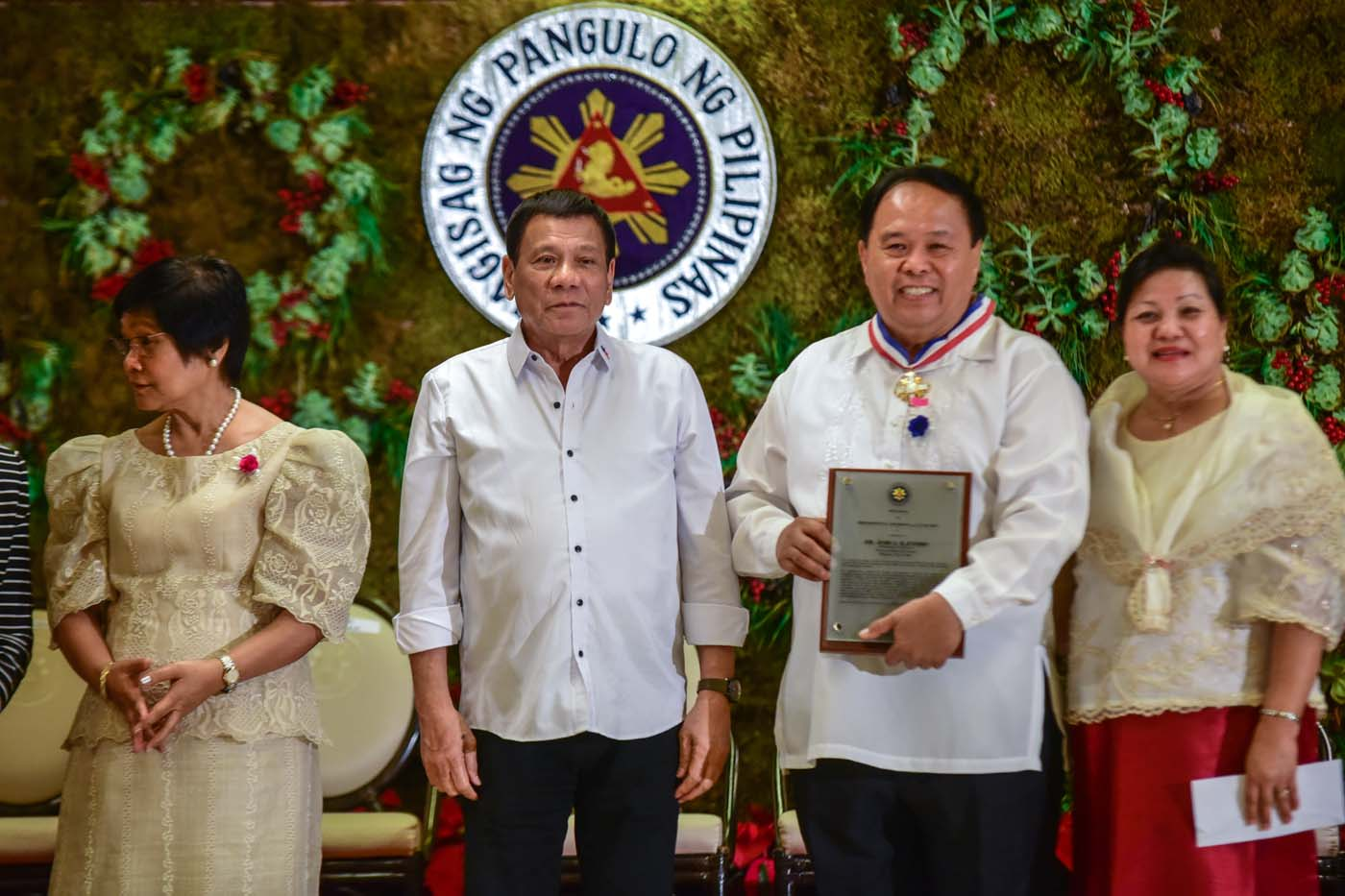 Dr. Bacusmo receives the Presidential Lingkod Bayan Award from Philippine President Duterte and CSC Chairperson Alicia Dela Rosa-Bala. Photo courtesy of Rappler.
Even after retirement in September 2021, Sir Joe refused to let go of public service by working pro-bono to complete some of the major research and extension projects that he led including a massive development program on recovery and rehabilitation after Typhoon Haiyan devastated the agricultural sector in Eastern Visayas.
"I'm already retired, but I'm still active in helping with the many projects here to assist my colleagues with implementation and reporting. I do not get paid for this, but I still serve because this is part of my commitment as former project leader," Dr. Bacusmo said.
Maybe retiring is just a technicality that he had to go through but in reality, Dr. Bacusmo would still want to make a dent, only this time he will be exploring it in another arena.
A love child who worked his way up
Despite his significant achievements, Dr. Bacusmo never forgot his humble beginnings. In fact, this has been his prime motivation to help others, especially the root crop farmers that he worked with in the many communities that he previously served.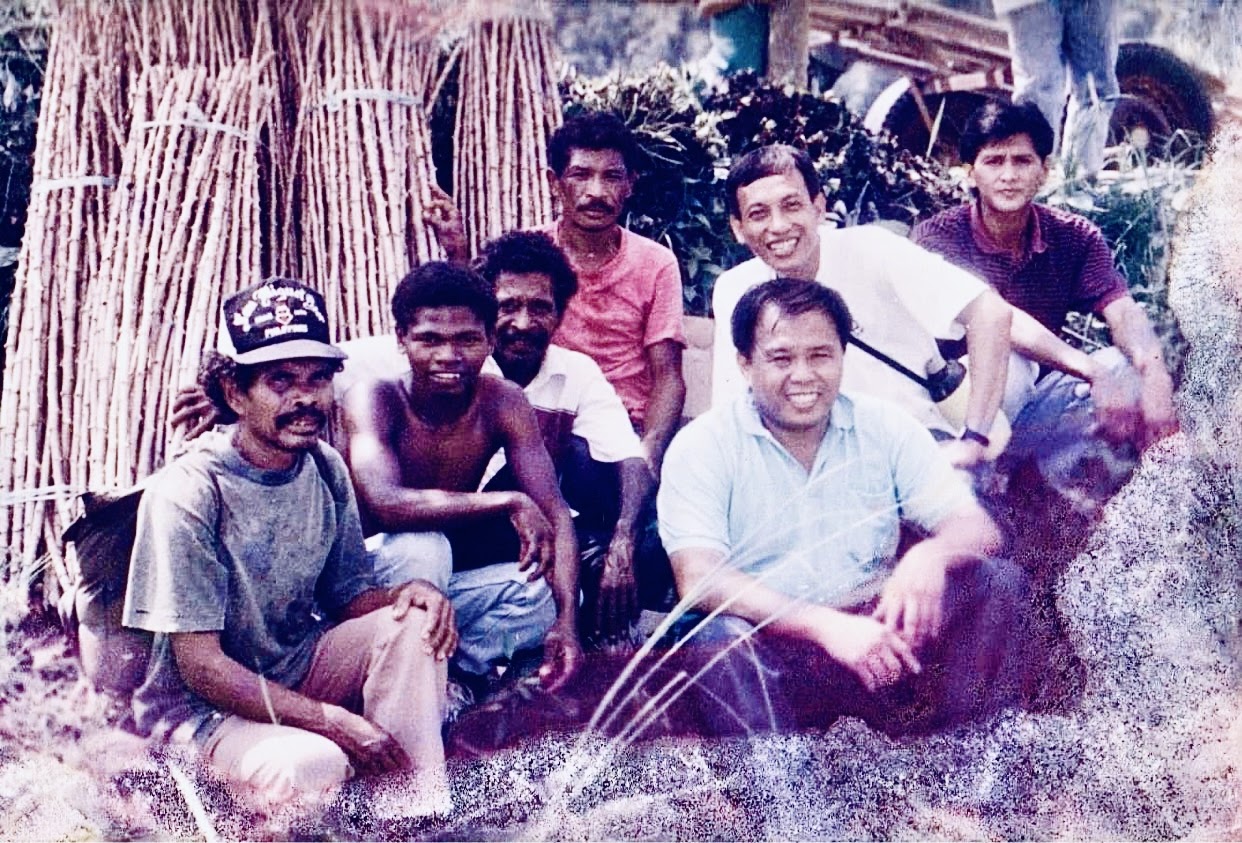 Dr. Bacusmo doing fieldwork in Zambales to distribute root crop planting materials to indigenous people affected by the Mt. Pinatubo eruption in 1991.
Being a child born out of wedlock, Sir Joe was raised by a single mother and had a very tough life in his growing up years. He had little to no privileges which pushed him to engage in sideworks even at a very young age to sustain his needs and the needs of his mother.
Fortunately for him, Dr. Bacusmo was taken care of by some of his relatives allowing him to finish his high school education.
"My relatives took good care of me when I was growing up. But of course there was a limitation, especially when talking about college. Studying for college back then was not easy for me, so I had to go back to my mother," he reminisced.
Sir Joe revealed that he could not afford to study in other schools aside from VSU because of the cost needed to pursue college education in big cities.
"That's why I chose to study here in VSU because the tuition fee was just only around sixty-four pesos at that time, and you couldn't find schools like that in Cebu," he recalled.
In VSU, Dr. Bacusmo was a working student. He juggled academics and his work as a research aide in the Philippine Root Crops Research and Training Center (PhilRootcrops).
With hard work and help from many people, he got a scholarship that propelled him to graduate studies, with his master's degree obtained from the University of the Philippine Los Baños (UPLB) while his doctoral degree in North Carolina State University in the United States.
From then on, there was no other way for Dr. Bacusmo but to continue climbing up.
Local politics as not part of the plan
Dr. Bacusmo admitted that he never thought about entering politics although his will to help people has always been at the core of what he does.
Sir Joe was a consultant to many government and private agencies, including the local government of Baybay City where he offered guidance on effective implementation of various agricultural development projects spearheaded by the current Mayor Jose Carlos L. Cari and former Mayor Carmen L. Cari.
But he also admitted that public service done in the academe is a bit different from public service when you are an elected official. For him, while the main goal is basically the same, the dynamics are a bit more competitive because you need to present yourself to the people and be known personally by them.
Dr. Bacusmo is undoubtedly an amateur in the arena of local politics and he recognized the many challenges that he might face as he takes on this new journey. He believes that local politics requires ground command and deep connections with the barangay officials who are the immediate responders of the community.
"Being an academician, securing the support of many barangay captains was the least of my concerns when I was doing my community work for the many projects I led before. In fact, I'm only known to two barangay captains out of the 92 barangays of Baybay City. And these barangay captains I know are from Pangasugan and Guadalupe only because they are the surrounding communities of the VSU campus," he said.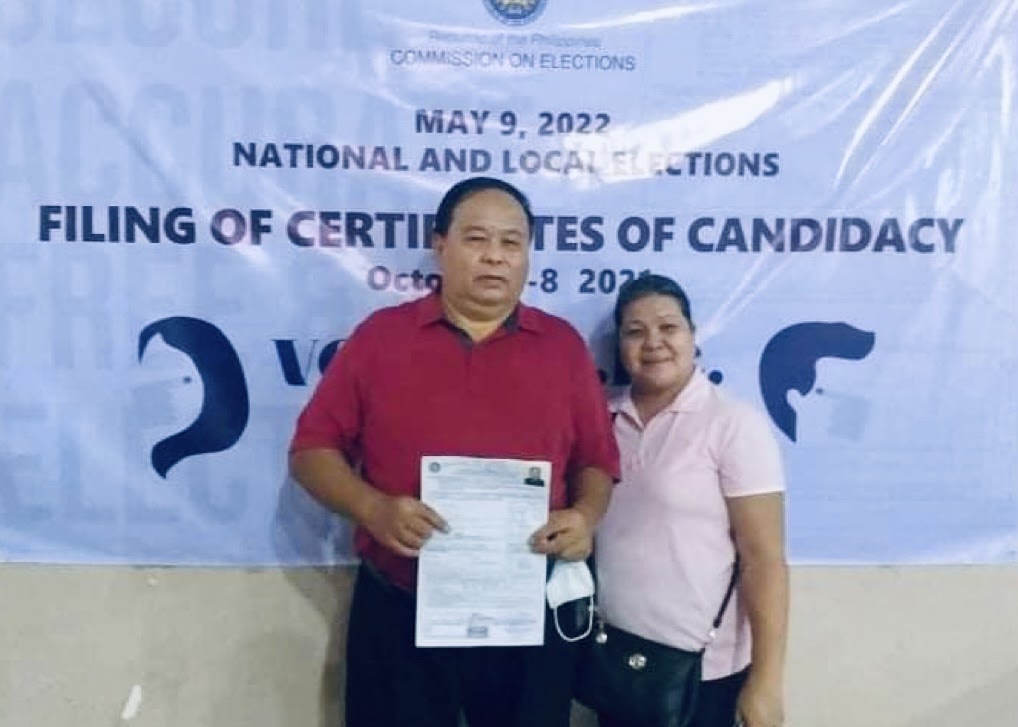 Sir Joe's better half and a public school teacher Manuelita U. Bacusmo accompanied him in the official filing of certificate of candidacy as Baybay City Councilor held on October 8, 2021.
No less than the incumbent Mayor Jose Carlos L. Cari invited Dr. Bacusmo to give local politics a try. When he was officially offered a slot in the administration's ticket, he said that there were only two things that motivated him to grab the opportunity.
First is that he cannot say no to Mayor Cari because the local chief executive has been very supportive of VSU during the time that he was the VSU President. And it was also Mayor Cari who took notice of Sir Joe's heart for public service.
"When I heard Mayor Cari's reason, I knew that I should give the offer a shot. I was surprised by what he told me and it felt like an honor to be part of his team. I had my doubts, yes, but because I know that the good Mayor himself is offering me a slot means that I'm probably needed by the local government."
Second reason that motivated Dr. Bacusmo to enter local politics was he personally witnessed and admired the massive agricultural programs implemented by the current city officials of Baybay that mainly focused on increasing farmers' yield and overall productivity from the grassroots level.
"They have so many agricultural projects that they have launched and will continue to implement in the coming years. One example is the aspiration of Mayor Cari to make Baybay City a regional fruit basket in Eastern Visayas that's why he has been distributing free planting materials to farmers to make this dream happen. There's also huge hatchery projects for freshwater fish that will surely fire up supply in the City and will benefit local growers. I believe that my technical expertise in agriculture will be very vital in sustaining these projects that are being spearheaded by the LGU."
On this, Sir Joe also added that his vast network of connections with various line agencies of government will be beneficial for the local government when he gets elected as City Councilor.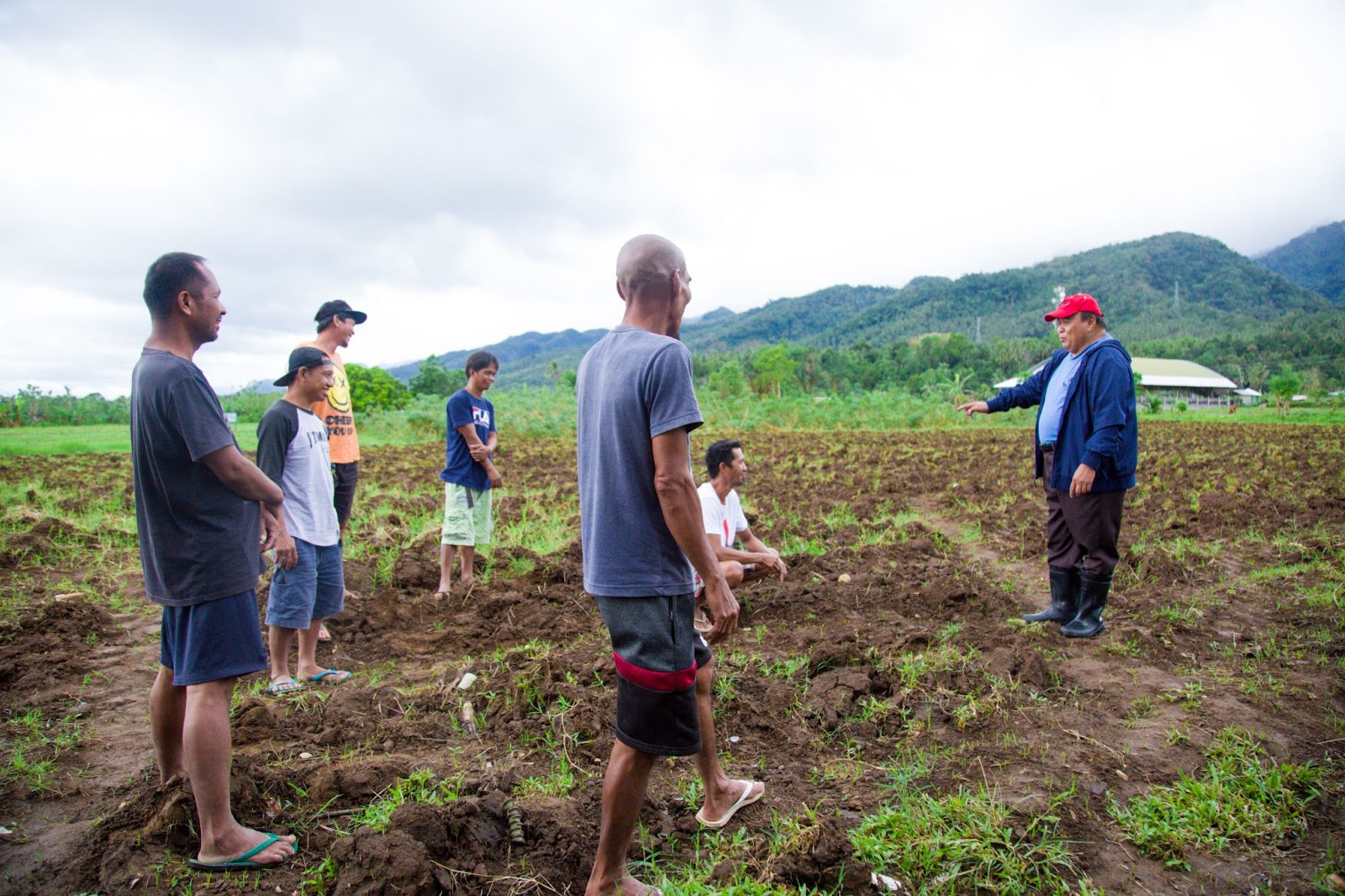 Dr. Bacusmo visits one of the root crop farms he's managing in Barangay Pangasugan wherein he explains some recommended practices that can best improve yield of cassava.
Dr. Bacusmo is very confident that he can still provide more despite his age not only because he's got the backing of Mayor Cari but also because his entire family are with him in this brand new career adventure.
But he also admitted to having experienced a major loss in their family with the recent passing of his youngest son, John Michael. He died two years ago at a very young age of 24. To say that Sir Joe was devastated was an understatement. In fact, this tragic experience took a major toll on his mental wellbeing.
"When my son died, I could not focus on work everyday. All I wanted at that time was just to lay low. I lost passion for work including the many things that made me enthusiastic in the workplace. I also lost interest in joining social events and it was really hard to make sense of it."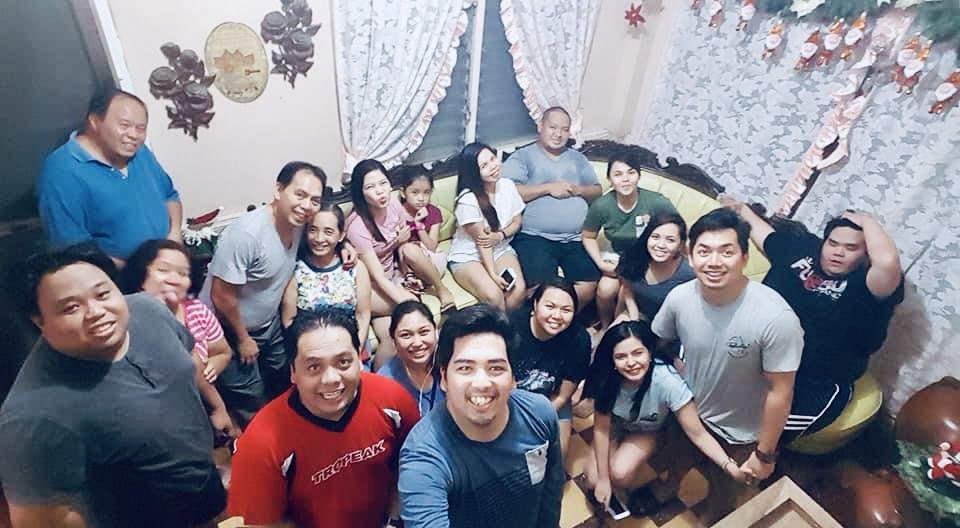 The extended Bacusmo family takes a groufie captured during one of their Christmas celebrations held in their ancestral home located in Baybay City. John Michael is the righmost guy wearing black shirt.
But for him, this new involvement in local politics has somehow reawakened his vigor, sharing that it made him more happy that it brought back his passion for public service.
"The need to visit communities allowed me to know more people. And I think those I've worked with in the past can attest how much I love working with young people. Being with them energizes me and I'm sure that I will get to meet and work with more young people when I get elected. The energy brought about by meeting new people revitalizes me and I think this feeling provides me with a greater sense of purpose."
Dr. Bacusmo is hopeful that despite his being new to local politics, he will get the support of Baybayanons in the upcoming May 9 polls.
He's also banking on the many Viscans to rally for him as he prepares to transition from university work to local legislation for public good.