VSU combats the spread of HIV/AIDS through peer education
Details

Written by Neil Bryan B. Fulache

Published: 10 February 2022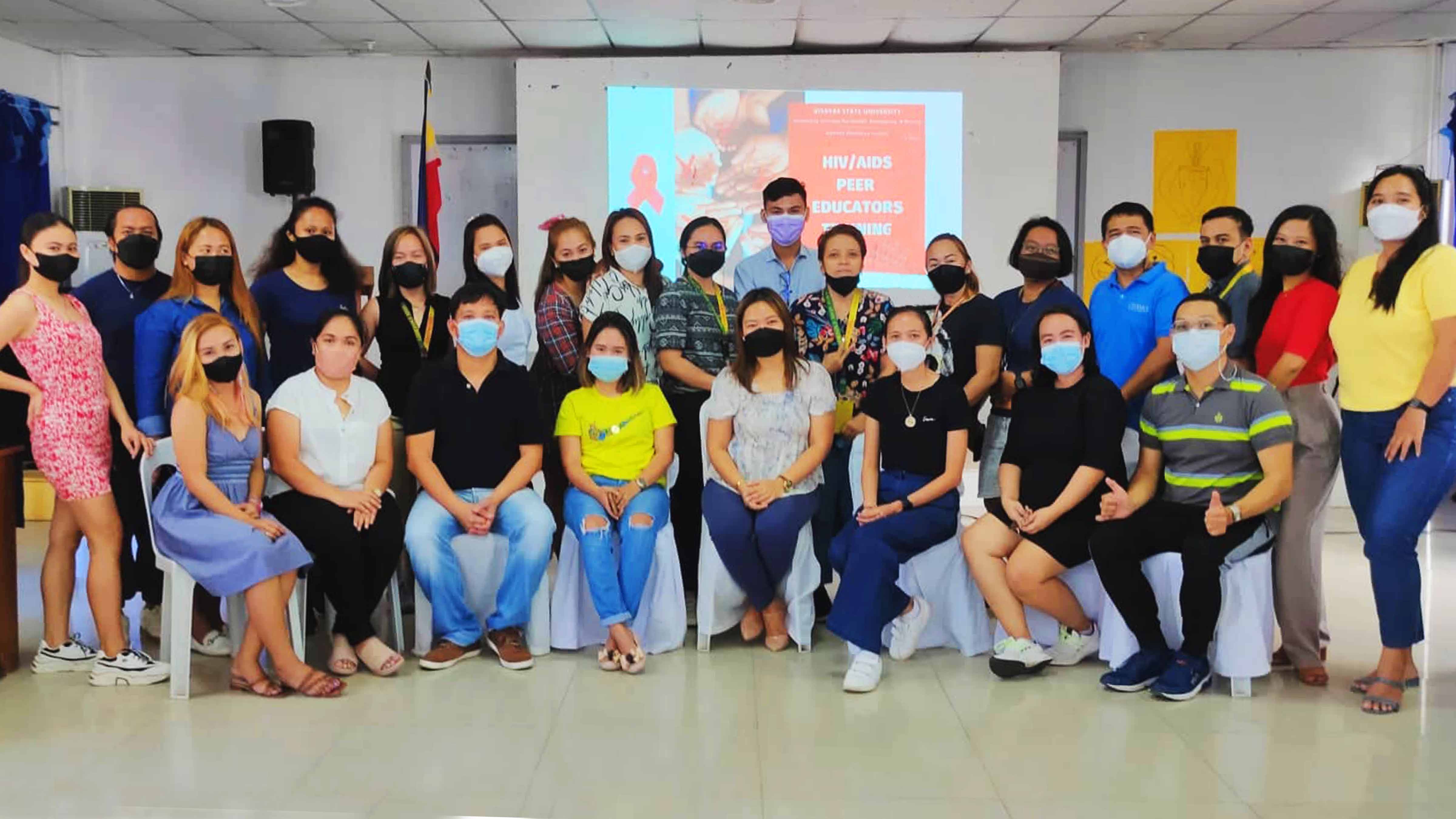 The Visayas State University's primary health care service provider, the University Services for Health, Emergency and Rescue (USHER), held a three-day peer educator training on January 19 to 21, 2022 at the Center for Continuing Education (CCE) building.
It aimed to capacitate VSU faculty and staff on how to prevent the spread of Sexually Transmitted Infections (STIs) including other highly-communicable diseases.
This comprehensive training program was supported by the Department of Health Regional Office VIII (DOH-8) and was mainly spearheaded by Dr. Elwin Jay V. Yu, VSU resident physician and USHER Chief of Hospital.
USHER partnered with the Gender Resource Center (GRC) in conducting this training to ensure that appropriate gender practices are followed, especially that recent studies have proven the link between HIV and gender-based violence including gender inequality.
Prof. Ma. Aurora Teresita W. Tabada, GRC Head, was one of the main collaborators of this training program
With the alarming rise in reported cases of Human Immunodeficiency Virus (HIV) in Eastern Visayas that can potentially turn into Acquired Immunodeficiency Syndrome (AIDS), DOH-8 has already recognized this public health concern that it needs immediate action and prevention at the regional level.
Facilitators of the said training were officers from the Regional Epidemiology Surveillance Unit of Eastern Visayas. They covered topics related to HIV epidemiology, testing services, policies and guidelines like the Philippine HIV and AIDS Policy Act (RA 11166), the Sexual Orientation and Gender Identity Expression (SOGIE) bill, and some recommended practices to reduce the impacts and stigma against infected individuals.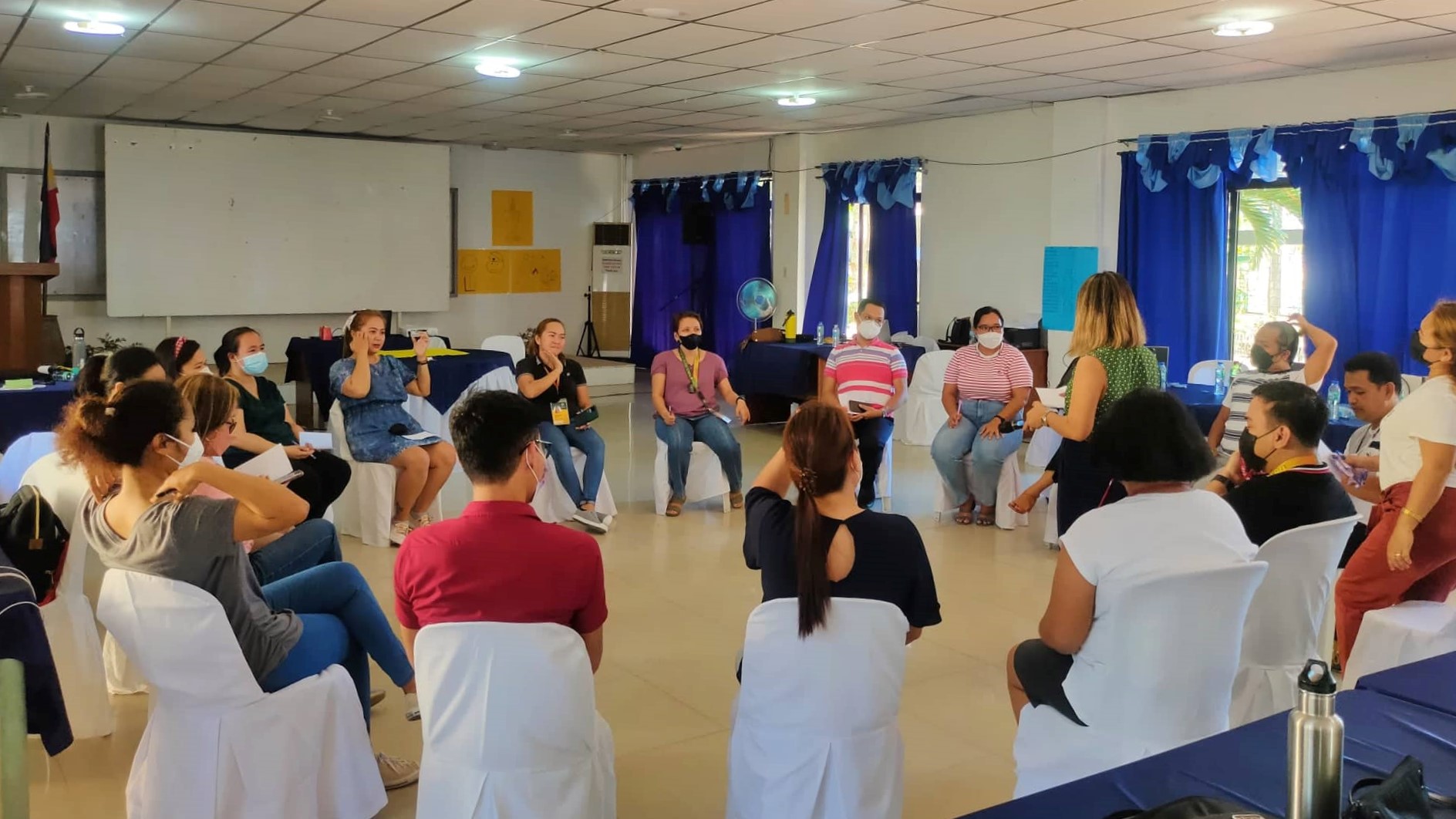 Participants were immersed in interactive activities to make the HIV peer education training program livelier.
Targeted as a system-wide awareness program against HIV/AIDS, faculty members and staff of the VSU Main Campus were joined by their counterparts from VSU Component Campuses based in Alangalang, Isabel, Tolosa and Villaba.
Participants who were trained as peer educators are expected to re-echo their valuable learnings to their colleagues when they return to their respective workplaces.
In an interview with Dr. Sarah Aurora W. Tabada, Medical Officer III and USHER's Public Health Unit Head, she emphasized the importance of making people aware that contracting HIV is not necessarily a death sentence but rather a treatable disease that can be prevented through continued public education.
"This disease has long-term complications. Hence, preventive measures and early diagnosis of HIV are important. USHER has identified the need to increase HIV awareness to address the issue of HIV prevention in the university especially because many of our students including faculty and staff belong to the age group of 15-34 years old who are considered very vulnerable to the disease," Dr. Tabada explained.
Ms. Jan Ana M. Salar who is a public health nurse and the designated peer-educator trainer and one of the focal persons of the HIV/AIDS prevention program of VSU revealed that because of the trainings that they conducted for the past years, it has reaped significant benefits for the university that made way for early diagnosis and treatment of some people who contracted the disease.
"The peer education approach to health promotion has been identified as an effective strategy particularly for HIV prevention and in initiating youth reproductive health programs even at the global level. The VSU-USHER has been strongly pushing for these practices for many years now and I think this has made our community safer from contracting this HIV/AIDS," Ms. Salar added.
Now that new HIV/AIDS peer educators have been capacitated, USHER is currently setting its track for the establishment of a dedicated organization of peer educators that will become the core implementing group in initiating future awareness and prevention programs about this disease.