Nursing prof is named one of Distinguished Health Researchers in Region 8
Details

Written by Ulderico B. Alviola and Neil Bryan B. Fulache

Published: 09 December 2021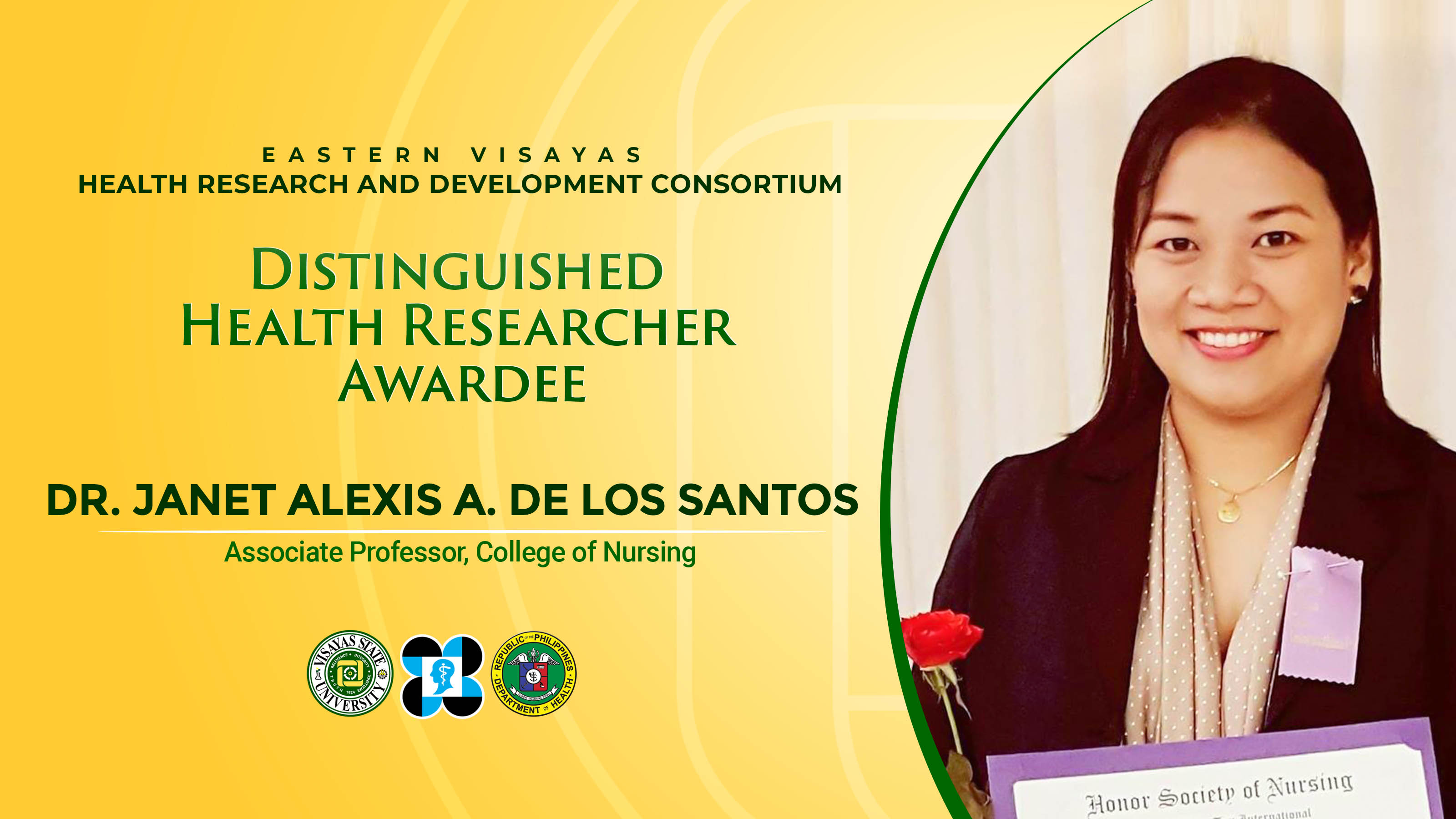 Dr. Janet Alexis A. De los Santos, an Associate Professor of VSU College of Nursing (CON) was recognized as 2nd placer in the regional search for Distinguished Health Researchers in Region 8.
This award was accorded by the Eastern Visayas Health Research and Development Consortium (EVHRDC), Department of Science and Technology (DOST) and Eastern Visayas Center of Health Development (EV-CHD) during the 2021 Eastern Visayas Regional Science and Technology Week celebration held from November 24-26, 2021.
EVHRDC is the premier regional organization on health research under the guidance of the Philippine Council for Health Research and Development (PCHRD), which includes inter-agency membership from the Department of Science and Technology (DOST), the Department of Health (DOH), state universities and colleges (SUCs), private higher education institutions (HEIs), and other units conducting health research and development.
For getting this award, Dr. De los Santos brought home a cash prize of Php20,000 that came with a plaque of recognition from EVHRDC.
She received her award in a virtual forum for stakeholders and community dissemination held on November 26, 2021 via Zoom with a simultaneous online broadcast on the official Facebook page of EVHRDC.
Dr. De los Santos never expected to be recognized under the Distinguished Health Researcher category as she was originally nominated for another category.
"I was certain that my nomination was under the Outstanding Novice category. But apparently they elevated my award to a higher category, which was such a huge surprise for me," she revealed.
The category in which Dr. De los Santos won is only conferred to an individual or a group of persons that have significantly contributed to the body of knowledge in the field of health research.
Nominees under this category were judged through their cumulative work achievements and contributions in all fields of health research. It had no age restrictions and could even be granted posthumously.
The CON faculty also shared how building up her research credentials provided necessary inputs to research-based teaching and instruction.
"The thing about research is that you generate knowledge, and in doing so, you are also improving on the content of what you will be teaching to your students in the classroom. When you get to train nursing professionals who take advantage of research inputs to improve healthcare practice, you then improve the lives of the people you serve," she explained.
Proof of Dr. De los Santos' accomplishment as an emerging health researcher is her recent achievement of being the top author in Elsevier SciVal in terms of scholarly outputs on psychological support, mindfulness and COVID-19.
Elsevier SciVal is an online tool that offers quick, easy access to the research performance of 19,600 research institutions and 231 nations worldwide using bibliometrics.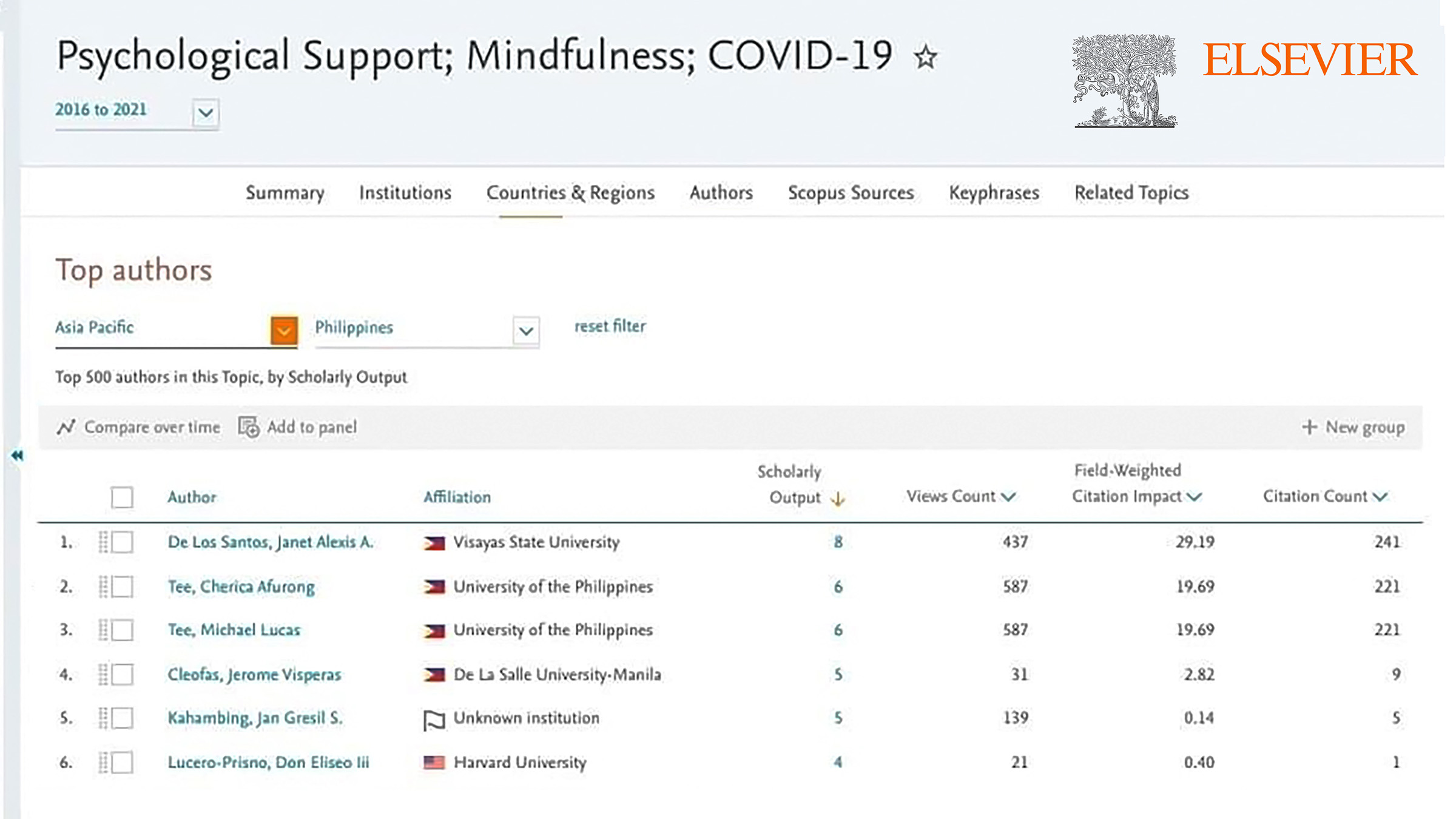 Of the 8 publications produced by Dr. De los Santos, available under Elsevier, this has been viewed 437 times with other researchers citing her works for 241 times already. Overall, she has published a total of 21 publications since 2018.
According to Dr. De los Santos, doing research right now becomes more fulfilling because you now have a way to know if people are reading and citing your works.
"I feel very happy that the research papers I published are getting noticed by people here and abroad. It makes research more rewarding when you know that there are people reading and citing your publications. It really gives me more drive to write more research papers in the future," she expressed.
Dr. De los Santos hopes that her award will inspire more faculty members to engage in research, especially in her home unit.
"We are a new college in the VSU system and being able to contribute to VSU's drive for greater research productivity is such a humbling experience. I really hope that my co-faculty members in my college will see the value of research in improving the quality of instruction because this is one sure way that our new unit gets to be recognized here and abroad," the awardee concluded.
The VSU College of Nursing (CON) was established in 2007 as an experimental degree offering with the aim of increasing the number of nursing professionals in the region.
Fourteen years since its establishment, VSU-CON has consistently obtained a 100% passing rate in the recent licensure examinations for nurses making it one of the best nursing schools in Eastern Visayas.