Devcom stude is finalist for CineIskool Film Fest, also qualifies for Sine Kabataan
Details

Written by Ulderico B. Alviola

Published: 27 February 2022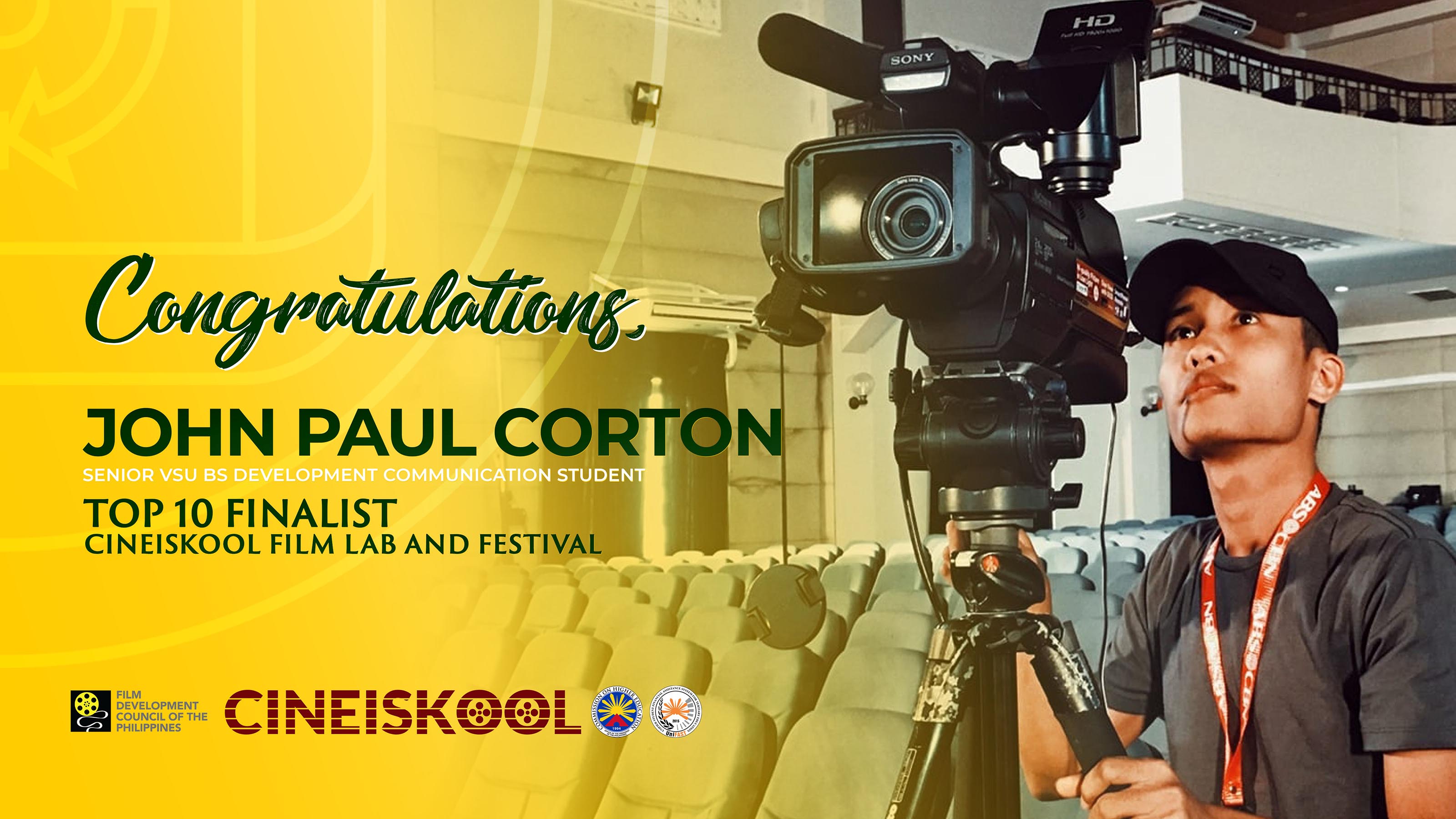 Mr. John Paul C. Corton, a Development Communication (Devcom) graduating student, qualifies as an official contender of the first ever CineIskool Film Laboratory and Festival.
This unique film mentorship program is spearheaded by the Film Development Council of the Philippines (FDCP) in partnership with the Commission on Higher Education (CHED).
Mr. Corton's proposed film entitled 'Napulo Ka Tuig' (translated as 10 Years) was screened and accepted for implementation from over a hundred entries submitted nationwide. His entry was declared as a finalist along with 9 other shortlisted films from students coming from different Higher Education Institutions (HEIs) in the country.
CineIskool will mainly serve as a visual showcase of diverse stories that gives different voices in the community and the opportunity to highlight the importance of tertiary education.
Under CHED's Unified Student Financial System for Tertiary Education (UNIFAST), this program will attempt to bring into the big screen the unique stories of success including the struggles of students who benefitted from the implementation of the free higher education program of the national government.
Unlike other student film festivals that only accept ready-to-watch movie entries, CineIskool will include an extensive laboratory exercise that will help the 10 finalists to develop their approved story pitches and produce this in a three-month window of exclusive training, shooting and producing the film.
The 10 finalists will accomplish this under the guidance of a highly acclaimed filmmaker Tops Brugada and a topnotch producer Patti Lapus.
Through a unique setup called a virtual film lab, the CineIskool finalists will have one-on-one breakout sessions with their resident mentors to equip them with the necessary tools and information they need to create truthful and insightful narratives that will translate into inspiring films.
Aside from an industry-based training program in film production, Mr. Corton will also be receiving a grant amounting to Php125,000.00 to cover both production costs and the implementation of safe filming protocols.
After the film lab and actual shooting and production, the 10 projects will be showcased through a film festival that will be made available for public exhibition sometime in June this year.
Here's the complete roster of finalists with their proposed project titles and the schools they represent.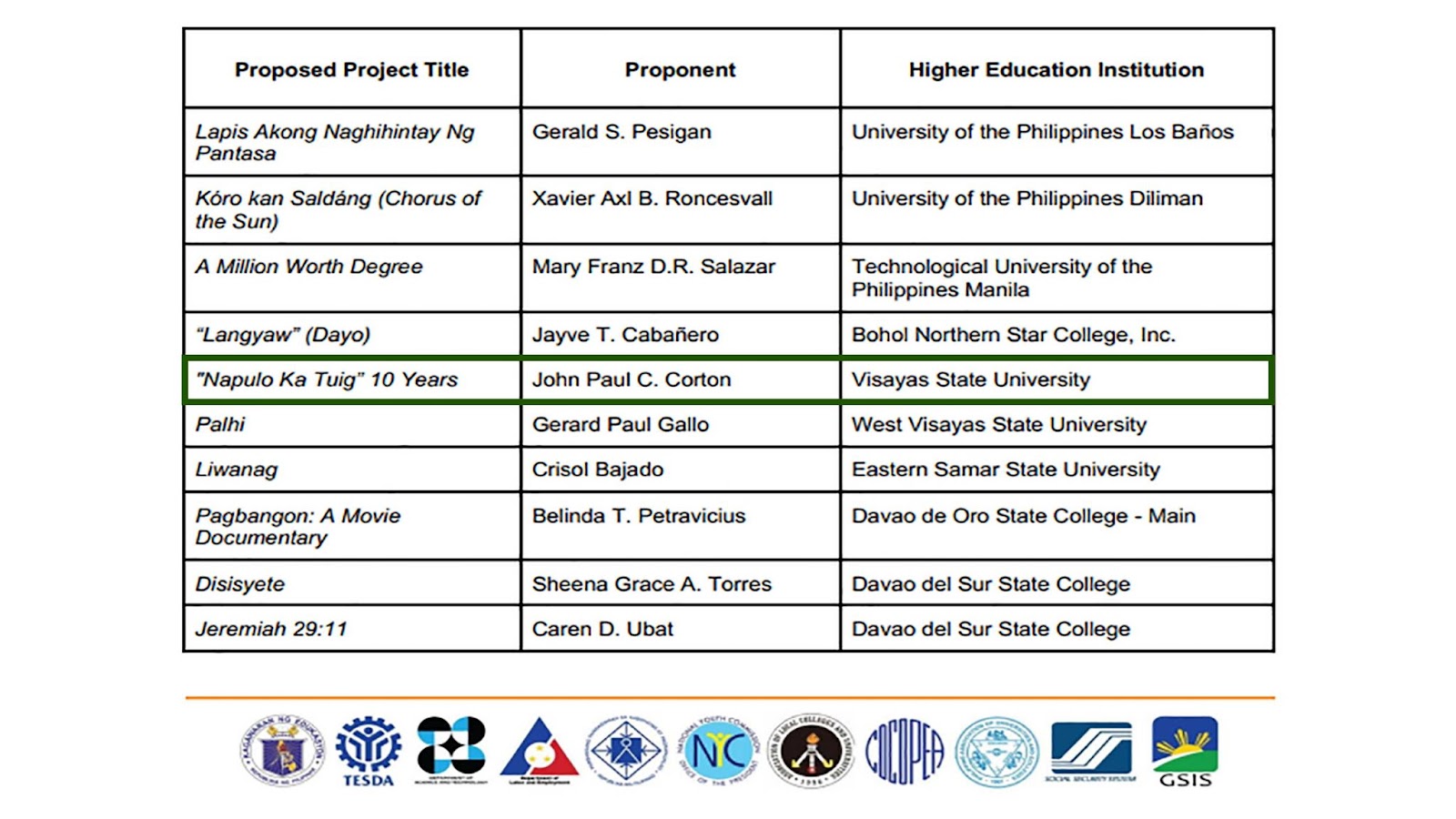 A film inspired by personal life story
In an exclusive interview, Mr. Corton revealed that his story pitch 'Napulo Katuig' will be inspired from his personal life story that will most likely represent his hard experiences of completing college education in a decade.
"Before I became a Viscan, I was a student at Eastern Visayas State University (EVSU), and then I transferred to Western Leyte College (WLC). But I stopped studying there because we were not able to pay for my tuition fees. Thankfully the Free Higher Education Program was passed, and that opened an opportunity for me to study here in VSU and pursue a college degree in Devcom," the aspiring filmmaker explained.
Mr. Corton also added that his proposed project will follow the life of a college drop-out who is envious of his high school batchmates who are also about to finish their college education. This same student applies for a scholarship but later on finds out that he did not make it.
"Basically this film project will highlight the struggles of getting a college degree and will showcase the importance of free education which has been a tremendous help for struggling students like me. Without it, I would most likely be working in Manila right now. Free higher education is really both a blessing and a miracle for me and I'm dedicating this film to capture my humble story," he said.
Now that Mr. Corton is in his last semester in VSU, he will work side-by-side in completing his thesis while also working on this film project. While this will surely make the completion of his Devcom degree more challenging, he was convinced that he'll be able to accomplish both of them through proper time management and complete focus.
The graduating student also teased that a portion of his film will be shot inside the campus as his way of paying homage to the opportunity he found inside VSU. He also revealed that some casts will include Viscans working inside the Main Campus in Baybay City.
Another enlistment in one more film competition
On top of getting selected in CineIskool, Mr. Corton also qualified for Sine Kabataan which is another youth film competition separately organized by FDCP.
He recently received an email confirmation that his entry entitled 'Astronaut Kid' got enlisted in the initial selection of this competition.
This is his second time to qualify for Sine Kabataan wherein 20 candidate film pitches will undergo another round of film development phase before narrowing down the list to Top 10. Just like in CineIskool, a production grant will also be accorded to the finalists.
Mr. Corton was also shortlisted in various workshops before including a Basic TV Drama Scriptwriting Workshop from GMA Network which he completed in 2019. He has also represented VSU in numerous trainings being the Multimedia Production Head of the Amaranth, the official student publication of the university.
Last year, his entry entitled 'After a Breakup' also made it to Globe Studios story pitching competition.