#ProudViscan topnotcher sets new record in mechanical engineering
Details

Written by Ulderico B. Alviola

Published: 11 March 2022
Engr. Mark Anthony S. Arcayan did not only ace the February 2022 Mechanical Engineering Licensure Examination (MELE) but more than that, he also broke records by obtaining the highest rating in the history of this board exam.
This #ProudViscan finished the MELE with a whooping 96.60% rating, a feat that has never been achieved before.
Engr. Arcayan's overall rating was computed from the three parts of the exam which include: (1) Industrial and Power Plant Engineering where he obtained a staggering 100% rating; (2) Mathematics, Engineering Economics and Basic Engineering Sciences where he got 98%; and Machine Design, Materials and Shop Practice in which he earned 91%.
Conducted by the Professional Regulation Commission (PRC), this year's mechanical engineering licensure examination was held from February 27-28, 2022 with 2,121 passers out of 3,780 examinees all over the Philippines.
In this same exam, the Visayas State University (VSU) system produced a total of 13 new mechanical engineers, 7 were from the flagship campus in Baybay City while 6 were from the component campus in Isabel, Leyte.
VSU Main Campus in Baybay City obtained an institutional passing percentage of 53.85% while VSU Isabel got 75%. The complete roster of successful examinees from the Main Campus are as follows:
Engr. Shiela Mae B. Abao
Engr. Mark Anthony S. Arcayan — Top 1
Engr. Von Jeric G. Basa
Engr. Christian Garri C. Mosquera
Engr. Joewill K. Pene
Engr. John D. Perales
Engr. Resureccion S. Salomon III
Meanwhile, the new mechanical engineers from VSU Isabel include the following graduates:
Engr. Jesriel Y. Alsonado
Engr. Adiel L. Fuentes
Engr. Philip Geo G. Galban
Engr. Jenova B. Larraga
Engr. Kenneth M. Limpios
Engr. Elbert C. Lloveras
3 keys to setting a new record in MELE
For Engr. Arcayan, breaking history was a product of 3 things: Consistency, Balance, and Faith.
He said that consistency was a discipline that he started to learn in high school that he later on nurtured at VSU up until he took the board exam.
"A month before the exam, I was consistent at managing my time to read formulas, elements, and solving equations. And this part for me was the hardest given that there's a lot of distractions from video games down to social media. I really tried hard to discipline myself. Intelligence by itself is insufficient as you really need consistency if you want to make it to the top," Engr. Arcayan explained.
He added that a huge part of his success was because of his rigorous and extensive training routines that the VSU Department of Mechanical Engineering (DME) implemented to its students. The board topnotcher even recalled that most problems included in the board exam were something that were tackled in his college days giving him an edge against other examinees.
"The pointers I got from Engr. Philip Caesar Ebit were really very helpful because these things I learned from him were like theory being put into actual practice. And I think that gave me an advantage over takers from other prestigious universities and colleges."
According to Engr. Arcayan, balance was also a very crucial part of his success as this involved knowing when to take a break from stress, and maintaining a healthy body by getting enough sleep.
"I also take breaks to destress and Sir Derek knows that very well because I played Dota on the sides when I was staying in Mabolo Men's Home. But I know exactly when to control myself from all forms of distractions. I also ensure that I get enough sleep to re-energize and recharge myself from the many challenges of my daily study routine."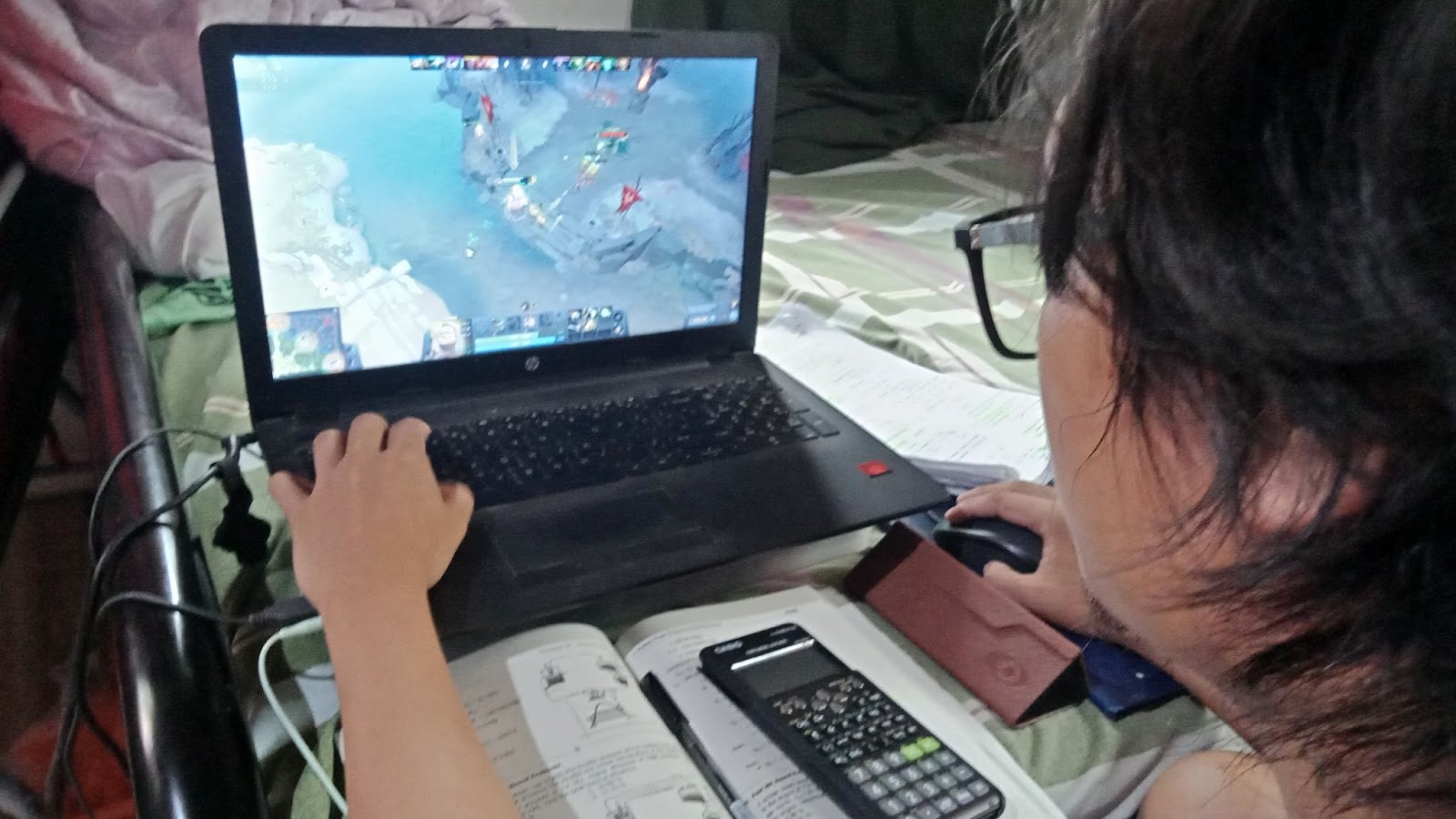 A balance between acads and leisure, Engr. Arcayan's favorite way of de-stressing and mental conditioning is playing his favorite video game—Dota.
Last but the most important key for acing the board exam is his unceasing faith in the Lord.
This record-breaker revealed that constant personal devotion and prayers from his family members helped him in reducing pressure and anxieties of taking the board exam.
"I did pray the rosary before taking the board exam. On top of that, my family held a cenacle rosary for me on a regular basis. It helped me in ways I never imagined because it gave me the assurance that everything is going to turn out really fine even right after completing the two-day test."
Engr. Arcayan's faith in the Lord was also something that he kept by not agreeing to involve himself in traditional board exam practices of looking for test leaks.
"I didn't want to compromise my faith. I just had to trust in Him that I can make it especially because I know the kind of training I got from VSU. I just had to work harder than others while also keeping my faith in the Lord that He will bless me and my aspirations in life."
#ProudViscan who intends to serve his alma mater
Currently a faculty member of DME, Engr. Arcayan shared that his future plans include staying in VSU and helping his home department become a topnotch school in the field of mechanical engineering.
"There's so much to be done in VSU-DME and I see this as one of my life's purposes for now. There are so many tempting offers from the outside but I'm not really interested in getting a huge salary as I've been used to living simply. Very soon, I just want to pursue a graduate degree so that I can help VSU in producing high quality mechanical engineers in the future."
The board topnotcher also revealed that with hard work, determination and his unwavering faith in the Lord, he hopes to be the first Viscan to study in the prestigious Massachusetts Institute of Technology (MIT)—the number 1 university in the world right now, and the best mechanical engineering school there is.
"That's one of the dreams that I really wish to accomplish in the future. I'm already looking into MIT including other prestigious global universities where I can pursue graduate studies. I'm hoping that I can make this dream come true."
Engr. Arcayan is a Magna Cum Laude graduate and the Valedictorian of VSU Class of 2020. He was also a scholar of the Department of Science and Technology (DOST) in his undergraduate years.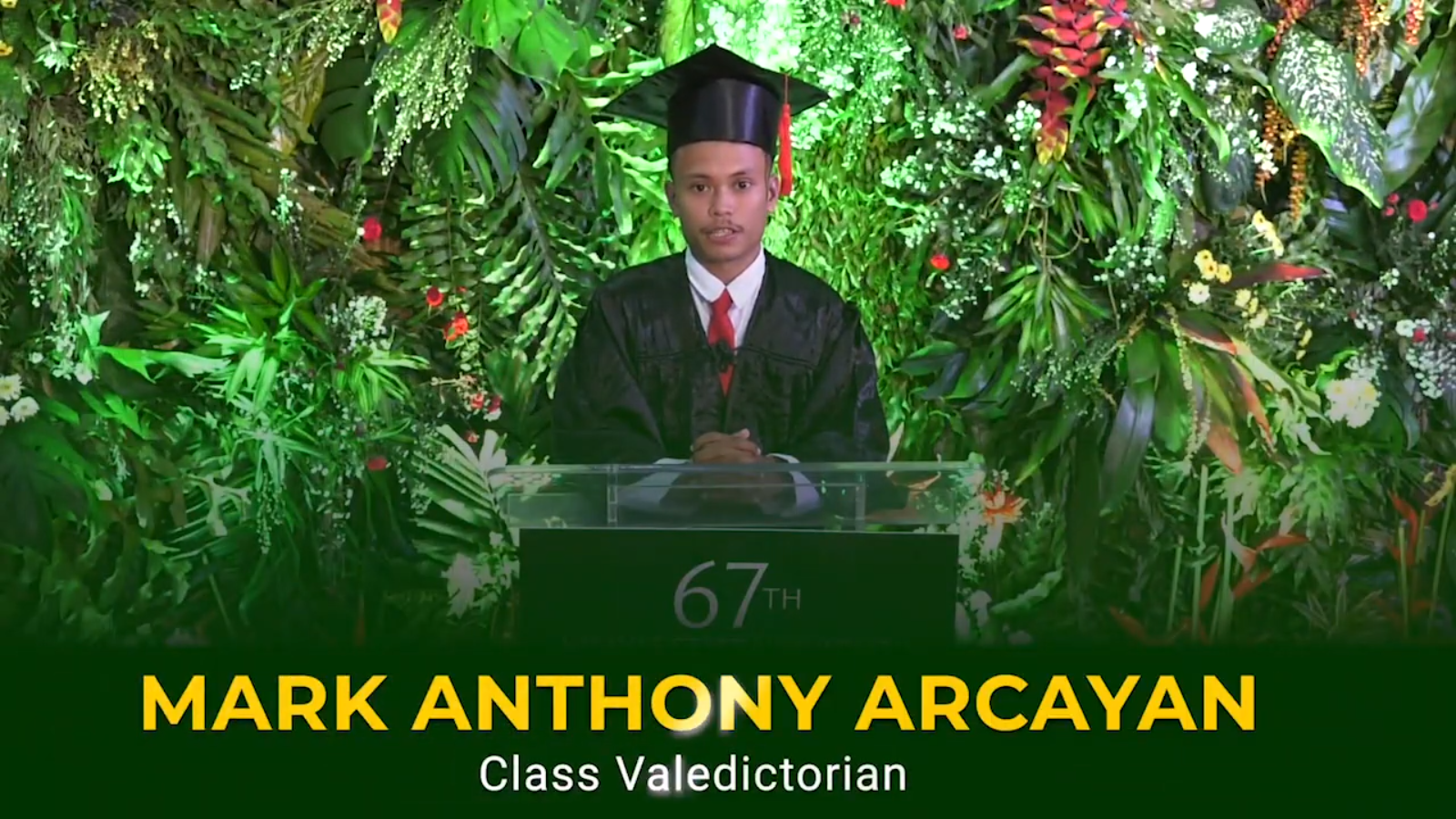 Engr. Arcayan delivering his valedictory speech in the 67th Commencement Exercises held virtually on September 30, 2020.
On top of that, he completed a six-month international exchange study program at the Tokyo University of Agriculture and Technology (TUAT) in Japan.
He is also the first Viscan to top the mechanical engineering board since this degree was offered in 2010.
Dr. Jannet C. Bencurre, the Dean of the VSU College of Engineering and Technology (CET), expressed her warm congratulations to Engr. Arcayan and to the other newly licensed engineers of the university.
"Congratulations to the new Mechanical Engineers of VSU, especially to Engr. Arcayan and the Department of Mechanical Engineering for the well-deserved success! This triumph brings honor and pride to your CET family and proves, once again, that our engineering programs are among the best in the country. Let us continue to aspire for excellence," Dean Bencurre said.
Meanwhile, VSU President Edgardo E. Tulin was very delighted to know that a #ProudViscan has set a new record in the field of mechanical engineering.
"This is such a historical milestone for VSU and for our very own Department of Mechanical Engineering. I'm very proud that despite being one of the youngest academic units here in VSU, our mechanical engineering program has accomplished this much that it will surely make a mark not only in Philippine engineering education but also in the administration of the board exams by the PRC," President Tulin stressed.
The VSU President is also hopeful that having Engr. Arcayan in our roster of young faculty members will contribute in further improving the institutional board exam performance of VSU graduates.
The February 2022 MELE was administered in 11 testing areas across the country which included the Cities of Manila, Baguio, Cagayan de Oro, Cebu, Davao, Iloilo, Legazpi, Lucena, Rosales, Tacloban and Zamboanga.