VSU Tolosa faculty win Best Research Pitch contest of the Philippine Genome Center
Details

Written by Frank Britz V. Cadavis

Published: 11 December 2021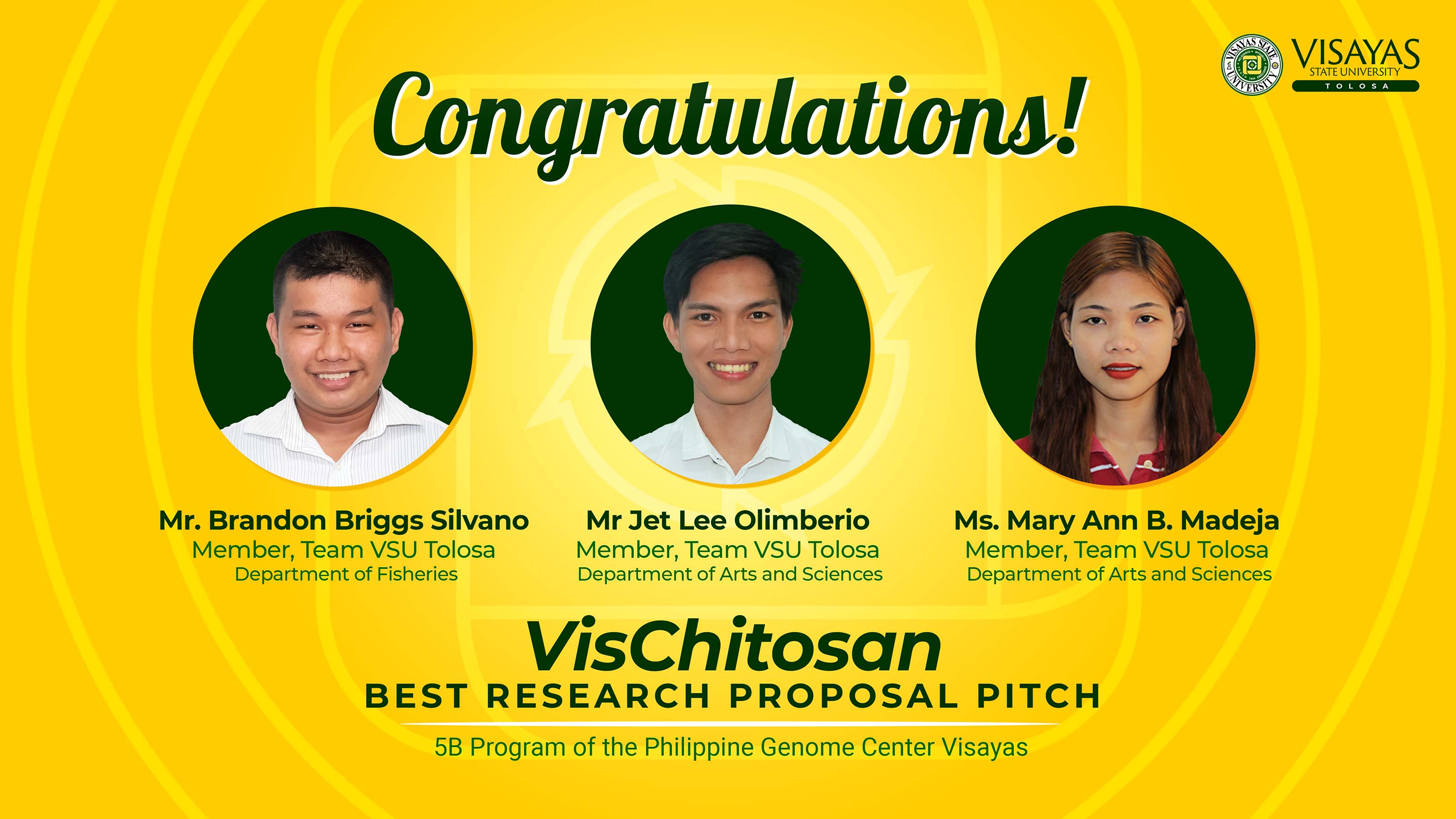 Young faculty researchers of VSU Tolosa's Department of Fisheries brought home the top prize in the Research Proposal Pitch Competition (RPPC) of the Philippine Genome Center (PGC) Visayas.
Mr. Brandon Briggs Silvano, Ms. Mary Ann B. Madeja and Mr. Jet Lee Olimberio composed the winning team who delivered their research paper on 'VisChitosan', which is a word they coined to describe their team of #ProudViscans who are exploring the many potentials of a sugar substance called chitosan.
The competition was held virtually on November 25, 2021 and was conducted to culminate the 10-month extensive online training boot camp called the 5B program of PGC Visayas chapter.
Other participating universities in this program include the University of San Carlos (USC), Romblon State University (RSU), and the University of Antique (UA).
In this winning research pitch, the VSU Tolosa faculty researchers extracted chitosan from locally sourced shells of green mussels, with scientific name Perna viridis and a local name 'Tahong'.
These shells of green mussels are considered a growing solid waste in some coastal municipalities of eastern Leyte. These shells are just disposed of as green mussels are mainly harvested for food.
Among the many uses of chitosan include being a flocculant, a means of improving sedimentation or filterability of small particles used for water treatment processes in aquaculture farming.
This same sugary substance can also be utilized as a bactericide, a chemical agent that helps prevent formation of bacteria and can be applied as additives to control corrosion.
The idea of pitching chitosan in this regional contest was initially built up from a previous research work conducted by fellow Viscan Ms. Ivy Jinky C. Briones who recently won the 9th National Fisheries Scientific Conference.
Ms. Briones was an advisee of Prof. Maria Dulce L. Alibangbang, another faculty member of VSU Tolosa who specializes in the study of chitosan.
Ms. Madeja, one of the winning researchers in the pitch contest, admitted that their interest in pursuing their research proposal was anchored on the things they learned from Prof. Alibangbang.
"We were all inspired by the research work being pursued by Prof. Alibangbang as we were very much convinced of chitosan's potential in solving wastewater problems in aquaculture farming," Ms. Madeja revealed.
The winning team applied what they learned about chitosan to specifically explore how this sugary substance obtained from shells of green mussels can be repurposed as a feed ingredient, and as a plant fertilizer.
With the promising potentials of their research, the team will also soon be pitching this same proposal in the upcoming Hyper Interdisciplinary Conference in the Philippines to be held in December this year.
This upcoming competition will include participation of Japanese companies from different fields that are looking for innovative projects that they can support and fund here in the country.