President's Notes: Cheers to President De Paz as the newly installed leader of EVSU
Details

Written by Edgardo E. Tulin

Published: 13 December 2021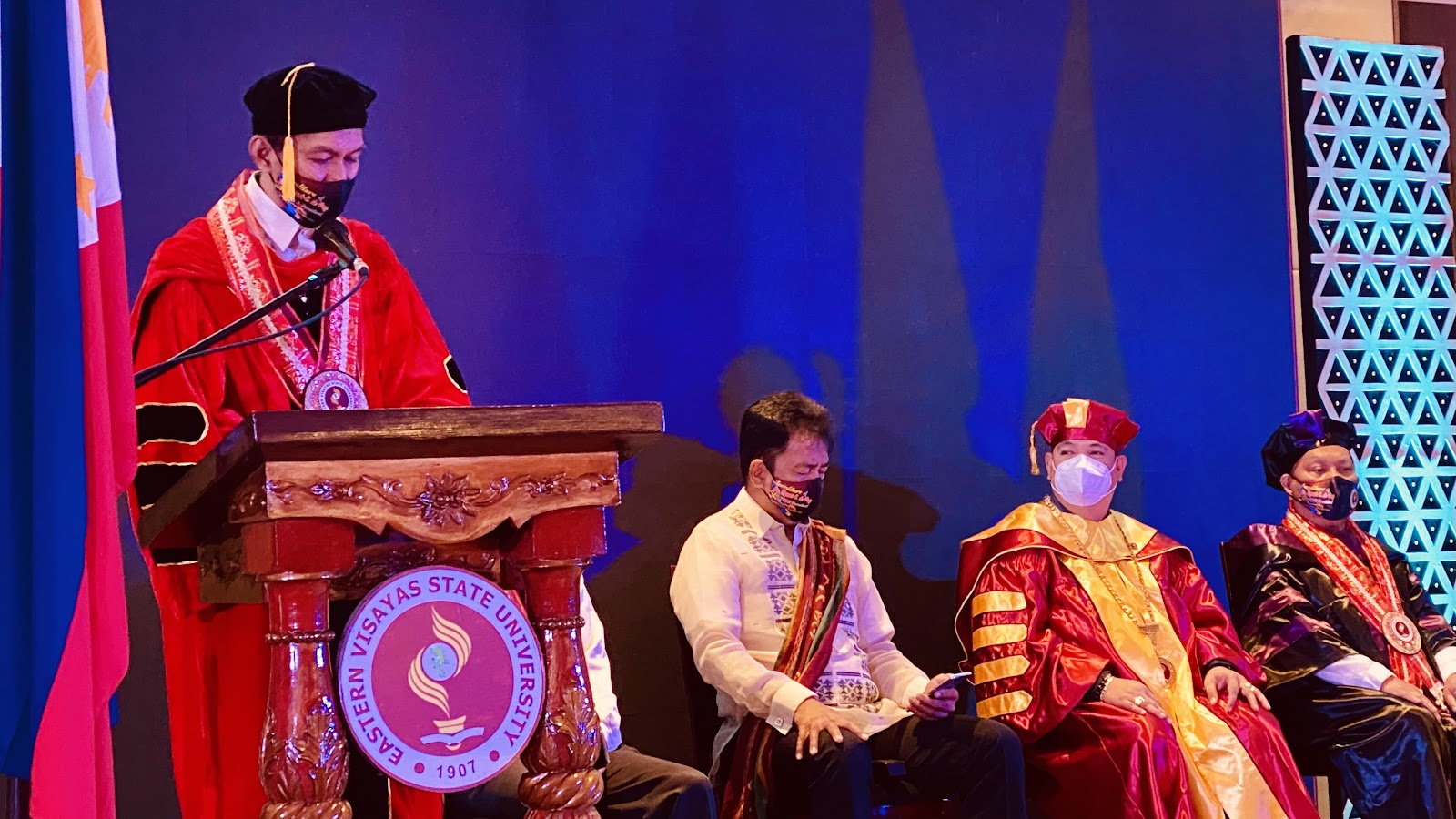 [This speech was delivered during the Investiture Ceremony of Dr. Dennis C. De Paz as EVSU President held on December 3, 2021 at Summit Hotel Tacloban.]
Good afternoon to one and all!
As President of the Philippine Association of State Colleges and Universities (PASUC-8) here in Eastern Visayas, we welcome with enthusiasm and excitement the investiture of Dr. Dennis C. De Paz as the 4th President of the Eastern Visayas State University (EVSU).
As President of the Visayas State University and an alumnus of VSU, I'm overjoyed to congratulate another fellow #ProudViscan who is now on the roster of SUC Presidents here in our home region. In a feature story that we published in our website upon the assumption of Dr. Paz to a new leadership role, the new EVSU President humbly admitted that his roots were nourished at the then Visayas State College of Agriculture (ViSCA) where he finished his Bachelor of Science degree in Statistics (BSStat) in 1993.
Upon graduation, he was immediately hired to work as a Science Research Assistant (SRA) in the VSU Office of the Director for Research, Development and Extension (ODREx) and later as a part-time instructor of the Department of Applied Mathematics in ViSCA. After two years, he then moved to Tacloban to teach Statistics at Leyte Institute of Technology (LIT), now Eastern Visayas State University. It was there that he saw himself growing professionally, and it was where he began to plan his future career goals and aspirations.
Through EVSU's faculty development program, he became a scholar as he took up his Master of Science degree in Statistics at the University of the Philippines Diliman (UPD). Dr. De Paz planned to study in Australia for his doctorate degree right after, but since he had an obligation to fulfill a return service, he decided to complete his Doctor of Education degree in EVSU while also being employed there.
Before being elected as EVSU's new President, Dr. De Paz held managerial positions including Director of the Zonal Computerization Center for NBC 461 in Region 8, Head of the Mathematics and Statistics Department, Dean of the College of Arts and Sciences, and as Vice President for Academic Affairs.
Dr. De Paz is credited to have sown the research culture in EVSU and he plans to continue pursuing this direction now that he is the Chief Steward of Region 8's emerging university in engineering and technology.
Dr. De Paz began his work in EVSU armed with the knowledge of research and appreciation for teaching. And maybe that was why he was slowly carving a path to a bigger leadership responsibility that he obtained right now.
While teaching in EVSU, he fought for research to also be recognized as a primary function of the faculty. He would gather faculty members to meetings and make them give simple presentations on the output of their students. It was a research colloquium intended for the faculty members to get a feel of what research is and how it should be done.
Gradually, he was invited as a resource person for making materials about research. This opened the door for him to continue and slowly cultivate the value of research in EVSU.
At present, Dr. De Paz plans to further strengthen the research productivity of EVSU by linking it with government institutions and other private organizations. This is such a tall order to do but I believe that because of the grit and commitment of Dr. De Paz to public service coupled with the strong support of the entire EVSU community, surely the new President of this prestigious university will be able to further strengthen the culture of research that he started here when he began as a young faculty member in this institution.
President De Paz's story is a remarkable example of hard work, dedication, and a clear vision on how one can build a humble school into a 21st century university. This is why I'm personally excited to see how your 4th University President will execute his plans to make EVSU better, bolder and more prolific.
Before I end my message, allow me to emphasize how our strong relationship here in PASUC-8 enabled all the 10 state universities and colleges to grow as institutions of higher learning. We are accomplishing great things in this regional organization because we are united in one purpose of elevating the quality of higher education that we provide to the people of Eastern Visayas.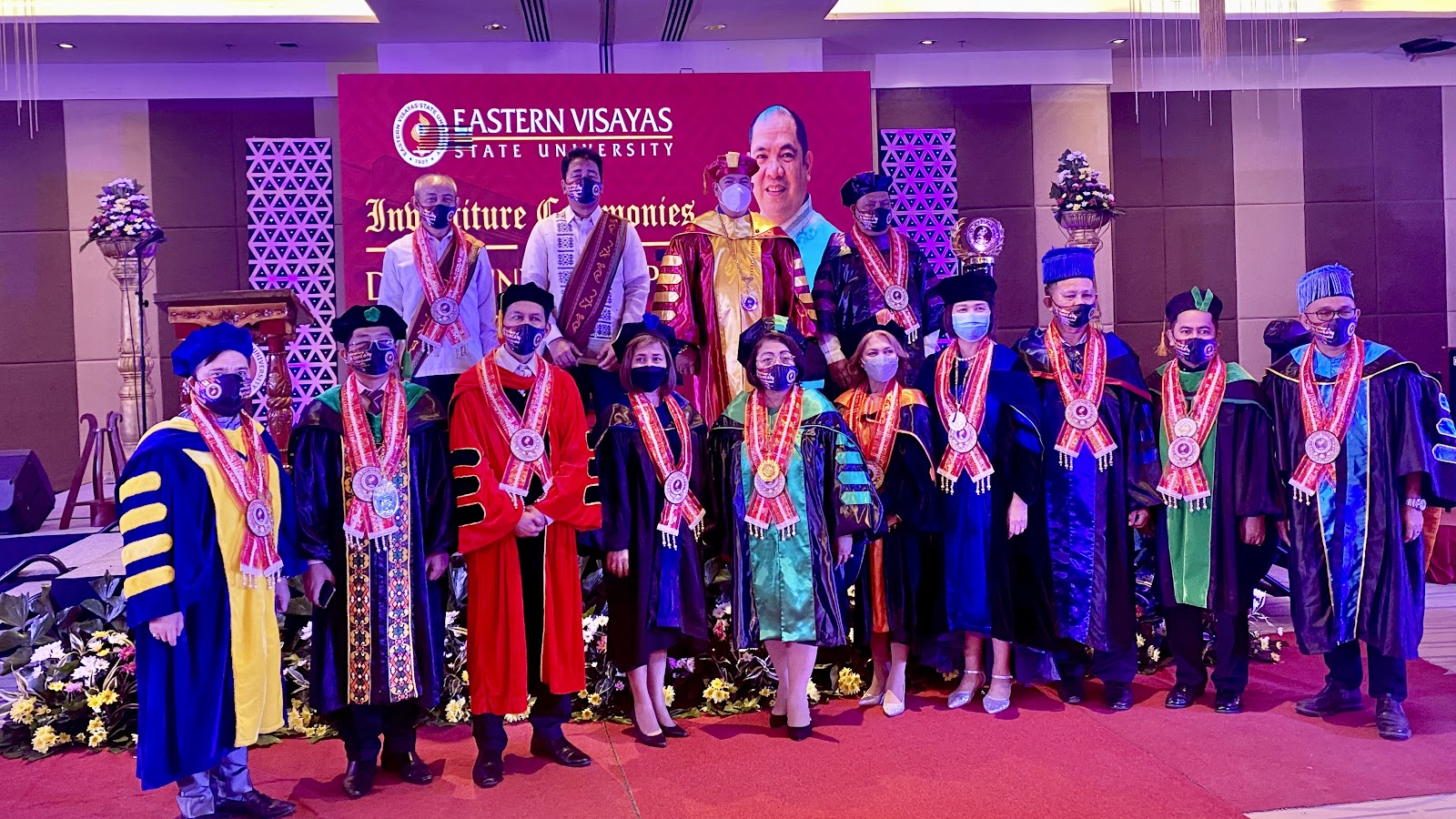 With Dr. De Paz joining our group, I'm confident that all of the 10 SUCs here in Region 8 will continue to work together in complementing the strengths of one another by facilitating exchange of best practices that will improve our systems and processes to serve our stakeholders more efficiently.
To the EVSU community, please continue to rally behind your new President because I'm sure that he is also taking an inspiration from you especially because he personally knows that you will be there for him in realizing the plans that he laid to propel your dear university into greater heights.
Congratulations, EVSU President Dennis C. De Paz and I wish you greater success and more accomplishments here in your home university.
Mabuhay po kayo and cheers to President De Paz and the whole EVSU community!