VSU Physics profs conduct webinar on teaching technologies and app dev't
Details

Written by Neil Bryan B. Fulache

Published: 01 March 2022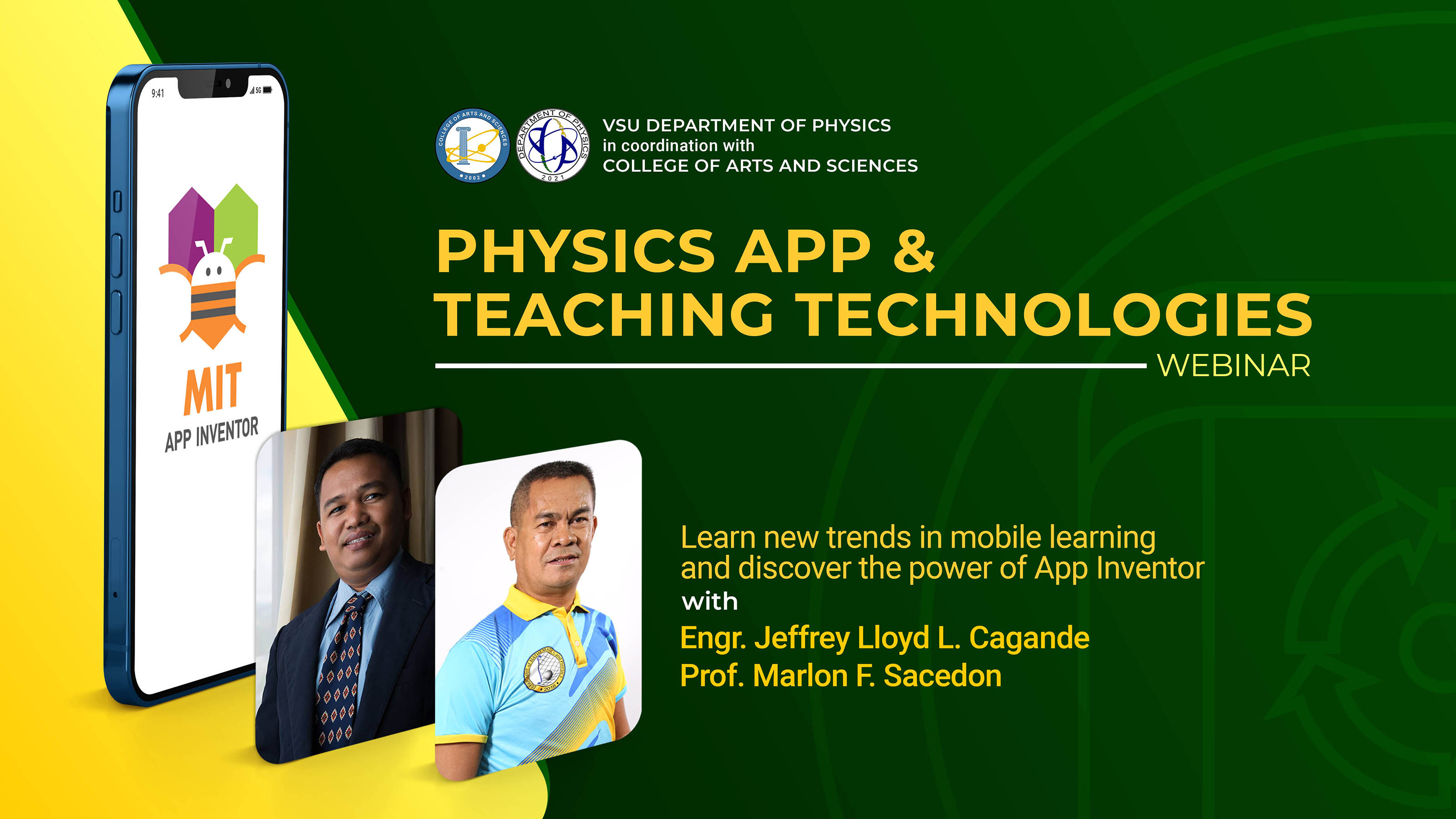 In celebration of the College of Arts and Sciences (CAS) month this year, the newly created Department of Physics (DPhysics) conducted a webinar on Mobile Application and Teaching Technologies to complement the flexible learning setup adopted at the Visayas State University.
Held on February 22, CAS Dean Dr. Ma. Theresa P. Loreto opened the event by highlighting the relevance of technology-enabled learning to improve student engagement.
Dr. Loreto also stressed that technology is intrinsically familiar in the minds of young students as most of them are considered digital natives. She added that embedding technology in teaching Physics and in other courses will surely stimulate greater knowledge transfer and creativity to students.
Speakers for this event were Physics faculty members Engr. Jeffrey Lloyd L. Cagande who tackled the potentials of mobile learning including its intricacies, and Prof. Marlon F. Sacedon who demonstrated an automation system that uses microcontrollers for agricultural innovation.
Upgrading traditional e-learning to a mobile first modality
Currently specializing in applying flip classroom, mobile learning, and mobile app development to Physics education, Engr. Cagande began his talk around the advantages of mobile learning while comparing it to the traditional e-learning approaches applied in distance education today.
With traditional e-learning approaches being the most heavily utilized during pandemic, this revealed some important concerns in terms of content-delivery and learner-centered flexibility.
According to the first speaker, a profiling of the unique demographic characteristics of present-day learners found an interesting input that can be the key in upgrading traditional e-learning approaches.
"Born between 1997 to 2012, most students belong to the Gen Z era. And based on statistics most of them receive their first mobile phone at the age of 10.3 years old, while spending on the average about 3 hours a day, with smartphones becoming their preferred method of communication," Engr. Cagande reported.
With smartphones being the most preferred learning device among students mainly because of its accessibility to all income groups, Engr. Cagande then recommended that conventional e-learning should adopt a mobile first modality..
For Engr. Cagande, doing so will make learning become much more flexible and efficient and it will bring greater convenience to the learner that is more appropriate to their current situation and needs.
Inspired by the groundbreaking works of Robert Gadd, Engr. Cagande emphasized that mobile learning has vastly more potential than conventional e-learning especially because mobile devices have become highly sophisticated today, making it a practical medium for virtually anyone.
Informed of all the potentials of mobile learning, the VSU Department of Physics aspires to be the first unit in the university to employ mobile learning and locally test its suitability and appropriateness in the classroom.
Automation for agricultural innovation
Meanwhile, the second speaker demonstrated the basics of using Arduino which is an open-source electronics prototyping platform that can be programmed to accomplish many things including agricultural automation.
Using a microcontroller called Arduino board, Prof. Sacedon created an app that remotely controls electrical appliances via bluetooth.
To further present its applicability in agriculture, he then showcased another automation project that regulates moisture content of a plant's surrounding soil.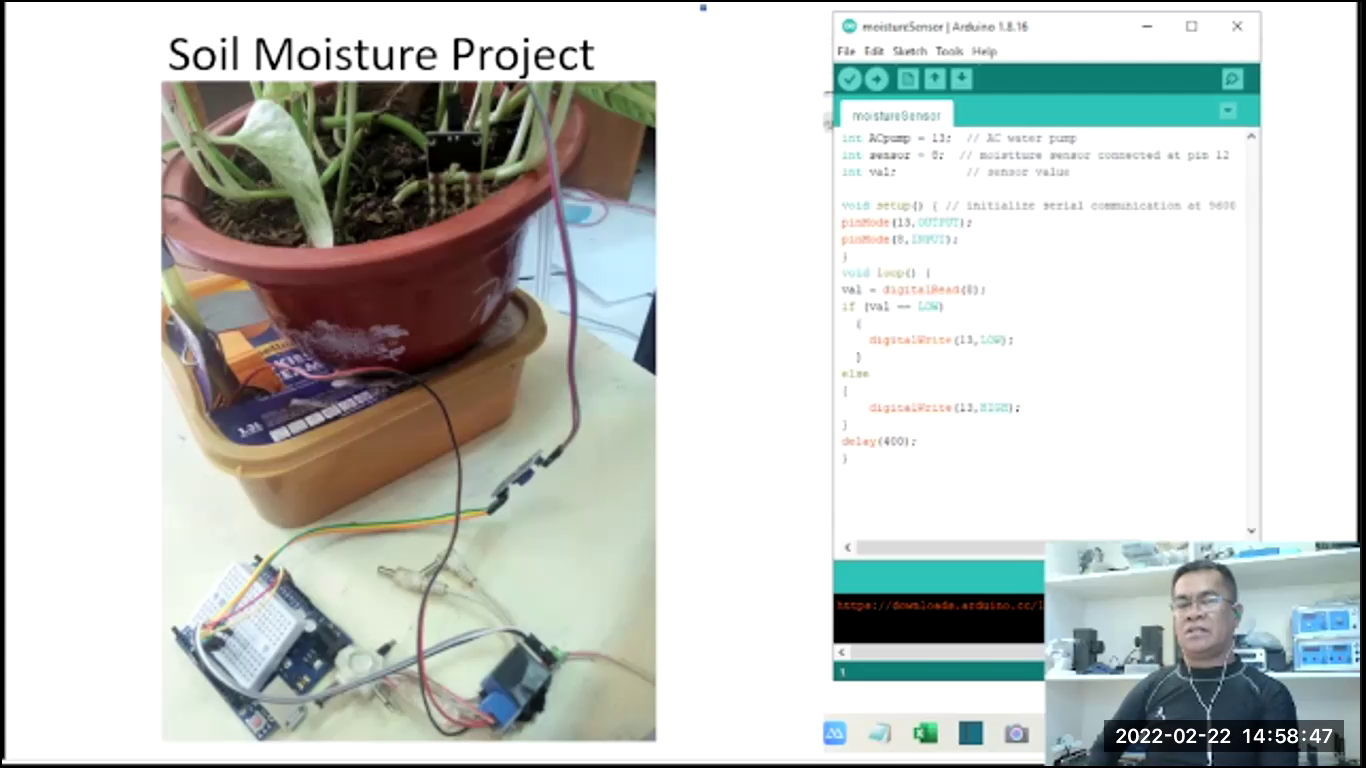 He said that his invention particularly measures the soil's water saturation levels using a censor that processes data and will automatically pump adequate water to nourish and sustain the plant even without human intervention.
Data gathered by the sensors can be directly monitored using a laptop installed with the Arduino program where users can easily modify and make adjustments that will ensure the best living condition for the plant.
Prof. Sacedon is convinced that automation can go a long way in developing creative solutions to current agricultural challenges. He even said that his small invention can be scaled into a bigger research project that may be adopted in the many agri-based programs of the university.
There are many other projects that include application development that have been recently pursued by Prof. Sacedon. One of them is the Electrostatic Calculator App which he personally developed to automatically calculate electrostatic effects like electric force, electric field, electric potential, and potential energy.
He hopes to improve these small automation projects in the future so that more people will become interested in app development here in VSU.