AGREA, SUC-ACAP and VSU team up to develop a pool of youth food champions
Details

Written by Ulderico B. Alviola and John Paul C. Corton

Published: 25 February 2022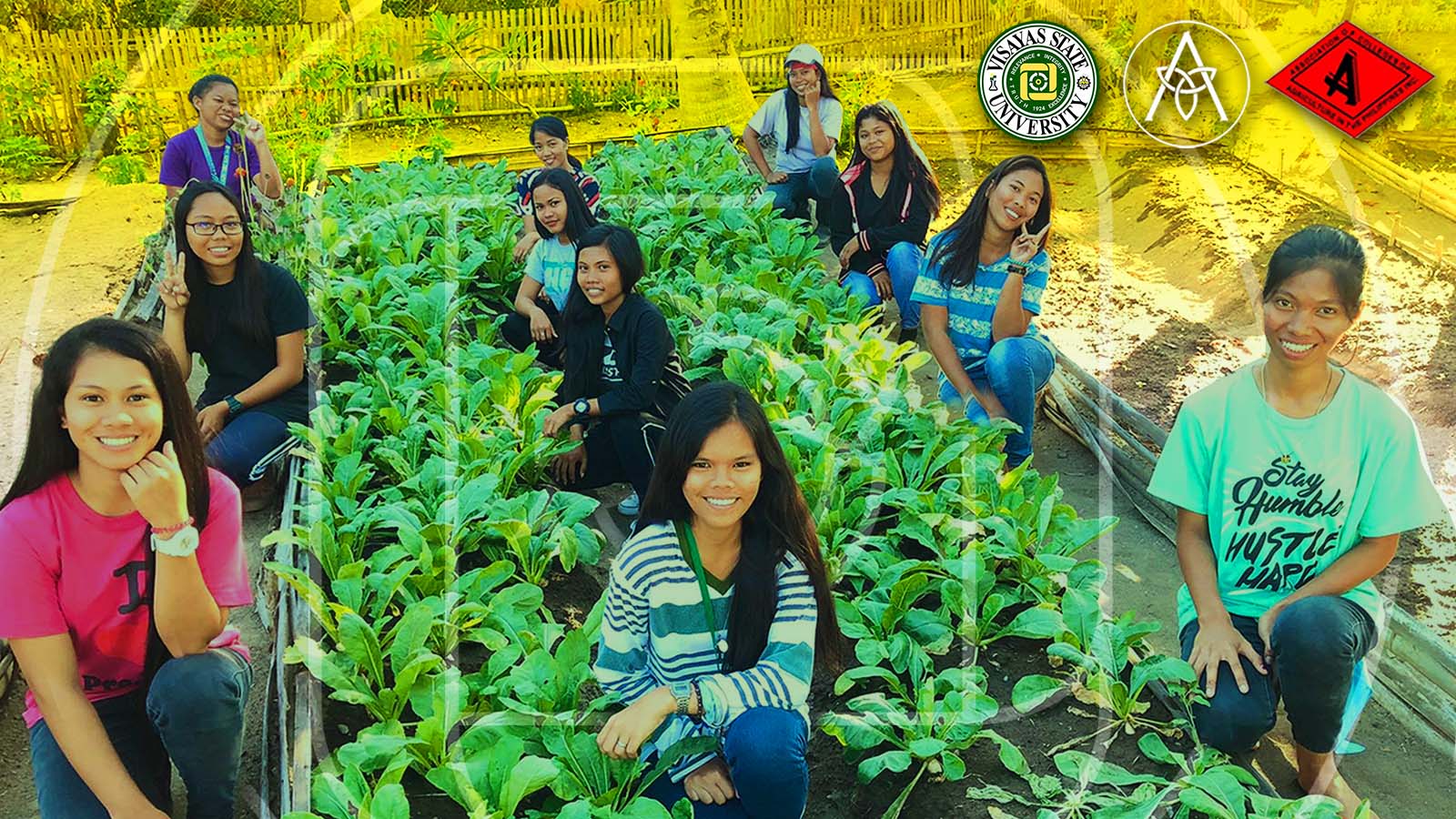 AGREA, a multi-awarded group that champions a new narrative for agriculture, found an ally with SUC-ACAP and the Visayas State University to build a community of food champions mainly powered by the youth.
This partnership was sealed in a virtual signing event held on February 4, 2022 attended by Ms. Cherrie Atilano and SUC-ACAP and VSU President Edgardo E. Tulin along with other core officials of the three participating organizations.
Ms. Atilano, who is the Founding CEO of AGREA, is an internationally renowned farmer-entrepreneur who has been recently designated as the Philippine Ambassador for Food Security by the Department of Agriculture (DA) and as a Food Systems Champion of the United Nations (UN).
She is also a #ProudViscan who completed her agriculture degree major in horticulture (Magna Cum Laude) at the then Leyte State University (LSU) in 2007, now VSU.
AGREA has been formally identified as a global member of the UN Food Systems Champions in 2020 to design five action tracks that includes ensuring access to safe and nutritious food for all, shifting to sustainable consumption patterns, boosting nature-positive production, advancing equitable livelihoods, and building resilience to vulnerabilities, shocks and stress.
SUC-ACAP, being the biggest professional association of agricultural universities and colleges in the country, shares common interest with both AGREA and VSU in advancing Philippine agriculture by providing quality higher education in the fields of agriculture and its allied disciplines.
With this partnership in place, AGREA, SUC-ACAP and VSU can now work together to strengthen different sectoral impacts that will allow Philippine agriculture to transition from mere production into an actual food system that will serve as the nexus for economy, environment, research, and good governance practices in line with the fulfillment of the Sustainable Development Goals (SDGs).
"We really need to transition our thinking that it's not just anymore agriculture, it's not anymore just food, it's really about the food system and the entire section of food," Ms. Atilano said.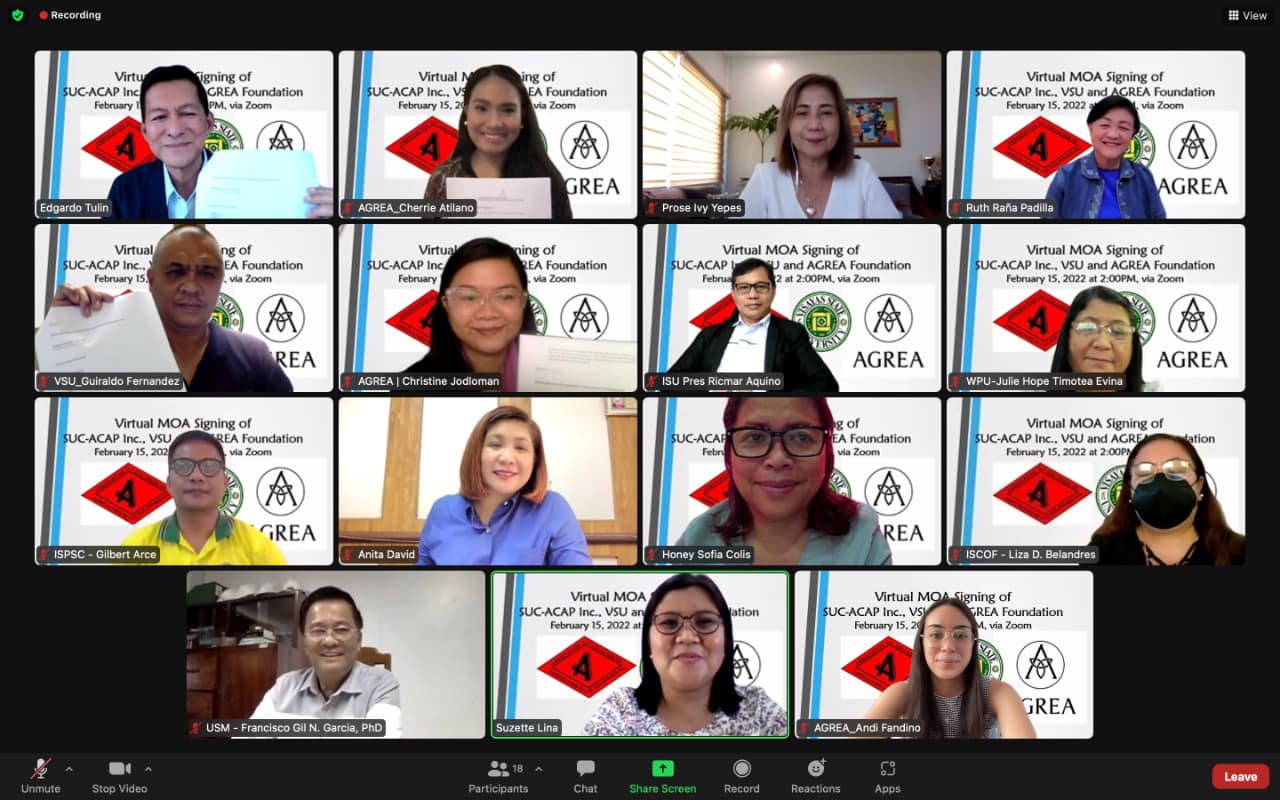 Through a webinar series called Leaders and Entrepreneurs in Agriculture Forum (LEAF), an exclusive mentorship and dialogue program of AGREA, this partnership with SUC-ACAP and VSU intends to reach out to more than 5,000 students who will have free access to the webinar and will have the chance to engage with top-notch speakers and global advisory board who are redefining and revitalizing agriculture and food systems practices around the world.
Ms. Atilano clarified though that the LEAF webinar series is not limited to students enrolled in agriculture.
"This MOA is really an engagement for students not limited only to agriculture students. For as long as they are in an agri-related course in an SUC-ACAP member school, they can actually join the webinar for free. I see this as my way of giving back to both SUC-ACAP and VSU because I have been a beneficiary of these two organizations back in my college days," the UN Food System Champion revealed.
Dr. Edgardo E. Tulin, SUC-ACAP and VSU President, responded by sharing his personal excitement in partnering with AGREA especially that the program is mainly meant to develop young agricultural leaders and innovators.
"This MOA signing is just the beginning of the many engagements that we plan to do with AGREA. In this program, we are building a community of food champions, especially the younger generations who will power our agriculture and food systems sectors. Who else should we try to convince and develop passion but our young generations of agriculture students who should be equipped well in realizing the agriculture of tomorrow?" President Tulin remarked.
SUC-ACAP Vice President for Visayas and the President of Southern Leyte State University (SLSU) Dr. Prose Ivy G. Yepes added how developing youth food champions are consistent to future-proofing the agriculture and food sector.
"This is a very rare opportunity, rare yet relevant and very timely event especially that we are in this volatile, uncertain, complex and ambiguous (VUCA) world. The future is about farming and the future of farming is now," she quipped.
In the concluding part of the virtual signing, Ms. Christine Jodloman, the Associate Director and Executive Assistant of AGREA, emphasized how the LEAF program will specifically become beneficial to the students of SUC-ACAP member institutions.
"In the LEAF webinar series, we really want to mainstream the learning opportunities and mentorship for students in SUC-ACAP schools including other young people in agriculture. By making our program online, we have made it more accessible so that more students can be catered to by this exclusive mentorship program," she explained.
The LEAF webinar series will run from March 11 to April 22 to include five sessions that will extensively tackle the five action tracks of the UN Food Systems program.
After completing this five-part webinar series, the students are expected to have a deeper appreciation of having a food systems mindset in agriculture and hopefully become food heroes who will champion the state of agriculture at the grassroots level.