#GoingGlobal: VSU inks partnership with the oldest and largest university in Indonesia
Details

Written by Neil Bryan B. Fulache

Published: 30 December 2021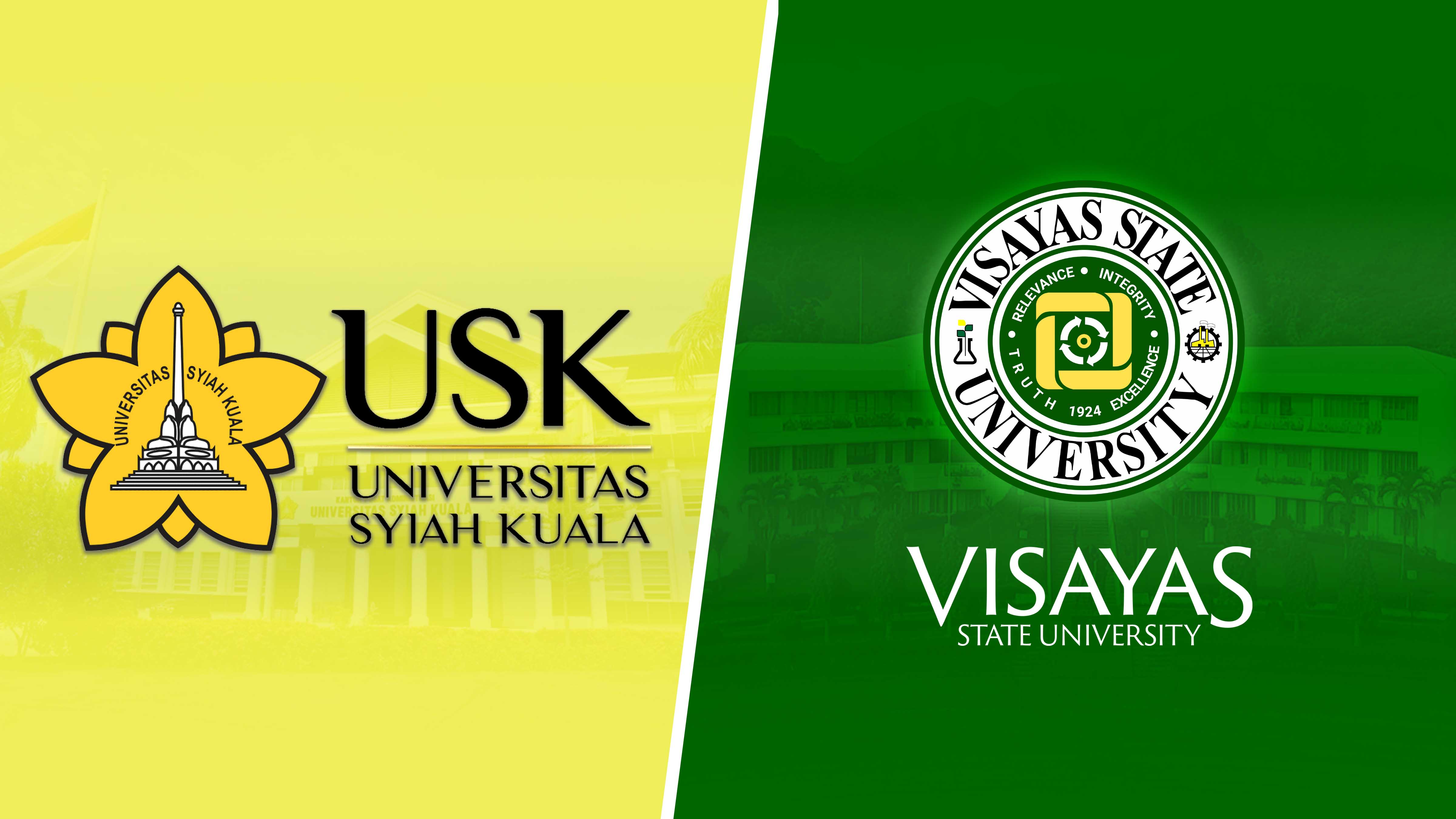 The Visayas State University continues to expand more partnerships with foreign universities as part of the university's revitalized efforts for internationalization.
This time, VSU has officially forged a linkage with Universitas Syiah Kuala (USK), Indonesia's largest and oldest university based in Banda Aceh.
A virtual signing of the Memorandum of Understanding (MOU) was held on December 9, 2021 spearheaded by the key officials of the two universities.
VSU President Dr. Edgardo E. Tulin signed the MOU on VSU's behalf while USK was ably represented by their Rector, Prof. Dr. Ir. Samsul Rizal, M.Engr., IPU, ASEAN Engr.
Both of them shared their hopeful delight and pleasure for the collaborative partnership being undertaken by their respective universities.
"It is a great pleasure to form a partnership with University Syiah Kuala, being the largest and the oldest national university in Indonesia. We are looking forward to mutual benefits and collaborations especially in the area of research and development. I see this partnership as one of the fruits of ASEAN integration so that we can both allow greater mobility for our students and faculty members," Dr. Tulin said.
With equal appreciation, the USK Rector was equally thankful for the mutual effort in promoting extensive partnerships in teaching, research, extension, and innovation considering VSU's competence and growing global presence as a university of science, technology, and environmental conservation.
"It is such a pleasure for us to build a collaboration with the distinguished university, Visayas States University. We hope after this ceremony, both universities will be able to create a strong university network and arrange academic programs in the future," Rector Rizal expressed.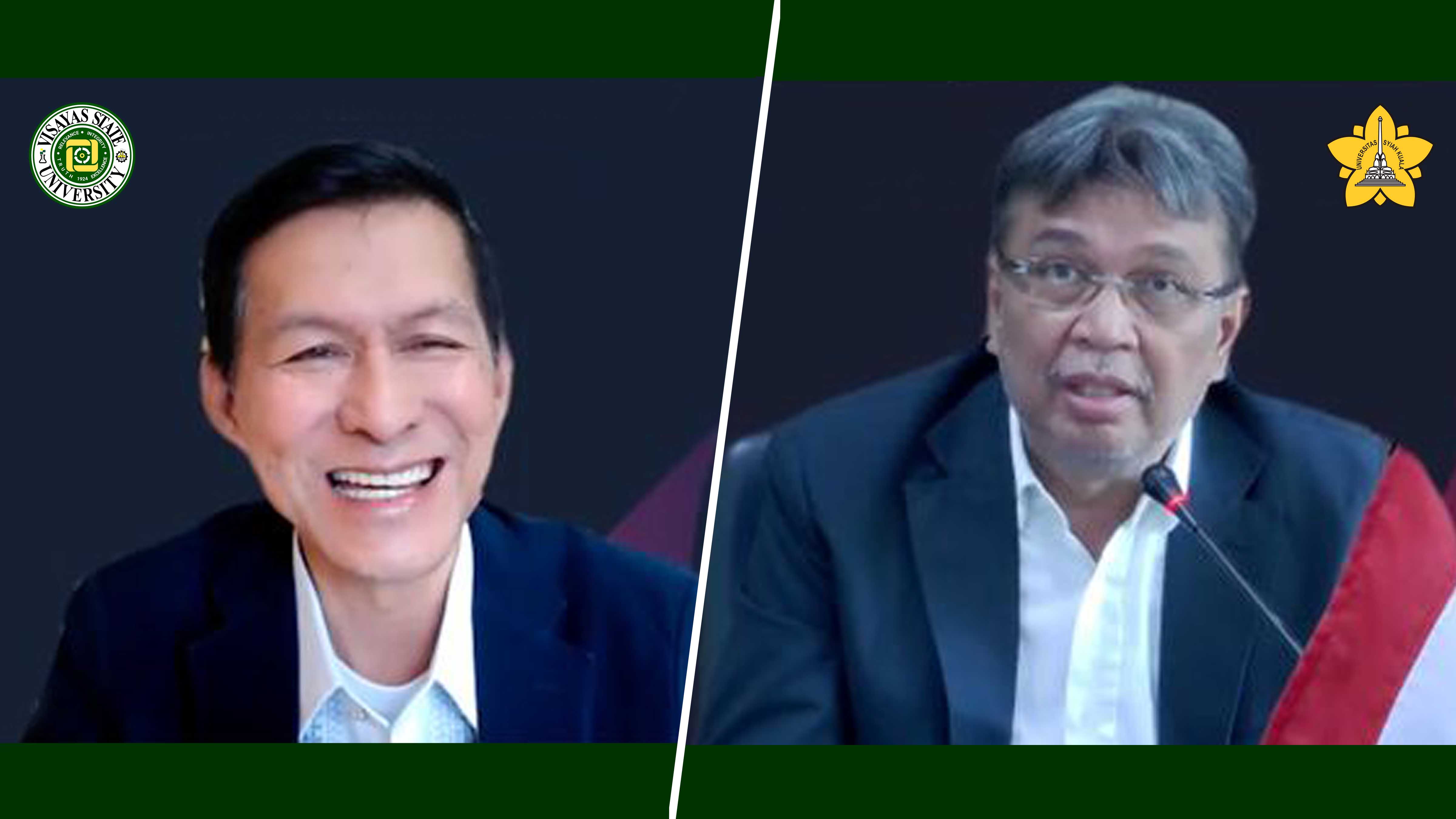 VSU and USK prime movers side-by-side in the virtual MOU to formalize linkage between the two institutions.
Witnessing this event were VSU officials namely: Dr. Beatriz S. Belonias, the Vice President for Academic Affairs; Dr. Ma. Juliet M. Ceniza, the Vice President for Research, Extension, and Innovation; Dr. Anabella B. Tulin, the Dean of VSU Graduate School; and Dr. Ana Marquiza M. Quilicot, the Head of the International Affairs Office.
On the other hand, distinguished attendees from USK include the following: Prof. Dr. Hizir Sofyan, the Vice Rector for Planning, Cooperation, and Public Relation Affairs; and Dr. Muzailin Affan, the Chairman of the Office of International Affairs. USK Faculty Deans, academic staff, and other key personnel were also present in the virtual MOU.
For 2021, VSU has secured international partnerships with 7 international organizations and foreign universities including the following: the Asia China Education and Culture (ACEC) Association; the Japanese Ministry of Agriculture, Forestry and Fisheries (MAFF); the East-West Center in Hawaii, United States; Nagoya University in Japan; Katholieke Universitiet (KU) Leuven in Belgium; the University Consortium (UC) led by the Southeast Asian Regional Center for Graduate Study and Research in Agriculture (SEARCA); and the IHE Delft Institute for Water Education based in the Netherlands.
USK is now the 8th international organization and foreign university that has tied up with VSU for this year. Aside from being Indonesia's largest and the oldest national university, this institution of higher learning is strategically situated in the City of Banda Aceh which is also known as a science development centre of the world's largest archipelago.
USK boasts of 131 state-of-the-art student laboratories spread towards 12 faculties for undergraduate and 7 for graduate programs.