#GoingGlobal: Czech Republic donates multi-million lab equipment
Details

Written by Marianne C. Bayron and Ulderico B. Alviola

Published: 04 November 2022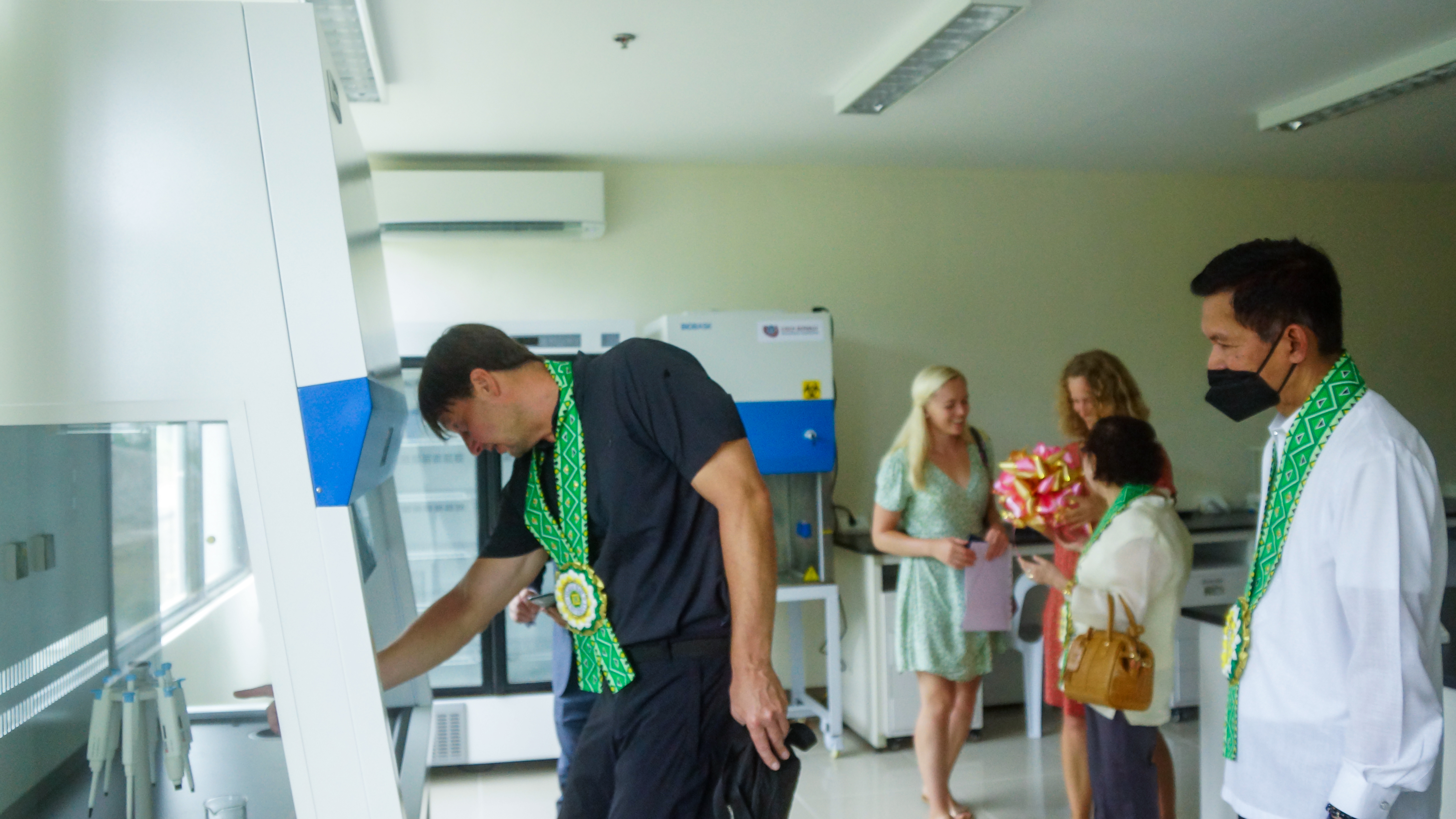 Officials of the Embassy of the Czech Republic in the Philippines together with researchers from the Czech University of Life Sciences visited the Visayas State University to officially inaugurate a multi-million peso laboratory for bioactive natural compounds inside the newly completed Advanced Research and Innovation Center (ARIC) held on October 24, 2022.
This new laboratory is equipped with modern analytical devices and was purchased through financial support from the Ministry of Foreign Affairs of the Czech Republic following the framework of the Czech Development Cooperation as implemented by the Czech Embassy in Manila.
Although the opening of the laboratory was put on hold for two years due to the COVID-19 pandemic, this did not stop the university from pursuing partnerships that will solidify VSU's continued leadership in research, extension, and innovation.
With the addition of this new specialized laboratory, ARIC now becomes the most advanced research unit in Eastern Visayas. The new laboratory will be used specifically in analyzing bioactive natural products from endemic plant species.
Scientists and researchers who will utilize this equipment will particularly focus on natural products, proteomics and genomics, health, animal, food, nanotechnology, material science, and natural fiber research, and further on safety and quality assurance, and knowledge capacity development.
More specialized laboratories are expected to be housed inside the ARIC building as this is expected to function as a central research hub in biotechnology, nanotechnology, and data analytics that will hopefully increase the research productivity of VSU.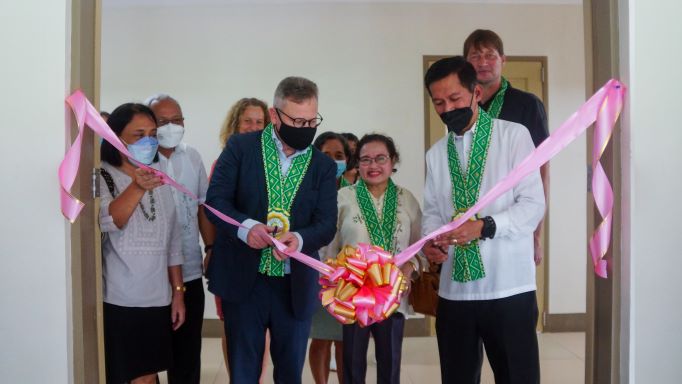 During his welcome message, VSU President Dr. Edgardo E. Tulin expressed his gratitude to the government of the Czech Republic for opening a great opportunity for Filipino budding researchers.
"I believe that with these engagements, we can harness the capabilities and talents of the VSU faculty and staff, as well as the capacity to build world-class young researchers in cutting-edge scientific disciplines including the area of pursuing studies in bioactive natural compounds that are present here in our country," President Tulin said.
The VSU President continued by highlighting the importance of unhampered efforts towards internationalization and global partnerships with top-notch universities that would open unique opportunities for VSU to showcase its local pool of scientific talent.
Because of this, many young faculty members and researchers from VSU have been recently sent abroad to pursue advanced degrees in biotechnology as part of the grand plan to produce more cutting-edge scientific research in this part of the country.
Prof. Ladislav Kokoska of the Czech University of Life Sciences in Prague who worked together with VSU researchers to realize this project of putting up a dedicated laboratory for bioactive natural compounds is convinced of the interconnectedness between pursuing high-impact research to improving overall educational quality.
"I'm pretty sure that the skills and expertise that will be gained by both the staff and the students will for sure increase their competitiveness and also their ability to succeed with their scientific career. I also believe that the results that will be produced by the laboratory will significantly contribute to the prestige and development of VSU, especially in the case of the scientific papers that will be published in high-quality scientific journals, which is very important for the ranking and quality evaluation of your university," Prof. Kokoska explained.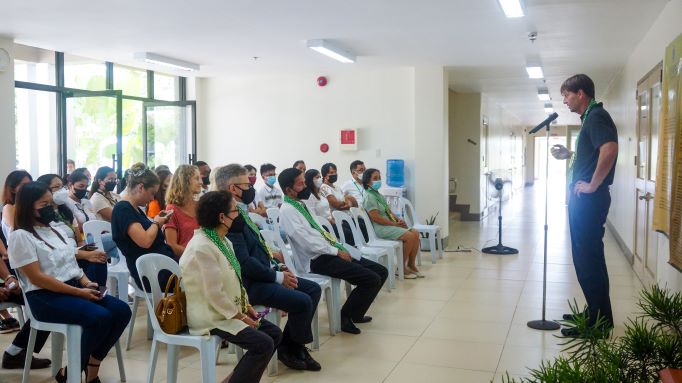 Meanwhile, Mr. Ján Krivoš, the First Secretary and Consul of the Embassy of the Czech Republic in the Philippines turned over the new laboratory equipment on behalf of Ambassador Jana Sediva-Treybalova.
In his message, he looks forward to the further enhancement of Czech-Filipino cooperation in the future because of setting up a laboratory facility where scientists and researchers from both countries can effectively collaborate and work together to advance greater productivity in scientific research.
The First Secretary and Consul also note the continued trust between VSU and the Czech University of Life Sciences as more Filipino scholars are sent for advanced studies in their country while many visiting Czech professors are also taking notice of the unique scientific talent of VSU graduates.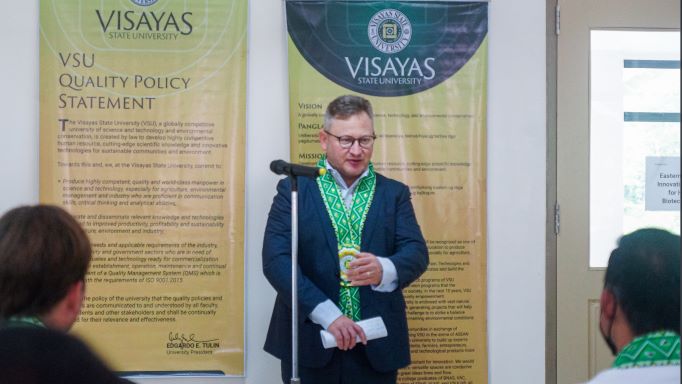 Dr. Anabella B. Tulin, Dean of the VSU Graduate School and project component leader, also expressed her excitement for the addition of a specialized laboratory in ARIC and related this to further strengthening graduate education at VSU.
"I'm very happy that we have this new laboratory in ARIC. And this surely will train young scientists who will be studying natural products and will soon lead to greater publication performance for VSU. Students of the VSU Graduate School are also expected to benefit from this project because this is an added facility where they can be allowed to pursue unique research studies and an opportunity to collaborate with visiting professors and students coming from the Czech Republic," the Graduate School shared.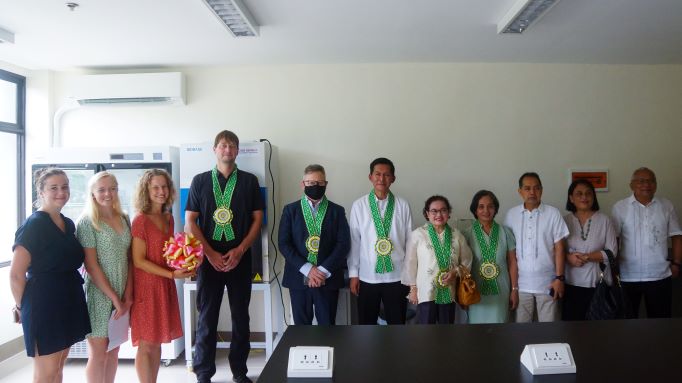 The visitors from Czech University of Life Sciences are expected to stay in VSU for more than a week as their visit to VSU also includes conducting specialized lectures and other academic engagements with both VSU faculty members and students.
[All photos courtesy of Mr. Paul Vincent L. Fornis.]