#GoingGlobal: VSU is lone PH school in ASEAN research university rankings
Details

Written by Ulderico B. Alviola

Published: 19 June 2022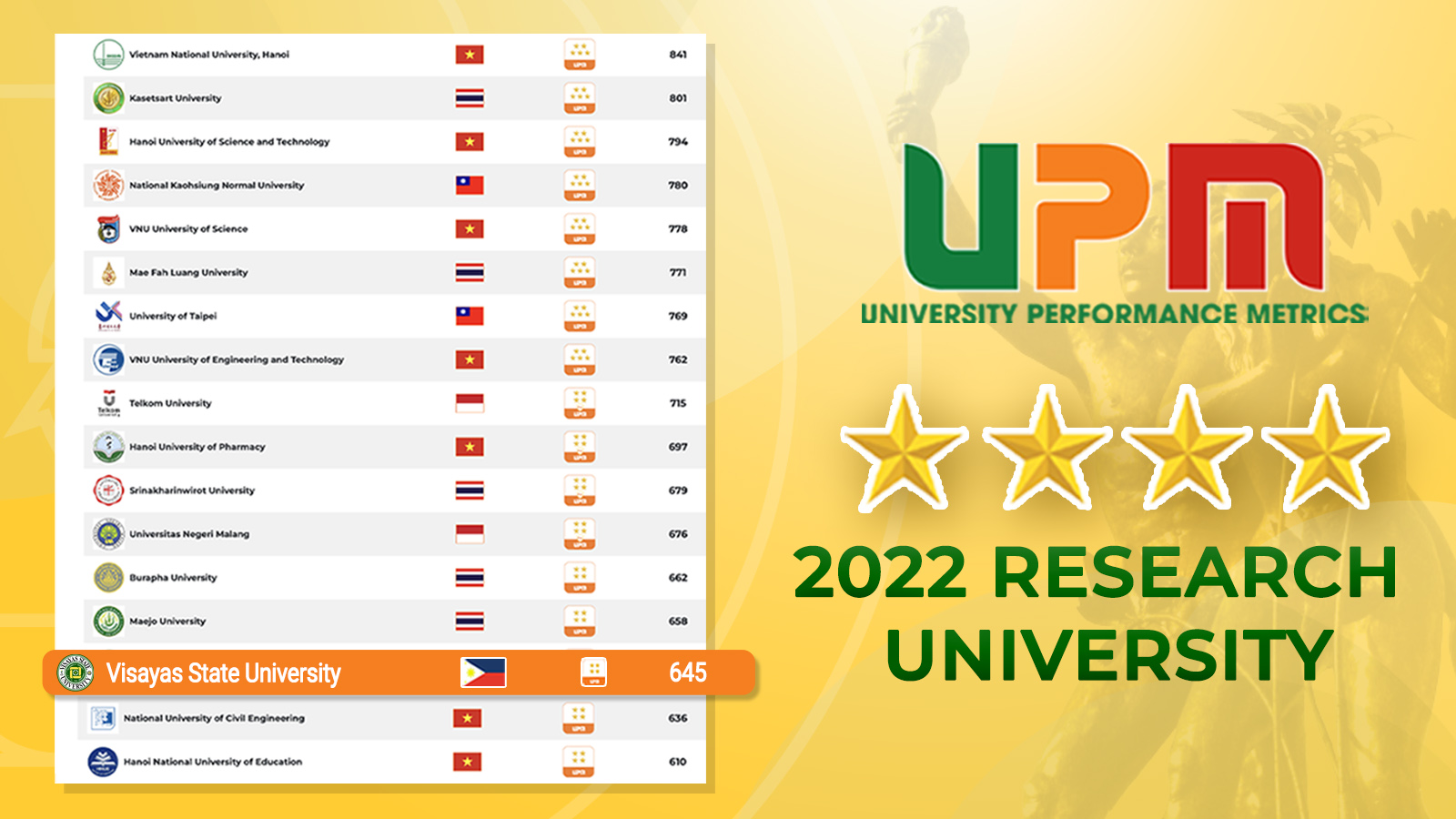 In the 2022 findings of the University Performance Metrics (UPM), the Visayas State University retains its 4 Stars Research University status and remains to be the lone Philippine higher education institution (HEI) to be ranked under such classification.
The UPM is an emerging ASEAN regional rating system initiated and developed by a team of researchers from the Vietnam National University that produces their analysis on a yearly basis.
The main objective of this new rating system is to promote benchmarking among universities in Southeast Asia against five core education characteristics that includes entrepreneurial spirit, innovative approaches, digital transformation, student mobility, and ethical values.
The performance evaluation of each participating university involves 52 indicators spread across 8 categories including strategic ambition, education, research, innovation, university ecosystem, digital transformation, internationalization, and community services.
This year, a total of 47 universities were ranked in the 2022 edition of the ASEAN-UPM rating system with 20 institutions classified as applied universities while 27 were identified as research universities.
Only 4 universities from the Philippines participated in the UPM assessment with VSU as the only Philippine school rated in the research university classification ranking 15th among the 27 schools under this cluster.
The 3 other universities from the country that are classified as applied universities are West Visayas State University (WVSU), Far Eastern University (FEU), and Centro Escolar University (CEU).
Vietnam National University (VNU) dominated both classifications of the UPM rankings with its international school topping the applied university group. It can also be noted that the majority of the universities ranked were coming from Vietnam totalling 28 out of the 47 participating universities.
Gains and drops in the 2022 UPM ratings of VSU
VSU obtained an accumulated score of 645 points versus the total weight score of 1,000 points. Compared to the 2021 evaluation, the university was up by 39.5 points this year by improving in 6 areas of strategic ambition, education, research, university ecosystem, digital transformation and community services.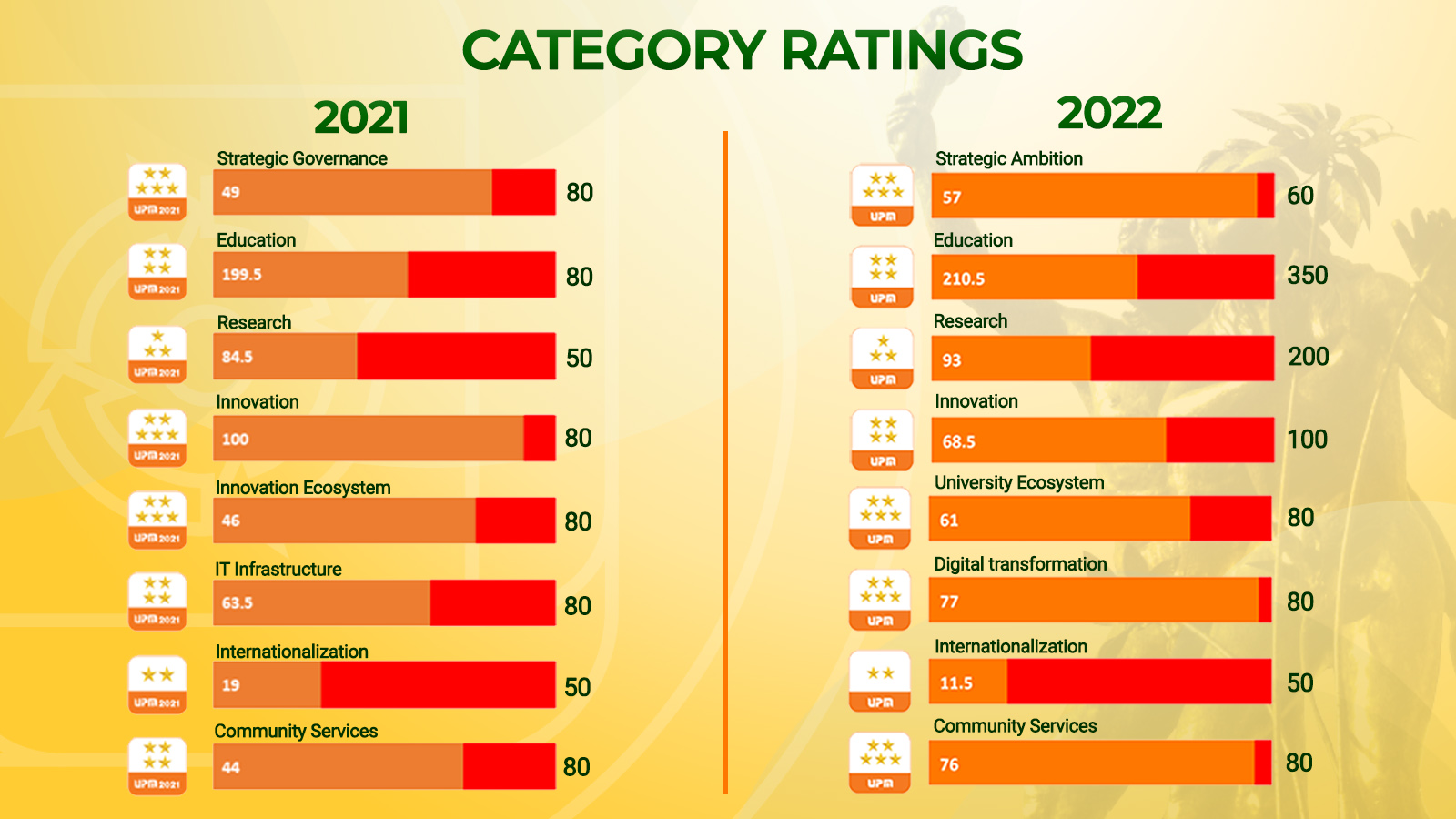 The biggest improvement in VSU's 2022 UPM assessment was recorded in the area of community services followed by the university ecosystem, which was formerly labeled as innovation ecosystem in last year's metrics. There was also a slight increase in the points garnered by VSU in the area of digital transformation which was formerly called as IT infrastructure in the 2021 evaluation.
Meanwhile, the 2022 UPM findings also showed that the university slid a few points in internationalization while a significant drop was recorded in the category of innovation from 5 stars last year declining to 4 stars this year.
The biggest challenge for VSU in terms of internationalization remains with attracting a greater number of foreign students while in the category of innovation, the lack of globally recognized intellectual property was the key roadblock of the university.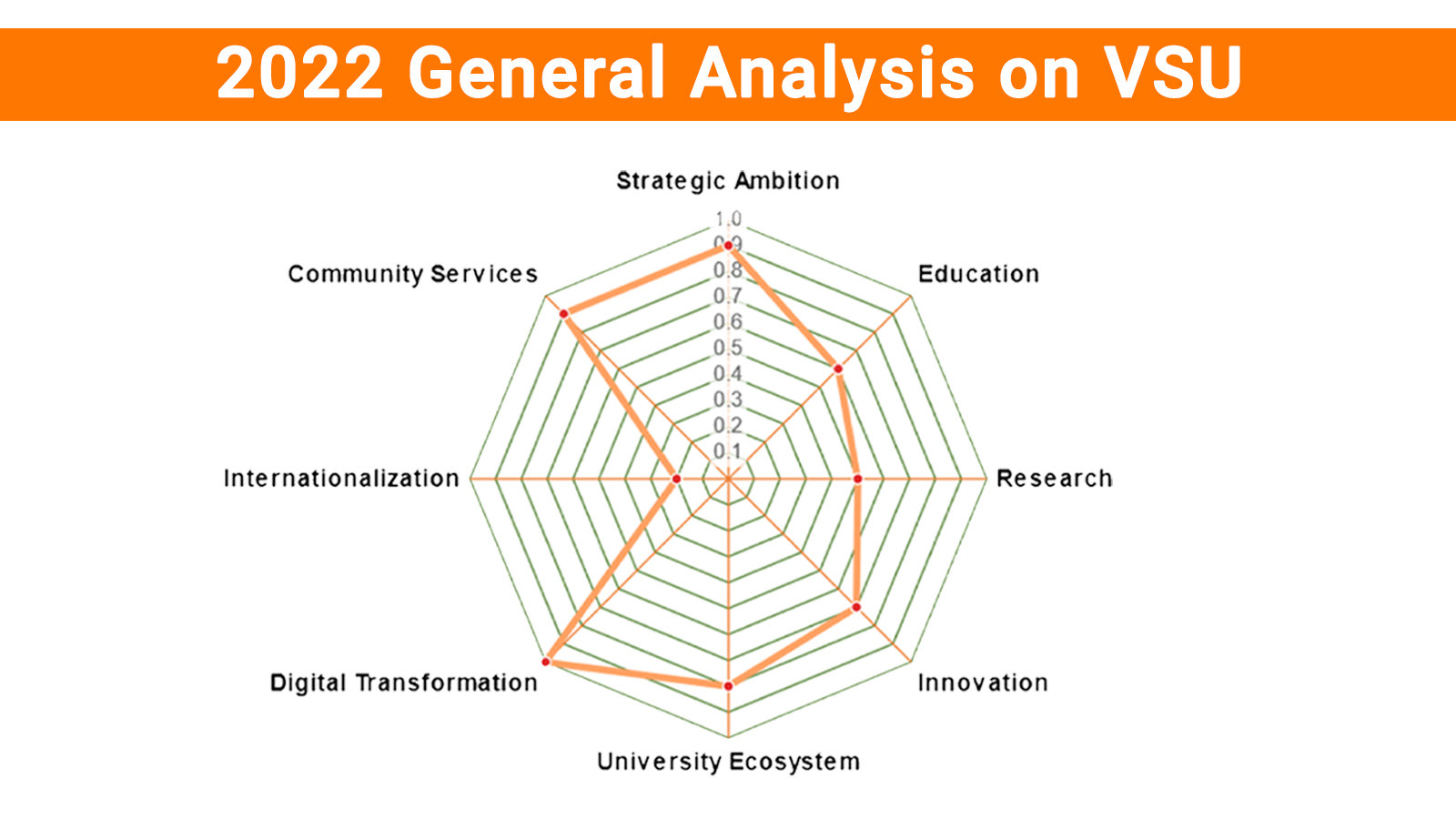 Informed of the improvements and declines in VSU's 2021 and 2022 UPM results, International Affairs Head Dr. Ana Marquiza M. Quilicot said that they are strictly monitoring these changes as part of the university's international benchmarking initiatives.
"We really intend to be rated in different international ranking systems because we believe that their assessment of us allows us to reflect upon the improvements that we will have to take towards becoming a truly world class university. We are excited to announce that we will join in more other international assessments this year. In fact, we have scheduled a workshop with key officials to dish out the findings presented to us by our international ranking systems so that we know where to focus our efforts and identify where we can realign our targets," Dr. Quiz explained.
For his part, VSU President Edgardo E. Tulin was optimistic with the improvement in overall points obtained by VSU in the 2022 UPM rankings. He also said that he intended to be classified under the research university cluster consistent with the branding of VSU as one of the few research universities in the Philippines.
"I'm happy that we got a higher overall rating this year and we hope to push the boundaries even further by using international metrics in charting the future directions of VSU. I'm truly impressed that our efforts for internationalization are now bearing productive fruits that will lead us to gain greater global recognition. I'm also hopeful that this improvement in international rankings will open up new foreign collaborations for VSU so that we can build a more synergistic relationship with different countries around the world," Dr. Tulin said.
Aside from UPM, VSU has also been rated as a 3 Stars University by the Quacquarelli Symonds (QS) World University Rankings in 2020. The university will soon be up for evaluation in the QS Star Rating System next year.