NCRC conducts coconut production training with PWD org in Santa Fe, Leyte
Details

Written by Prince Darius B. Lina

Published: 17 June 2022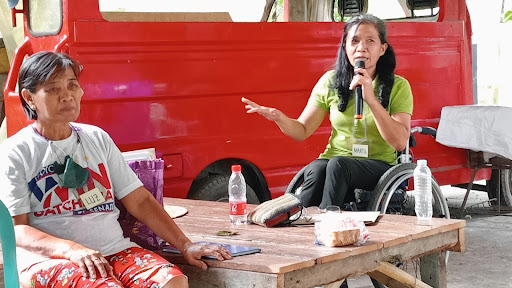 As part of VSU's drive to be inclusive in providing technical training for everyone, the National Coconut Research Center (NCRC) in the Visayas partnered with These Abled Persons Tierra Esperanza Farmers Association' (TAPTEFA) for a coconut production training in Santa Fe, Leyte.
Held on June 8 this year, a total of 16 farmers participated in this training that focused on cultural management practices that hopes to improve overall productivity of the local coconut industry.
TAPTEFA was organized in 2017 for persons with disabilities who reside in the BDO housing projects in Santa Fe Leyte. The organization conducts livelihood programs in a cooperative-style scheme and is currently engaged in poultry layer operations and organic agriculture.
The provincial government of Leyte donated a 1-hectare lot by the national highway in Santa Fe for its operations, as well as financial and material support for the establishment of its entrepreneurial facilities.
Aside from the provincial government, the organization is also supported by the BDO Foundation, and the Life-Giving Forest Association of Germany—a group of young environmentalists that support the establishment of nurseries, native tree plantations, fruit tree orchards, and ornamental plant production all over the Philippines.
Among the topics covered during the training were the environmental requirements for raising coconut, selection of appropriate planting materials, land preparation, field management, and pest management.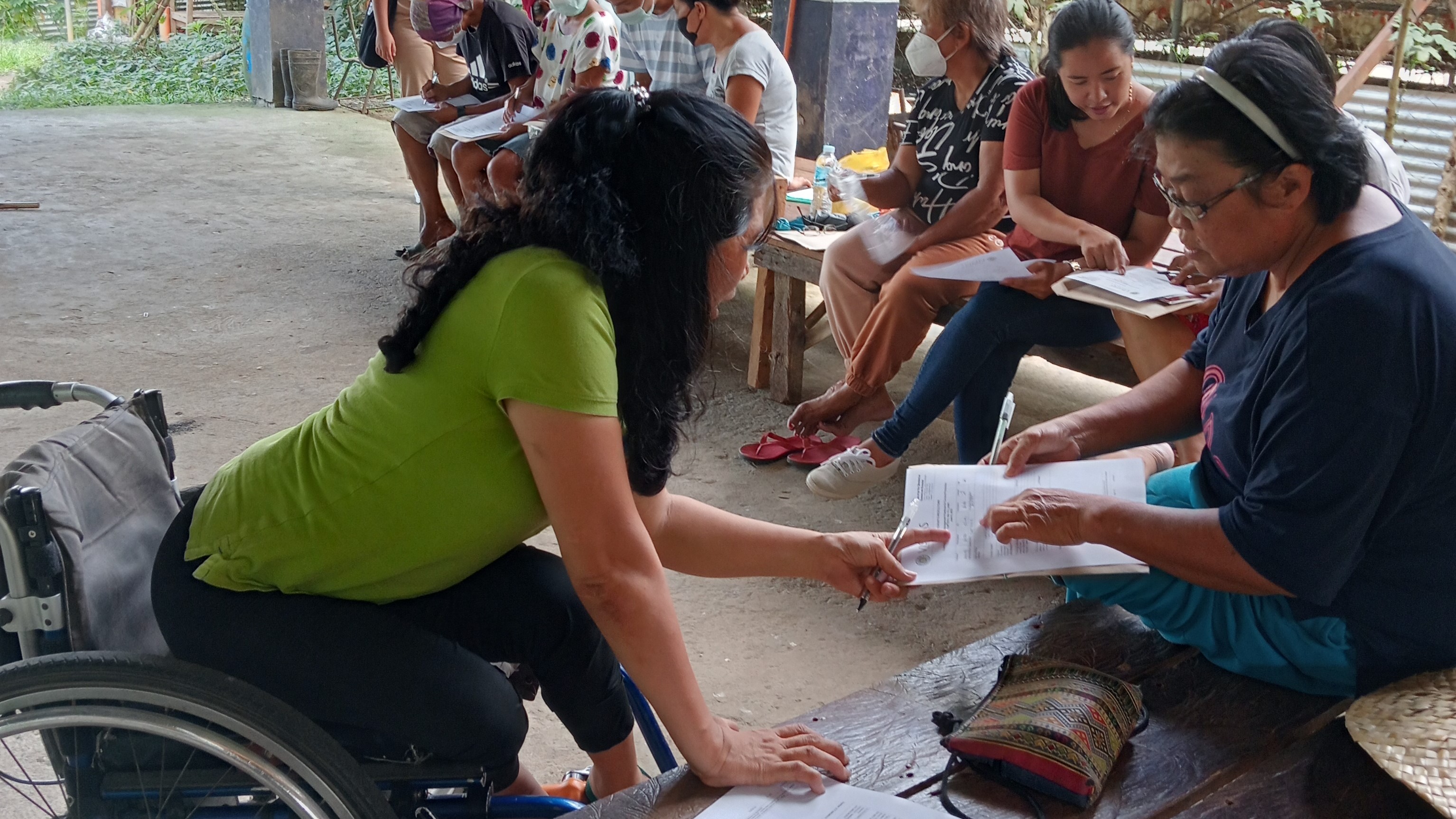 Dr. Mario Baliad, Mr. Jeremias Vestra, and Ms. Edralin Malasaga of NCRC-V delivered concise and practical discussions while also taking questions from the participants, in the short, but insightful lecture series.
A practical demonstration on planting and field-layouting followed, as the participants were shown how to properly apply the different planting methods covered. Special emphasis was put on the possibility of using organic or natural methods for coconut production and plantation management, particularly, on the possibility of substituting inorganic fertilizer, which is currently in global short supply, with organic inputs that can be produced by the farmers themselves.
An emphasis on the use of natural enemies for insect pests was also brought up. Early detection, as explained by Ms. Malasaga, was key to ensuring that the coconut plantations are not thoroughly consumed by infestations. Timely action can prevent the large-scale loss of crops that occurred with the previous 'cocolisap' incident, and is necessary in order to avoid the environmentally and financially taxing pesticide application.
The participants received 50 coconut seedlings of the Buenavista and Albuera dwarf varieties. These varieties have been extensively studied and cultivated by NCRC. These are similar coconut varieties that are well adapted to the environmental conditions of Leyte.
The Albuera dwarf in particular, is a native dwarf coconut cultivar from Leyte with a medium-sized stem. It produces as much as 132 medium-sized oblong nuts a year, and yields an average of about 136.6 grams of copra, according to studies conducted by Nuñez, Malasaga, and Baliad in 2005 and 2007.
Ms. Marta Villafañe, TAFTEFA's chief organizer, thanked the NCRC delegation for the successful full day training, and inquired of the possibility for a follow-up training with a longer time frame in order to explore the nuances of coconut farming even further.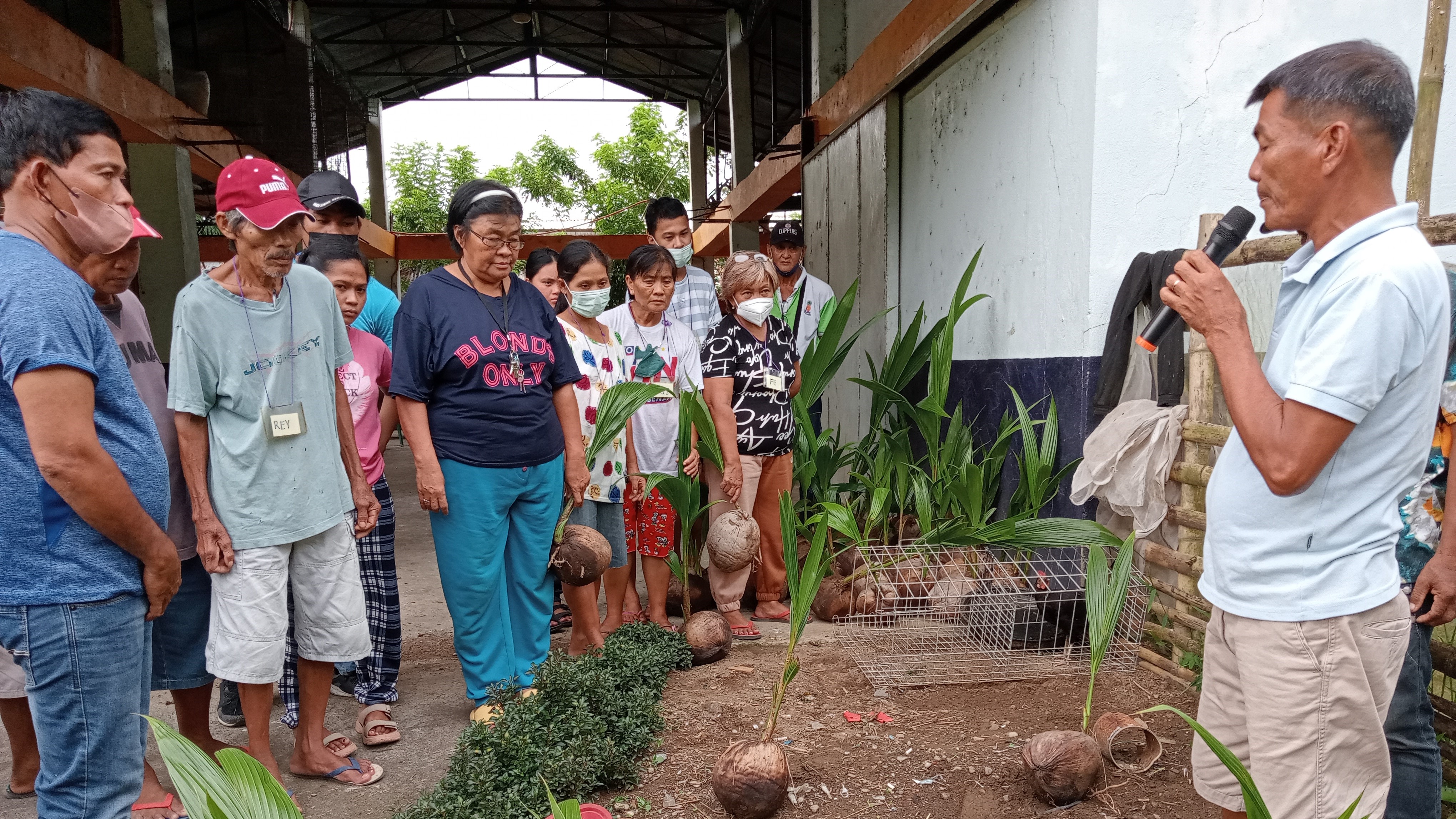 While this has been the first actual on-site activity, TAPTEFA has already been coordinating with VSU.
In the past, there were already talks of conducting agroforestry training through the university's College of Forestry and Environmental Sciences (CFES). Ms. Villafañe also inquired of potential assistance in the area of geodetic engineering for a field survey to determine the appropriate boundaries of the organization's area of operations.
This training and many others are in line with the thrust of NCRC-V, and VSU as a whole, to continue empowering local communities for countryside development by ensuring that technologies formulated in the laboratories are successfully introduced and integrated into actual practice through extension work.