VSU is first Level IV AACCUP accredited institution in Visayas and Mindanao
Details

Written by Ulderico B. Alviola

Published: 21 June 2022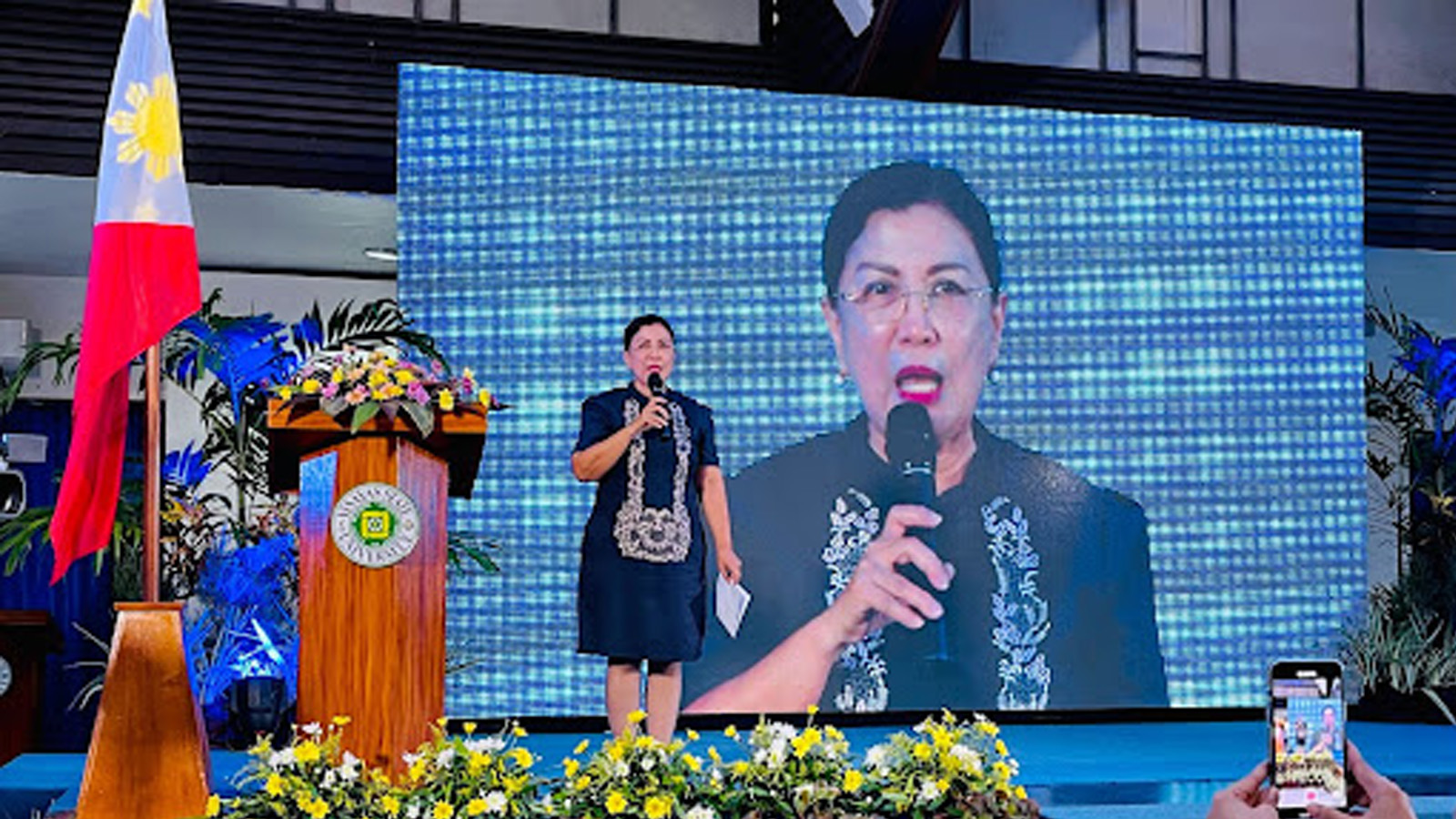 Team Leader Dr. Myrna Q. Mallari announces the final results of VSU's third institutional accreditation conducted by AACCUP.
We passed with flying colors!
The Visayas State University sets another record in the history of the Accredited Agency for Chartered Colleges and Universities of the Philippines (AACCUP) by being the first university in both Visayas and Mindanao to obtain the highest institutional status accorded by the country's biggest accreditation body for state universities and colleges (SUCs).
Presently, only two other universities were already granted Level IV status with Tarlac State University (TSU) and Pangasinan State University (PSU) completing their institutional accreditations early this year.
While the official scores have yet to be released, VSU's overall performance was said to be a record-breaker with almost all areas evaluated getting near perfect scores.
AACCUP evaluates an institution using 9 key areas which includes: (1) governance and management; (2) teaching, learning and evaluation; (3) faculty and staff; (4) research; (5) extension, consultancy and linkages; (6) support to students; (7) library; (8) infrastructure and other learning resources; and (9) quality assurance culture.
Based on the criteria of AACCUP, an institution can only be granted with the highest Level IV status if they can obtain a grand mean score of 4.5 with no area scoring below 4.0.
The Board of Trustees (BOT) of AACCUP approved the Level IV status of VSU in a meeting held in the morning of June 20, 2022 following the validation visit to selected research centers and key offices of the university.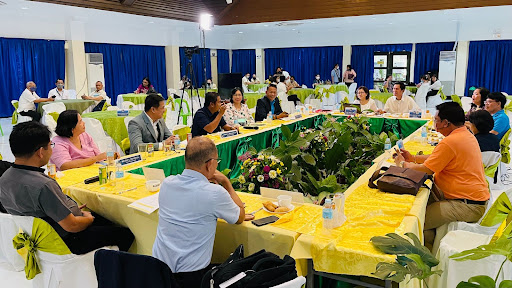 AACCUP Board of Trustees (BOT) grants the Level IV status to VSU in a meeting held at the VSU RDE Hall.
Dr. Charlito P. Cadag, the President of Camarines Sur Polytechnic College (CSPC) who sits in the AACCUP Board and was a lead accreditor of VSU, reported that VSU passed with flying colors which was unanimously approved by all the members of the BOT.
Dr. Cadag also revealed that VSU provided an impressive documentation of all the accomplishments of the university for the past 5 years and have properly packaged all these materials in a user-friendly online portal that made the job of the accreditors more convenient.
Dr. Milabel E. Ho, AACCUP Executive Director served as the overall accreditation coordinator for this assessment. She was joined by 5 other veteran accreditors headed by Dr. Myrna Q. Mallari, former AACCUP and TSU President, who took care of the area on governance and management.
Two lead accreditors are incumbent SUC Presidents Dr. Anthony M. Penaso of Caraga State University (CSU) assigned in the areas 8 and 9 on infrastructure and other learning resources including quality assurance culture, and Dr. Cadag of CSPC for areas 4 and 5 on research, extension, consultancy and linkages.
Completing the list of lead accreditors are Philippine Normal University Professor Dr. Maria Glenda O. De Lara who took care of areas 2, 3 and 6 on teaching learning and evaluation, faculty and staff, and support to students while University of Southern Mindanao (USM) Chief Librarian Dr. Anita C. Sornito evaluated area 7 on library resources.
Aside from the members of the accreditation team, all the other members of the AACCUP Board were present in the validation visit in VSU including Dr. Tirso A. Ronquillo, the President of the Philippine Association of State Colleges and Universities (PASUC) who recently joined AACCUP as one of its newest Trustee.
All of them are treated to a welcome dinner and fellowship night held in the evening of June 19 at the VSU RDE Hall.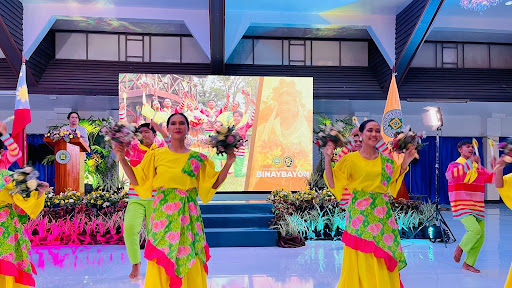 Dancers from Project ESEC SaHuni De Kalibre Performing Arts Company greeted the accreditation team and the AACCUP Board on their first night at VSU.
The welcome dinner and fellowship night was spearheaded by the VSU Culture and the Arts Center (CAC) under the direction of Prof. Jude Nonie A. Sales. The event was highlighted with a cultural show showcasing song and dance numbers of classic and contemporary Visayan music.
Performers of the event included faculty members, staff and students of the Institute of Human Kinetics (IHK) and the VSU Indigenous Music Ensemble including special presentations from Project ESEC SaHuni De Kalibre Performing Arts Company composed of elementary and high school teachers from the Baybay City Division Office.
VSU Quality Assurance Director Dr. Editha G. Cagasan expressed her deep appreciation to all faculty members and staff who worked hard for the success of VSU's third institutional accreditation with AACCUP.
"There's so many people to thank for this success because this is a united effort to present and package the accomplishments of VSU for the past 5 years. It took us more than 6 months to prepare all the needed documents for this accreditation and we're grateful to all our officials for cooperating in this huge endeavor. I'm also grateful to my staff at the ODQA for spending so many sleepless nights just to coordinate and do the groundwork for all these. Truly, we can achieve great things when we're united in one goal of presenting the best of our beloved VSU," Dr. Cagasan said.
Meanwhile, VSU President Edgardo E. Tulin was humbled by this new achievement of the university.
"We keep pushing for program and institutional accreditation because we believe that this will provide important inputs for the continued development of our delivery of core functions in instruction, research and extension. More than a bragging right for VSU, I see this achievement more as a benchmarking tool that is valuable for future improvements of all the things we do in the university. There's still so much to work on to achieve our goal of global competitiveness and we should start with accreditation as a foundation of bringing that vision into reality," Dr. Tulin explained.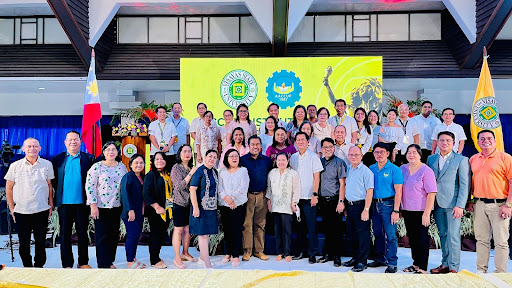 VSU key officials joined the accreditation team and the AACCUP Board of Trustees for a photo op held after the closing ceremony of the validation visit.
VSU has been a consistent record holder in AACCUP by being the first institution in the country to be subjected to institutional accreditation in 2010. The university is also the first institution in the Philippines to be granted a Level III accreditation status in 2017.
As of April 2022, a total of 66 out of 80 undergraduate and graduate courses of VSU or 97% of degree programs have been subjected to AACCUP accreditation across the VSU system. 16 of these programs have been granted Level IV status, 12 for Level III, 19 for Level II, 30 for Level 1 while 12 programs are new curricular offerings that need revision before it becomes eligible for program accreditation.
VSU was also named by AACCUP as the 2021 top performing institution in the whole country for obtaining the most number of Level IV accredited courses in both graduate and undergraduate levels.