US-based human rights org partners with Devcom on anti trafficking advocacy
Details

Written by Ulderico B. Alviola

Published: 26 June 2022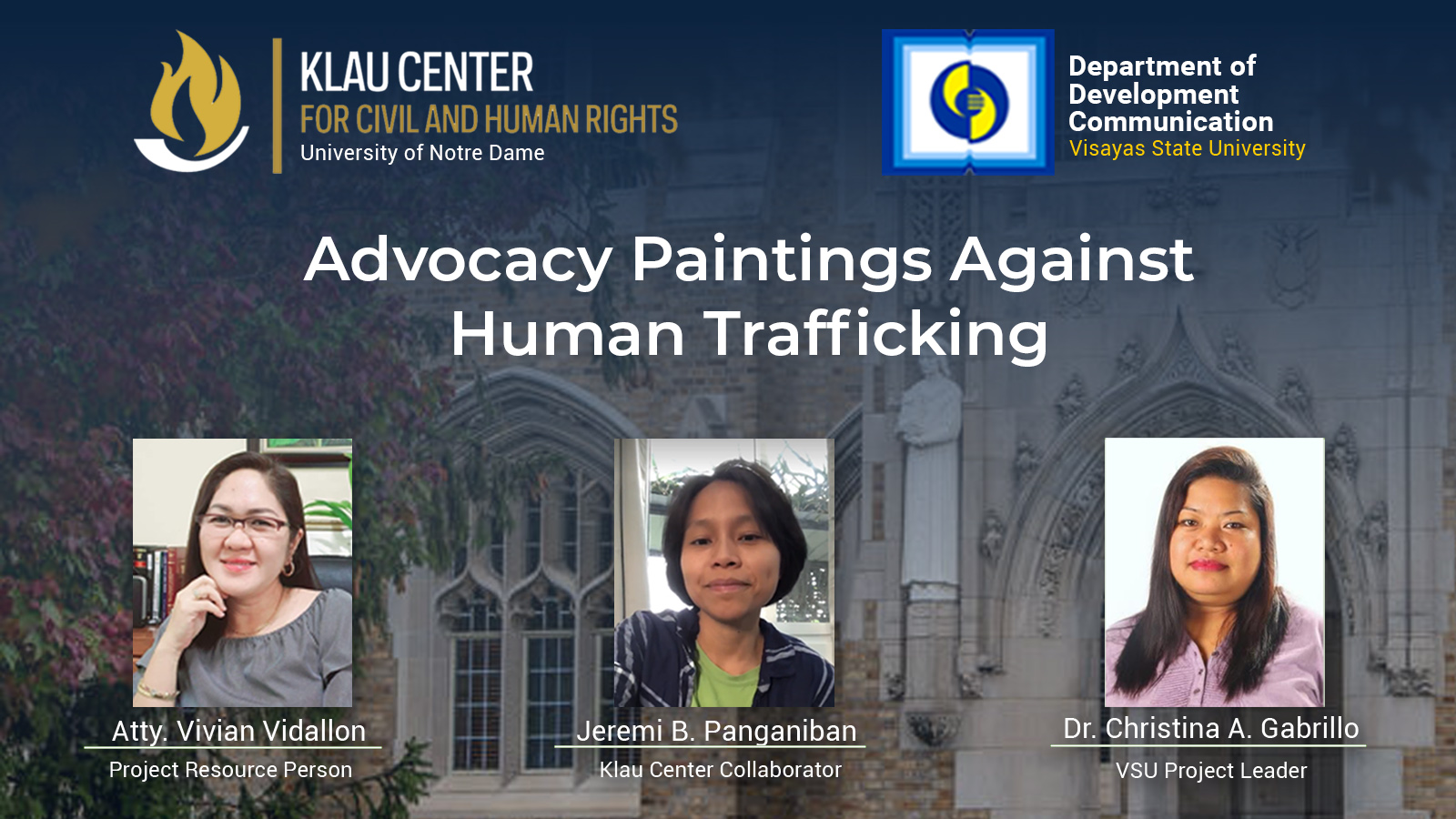 The Klau Center for Civil and Human Rights has partnered with the Department of Development Communication (DDC) at the Visayas State University in launching a project that will raise local awareness against human trafficking.
Entitled "Advocacy Paintings on Anti-Human Trafficking and Other Forms of Gender-Based Violence Against Women and Children", this project is a community education initiative that builds on the successes of a previously held School-on-the-Air (SOA) program on mental health and environmental conservation funded by the East-West Center.
The Klau Center is based at the University of Notre Dame in Indiana, United States with the mission of promoting civil and human rights through academic programs, research and curricular development, and by launching different initiatives and public events.
Through education, inquiry, and engagement, the Klau Center seeks to be at the vanguard of innovative and principled ways that will promote social justice for everyone.
Ms. Jeremi B. Panganiban, a doctoral student in peace studies and anthropology and an affiliate of the Klau Center served as the main collaborator who facilitated the release of funds that will cover costs for the implementation of the said project.
Dr. Christina A. Gabrillo, former DDC Head who is currently on sabbatical leave, served as the project leader being the alumni-cohort of the 2019 Asia Pacific Leadership Program (APLP) spearheaded by the EWC.
In this anti-human trafficking advocacy, Dr. Gabrillo is joined by Dr. Karen Luz T. Yap of the Department of Agricultural Education and Extension (DAEE), and Assistant Professor Jude Nonie A. Sales, DDC faculty member and the concurrent Director of the VSU Culture and the Arts Center (CAC).
An important part of the project is to work with local professional lawyers who can provide legal information about the issue of human trafficking and gender-based violence. In this area, Atty. Vivian E. Vidallon was tapped as the main resource person and lecturer.
Atty. Vidallon is an active legal practitioner in Baybay City who now serves as Secretary of the Sangguniang Panglungsod [Local Legislative Council] and the Head of the Secretariat for local Interagency Task Force (IATF) Against COVID-19.
The unique thing about this project is the incorporation of a painting competition as a way of measuring participants' understanding of human trafficking after their exposure to regular online lecture sessions that can be reviewed via a dedicated Youtube channel.
This painting competition will be participated by SOA graduates of two school divisions of the Department of Education (DepEd) in Baybay City and Southern Leyte. Both of these school divisions have been the previous recipients of the radio school program on visual arts for mental health and environment held from May to September last year.
A total of 43 participants were handpicked to join in this project which was officially launched on June 7, 2022.
At this event, VSU President Edgardo E. Tulin delivered a welcome message highlighting the importance of the project especially in a times of a global pandemic,
"With our local and national economy heavily affected by COVID-19 restrictions, poverty incidence have become greater in the past two years which is providing an even more conducive situation for human trafficking and exploitative labor to persist." Dr. Tulin said.
The VSU President continued by expressing his delight that VSU through the Devcom Department is trying to address this serious societal issue.
"I'm personally happy that VSU is now having a say on this issue by holding this advocacy paintings program with the aim of curbing this malpractice so that we can collectively protect the rights and welfare of our very own women and children. The VSU administration gives our 100% support to projects like this because community service is at the heart of what we do here in our university. This is a welcome development for us to expand our future targets in our community service initiatives," Dr. Tulin added.
Ms. Panganiban, the main project collaborator from the Klau Center, also expressed her excitement of working with VSU on this timely and very relevant initiative.
"Nagagalak po ako na maging kasama po kayo dito sa proyekto natin. I'm looking forward sa mga sessions natin at sa magiging resulta po ng mga paintings at inyo pong mga artworks [I'm very glad for your participation in this project. I'm looking forward for our sessions and the results of your paintings and other submitted artworks]," Ms. Panganiban said in a recorded message.
Dr. Gabrillo responded by emphasizing the important role of development communication in the issue of human trafficking.
"Devcom should take part in this issue that further marginalizes our communities. I'm happy to work with Klau Center on this project and I see this as an opening for our department to tackle other equally important development issues through community education initiatives like radio school and other communication interventions," Dr. Gabrillo explained.
This project will run from May to December this year. VSU-DDC is a Center of Development in Development Communication identified by the Commission on Higher Education (CHED). It is considered as one of the best Devcom schools in the country.