Shine like a diamond: 75th Anniversary Message for VSU Villaba
Details

Written by Dr. Anabella Bautista Tulin

Published: 30 October 2022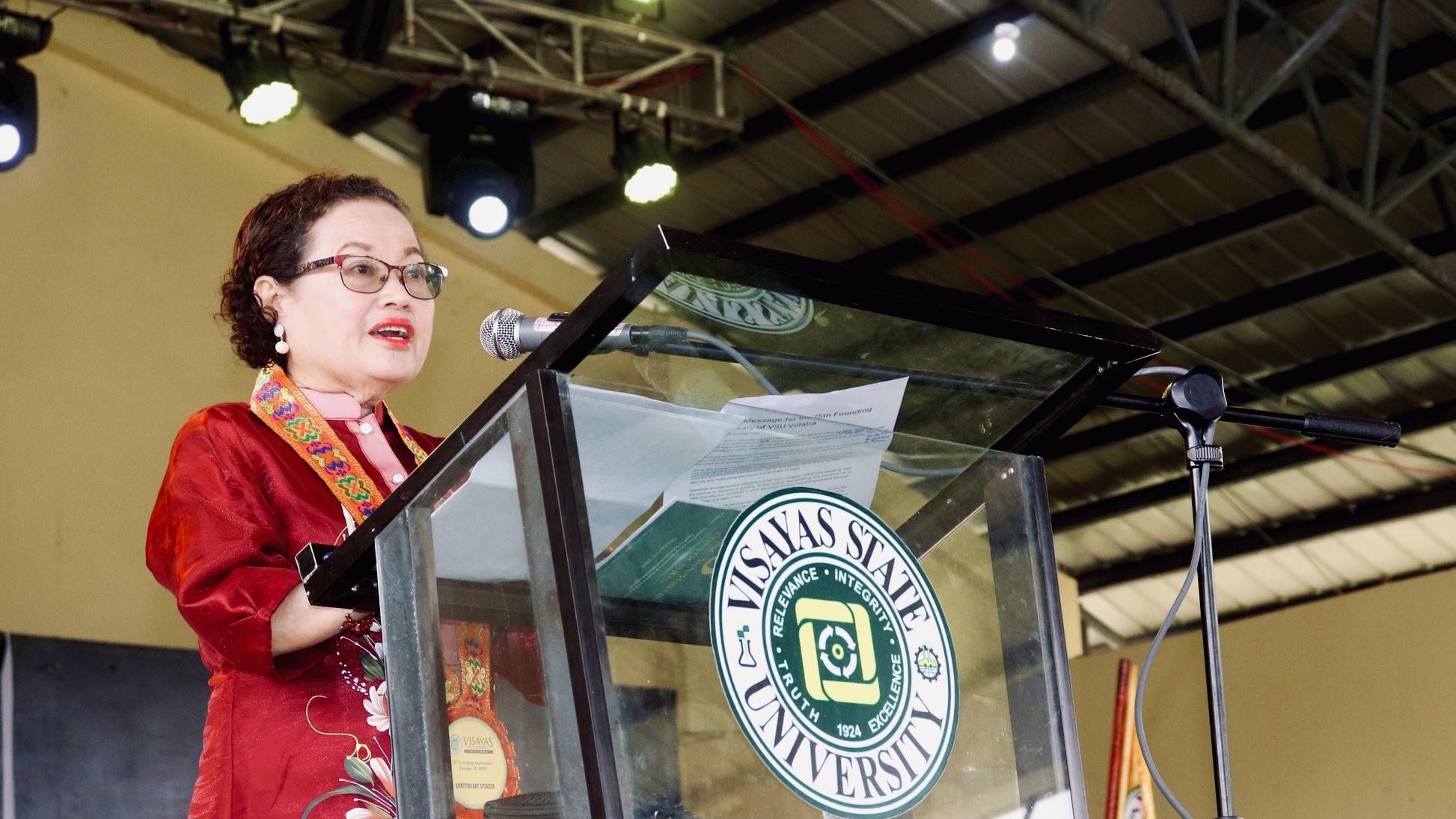 To the ever-active Chancellor of VSU Villaba, Dr. Maria Jehan P. Libre, our local officials of Villaba, Leyte led by Mayor Lito P. Veloso and his Municipal Council, our other key officials of this institution, faculty members, administrative and support staff, students, good morning and Happy 75th Founding Anniversary to VSU Villaba!
As the Graduate School Dean of VSU's flagship campus in Baybay City, It is with great honor that I join you today for the celebration of your seven and half decades of existence as an institution of higher learning.
Being able to reach 75 years is indeed a wonderful achievement in itself. In marriage, reaching this far is such a gift that a diamond was used to represent this occasion. Diamond, as you may all be aware, is the hardest known natural material on our planet. They are also known for their durability, clarity, and beauty, all of which can best describe any relationship that lasted and endured 75 years.
Diamonds are also scratch-resistant and can even cut glass. Industrially speaking, they are used as an abrasive in grinding, drilling, cutting, and polishing, and have proven to be more cost-effective compared to other abrasives in many industrial processes because it cuts faster and lasts longer.
Now that VSU Villaba has reached its 75th year, I'm sure that this institution, just like what a diamond is known for, is already durable, scratch-resistant, resilient, and more importantly, a precious gem that will keep on shining as a symbol of hope and inspiration to the many people of Northwestern Leyte and beyond.
I just want to share a bit of history with everyone so that we can use this in tracking down our growth and development as an institution. The VSU system was officially created just 23 years ago that allowed VSU Villaba to be part of the five-campus university system that we currently have right now.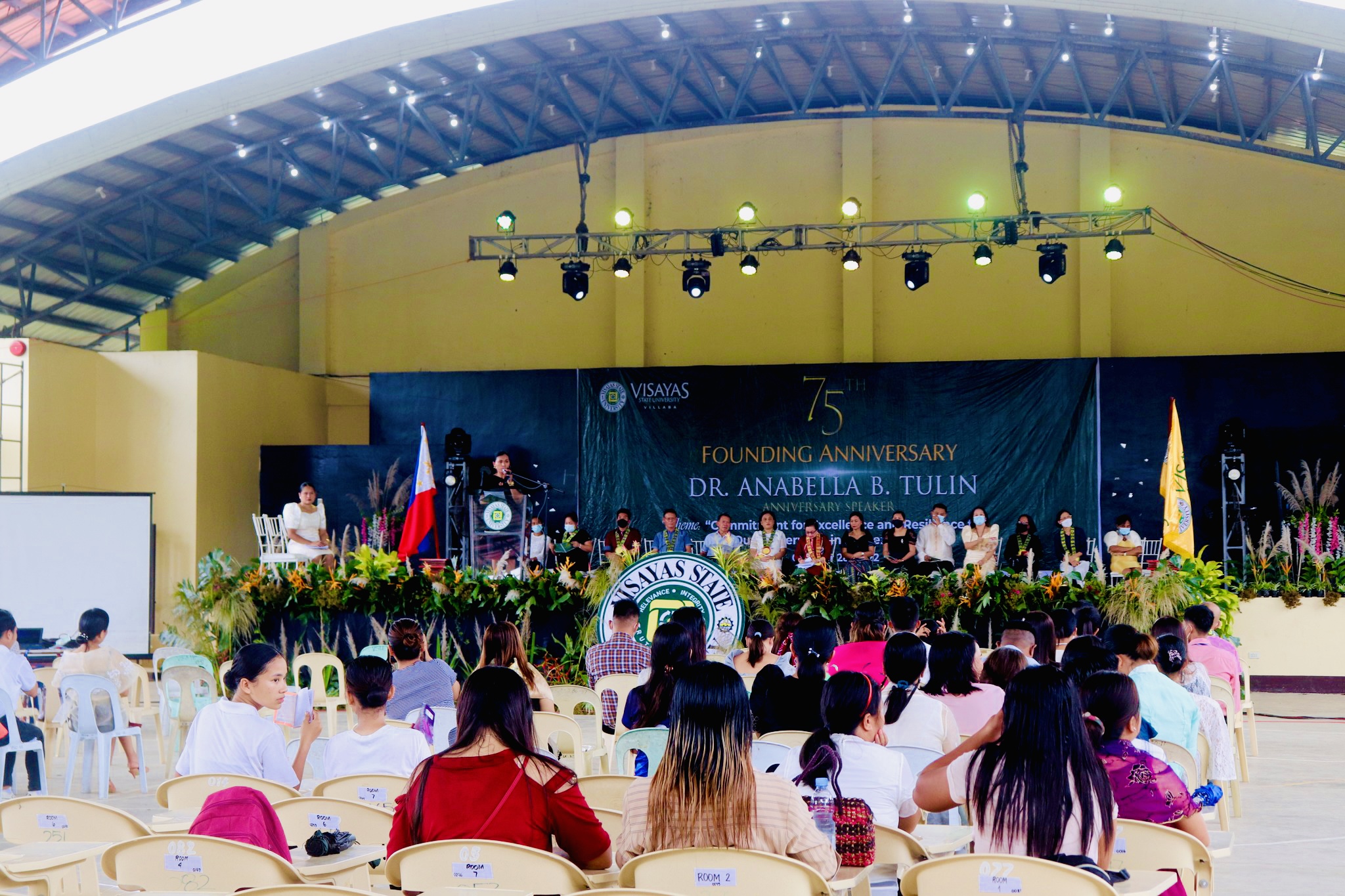 With this merger, we have also seen the monumental growth and development of four provincial schools by building on the strengths of the Main Campus in Baybay City and cascading these to our branch campuses so that they too will carry and replicate the brand of excellence that the flagship campus has been known for.
Aside from the provision of better infrastructure and other academic facilities, VSU Villaba was also part of a massive manpower development program that allowed faculty members to be sent to reputable universities here in the country to pursue advanced degrees. Many of your current administrators are former recipients of this scholarship program that has never been afforded to other mature universities here in Eastern Visayas.
We did this mainly because we know that a key ingredient to the success of any college or university is the continued pursuit of graduate education of our core manpower so that they will be able to bring this important learning right here and apply it for the greater growth and development of their home institution.
And we continuously do this by opening up greater opportunities for graduate education for our young but promising faculty and staff because we believe that a university is only as good as the very people who are running it. No amount of infrastructure development will bring significant results if we don't have trained manpower who will set the direction forward.
And I think that we succeeded in that respect for the past decade now that some of our faculty scholars are back to serve VSU Villaba. The VSU administration is hopeful that your graduate education will be put to good use so that we can nurture this small but ever-growing institution as a producer of top-notch agriculture and education graduates on this side of the region.
Now that we have set the foundation for a highly trained set of core manpower here in VSU Villaba, we expect that this will lead to better instructional quality, greater research productivity, and an improvement in licensure examination performance so that we can justify further investments for this campus.
Our VSU President and my roommate, Dr. Edgardo E. Tulin, have already set his eyes on establishing two regional research centers for goats and spices here on your beloved campus so that we can strengthen your mandate and make you more relevant to the specific needs of your community.
These two regional research centers will particularly focus on researching small ruminants like goats and rabbits, and will also pursue localized studies on the suitability of growing herbs and spices in Northwestern Leyte.
With your vast grazing area of pastureland and a cooler ambient temperature due to a relatively upland terrain, VSU Villaba is very suited to supply research-based meat by-products of cattle and goats for the rest of Eastern Visayas.
The Villaba town and its neighboring municipalities have already been previously identified by government agencies like the Department of Agriculture (DA), and the Department of Science and Technology (DOST) as very suitable for small ruminant industry because of its unique climate and topography.
On top of that, we also see opportunities for your area to pursue research activities on herbs and spices which is something that has already been set in motion for the past years. With this, we have learned that VSU Villaba is very suitable for growing onions, bell peppers, and other herbs and spices due to the unique climatic, topographical, and soil conditions here in your area.
You may ask, why do we need to do all these? Because we understand that it is only through research and development that we will make ourselves grow. We did this in VSU Main Campus when we catapulted a small provincial school in 1974 to become the research bastion for agricultural development and continued innovations that propelled us to become one of the best agricultural universities in Southeast Asia.
The formula is very simple. Encourage greater research productivity that will provide our faculty members with greater professional expertise as important inputs for science-based instruction.
Our goal and aspiration are clear—that we want the success story of VSU Baybay to be replicated here in VSU Villaba, that through science and technology, we can push a small provincial school to become a research powerhouse that will complement the strengths of the Main Campus for a stronger university system.
We have all the enabling mechanisms to make this a reality. All it takes is for your unwavering commitment to start the important groundwork for this master plan. Let's start to dream for VSU Villaba that before you turn to your centennial year come 2047, this institution will become as mature and as productive as the Main Campus in terms of research capability and overall instructional quality.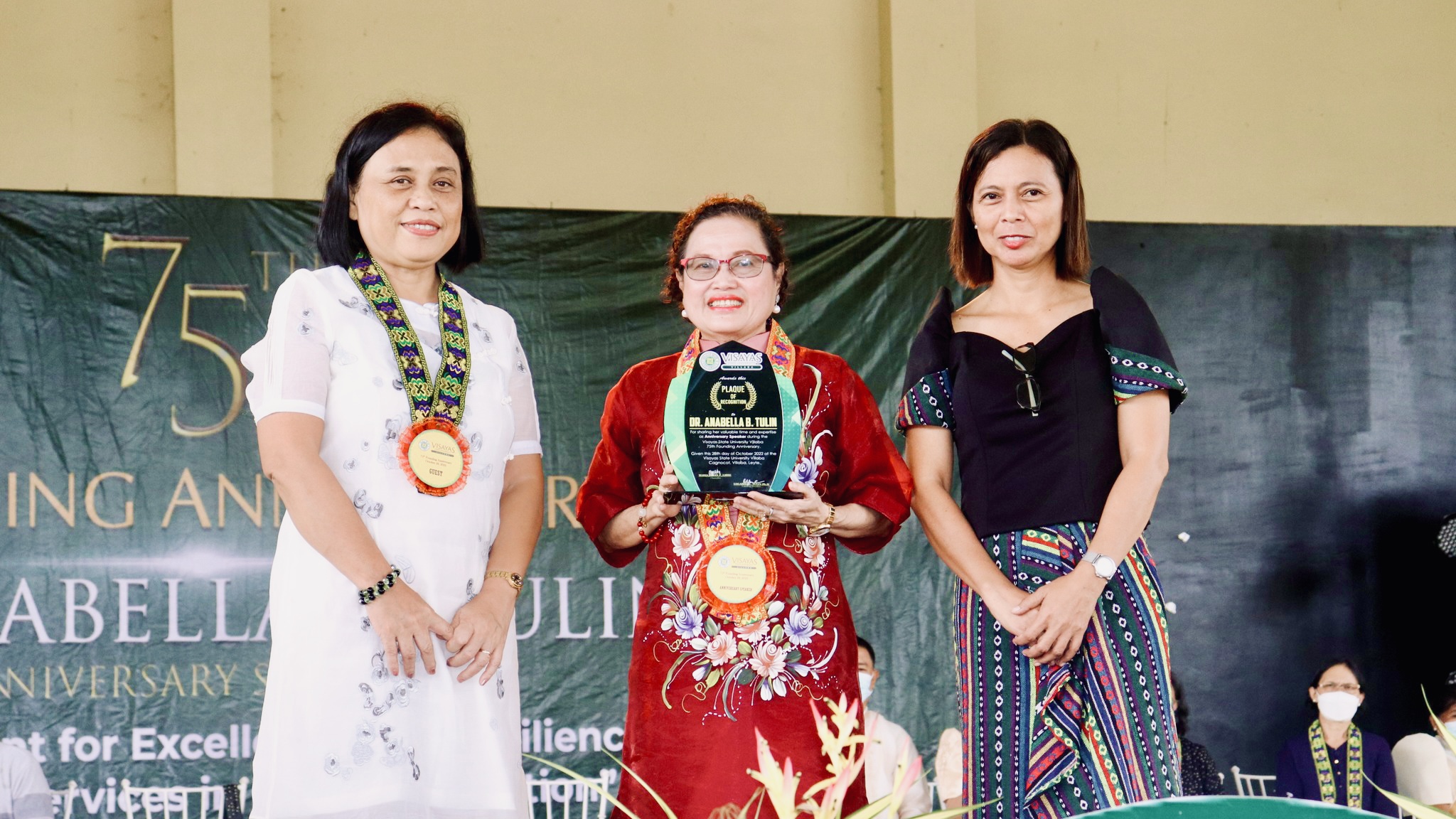 This is very possible and we're confident in your current workforce that you will make this happen. I know that some of you are doubting yourselves for it but let me tell you a story of how a diamond is formed.
Diamonds were formed over 3 billion years ago deep within the Earth's crust under conditions of intense heat and pressure that cause carbon atoms to crystallize. To put it simply, a diamond is just a piece of charcoal that handled stress exceptionally well.
And when you want to become a diamond that shines so bright, you need to understand that this will mean putting quite a lot of pressure on you. As English writer, trader, and journalist Daniel Defore once said, and I quote, "The soul is placed in a body like a rough diamond and must be polished, or the luster of it will never appear".
VSU Villaba at 75 years old is a diamond in its own right. Keep it shining by polishing it regularly and continue to put it under extreme pressure so that we get to see its luster and its true beauty.
Daghan kaayong salamat at Mabuhay po tayong lahat!