President's Notes: Farewell to a #ProudViscan who made a dent in Philippine agriculture
Details

Written by Edgardo E. Tulin

Published: 27 December 2021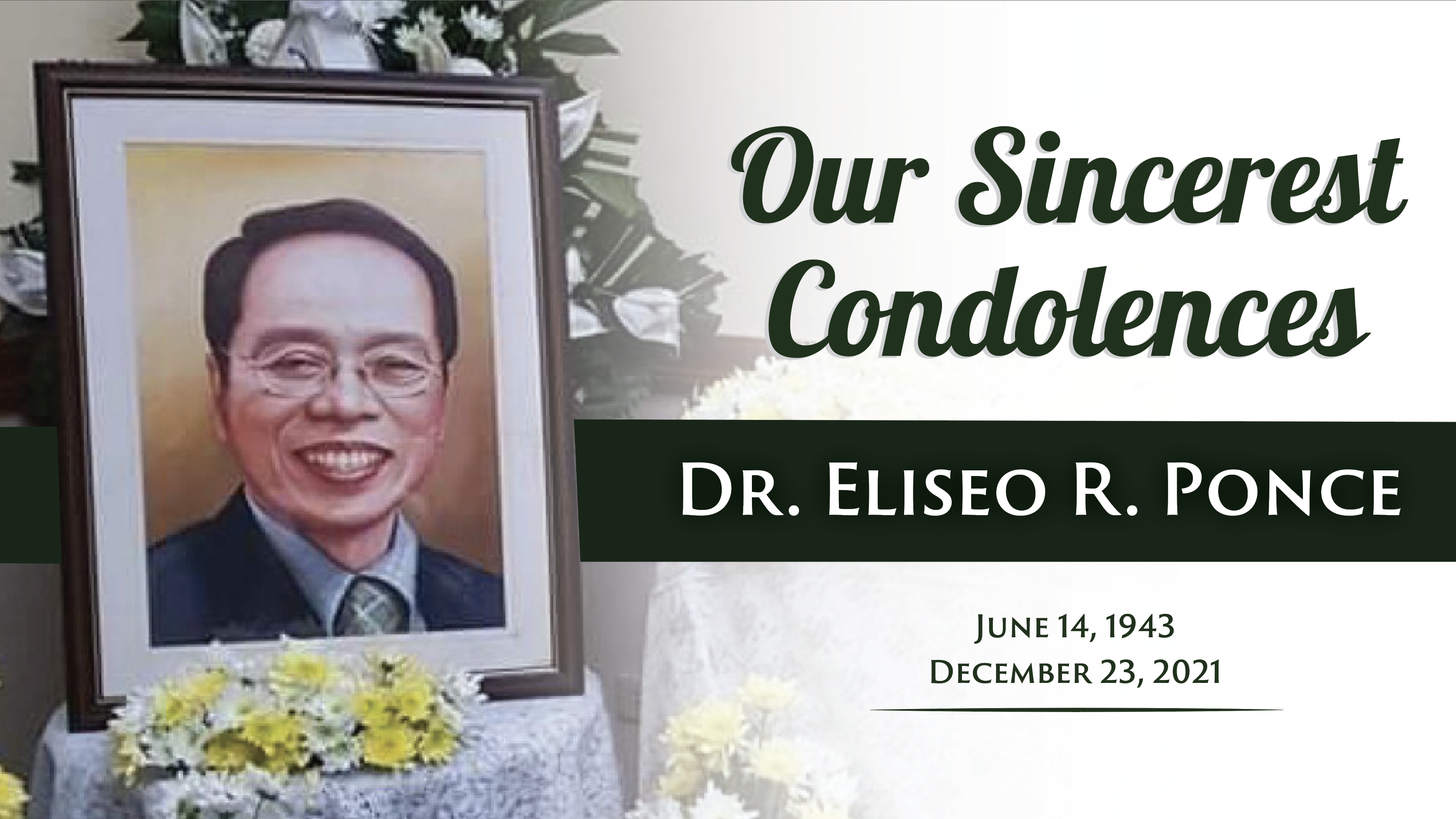 [This is the eulogy message of VSU President Edgardo E. Tulin delivered on December 26, 2021, in a special tribute event for Dr. Eliseo R. Ponce.]
On behalf of the VSU community, I extend my sincere condolences and sympathies to the family of Dr. Eliseo R. Ponce—a #ProudViscan whose work experiences as a research and extension leader have greatly contributed to the improvement of our agricultural sector in the country, and have thereby made a dent to the lives of Filipino farmers.
While we were all busy recovering from the major damages we've endured because of Typhoon Odette, our very own Dr. Ponce peacefully returned to the arms of our Creator on the morning of December 23, 2021.
I personally remember Dr. Ponce because of his commitment to public service, his vision for Philippine agriculture, and his outstanding work ethic that earned him the trust and confidence of many national and international organizations even beyond his retirement to government service.
From 1976 to 2008, Dr. Ponce served us here in VSU mainly as a professor of agricultural research and extension management. During his stay at VSU, he engaged in many consultancy work for the university and the Philippines in general that brought honor to our beloved VSU.
Allow me to name some of them. Dr. Ponce has been a senior technical expert of the Department of Agriculture, a consultant to the World Bank, consultant and technical expert to the Philippine congressional committee on agriculture and fisheries modernization, consultant to the Asian Development Bank (ADB) through a work he did with the Southeast Asian Regional Centre for Graduate Study and Research in Agriculture (SEARCA), a visiting senior research fellow of the Philippine Institute of Development Studies (PIDS), and as a technical expert of the Food and Agriculture Organization (FAO) and the United Nations Educational, Scientific and Cultural Organization (UNESCO).
On top of his commendable international and national consultancy works, Dr. Ponce conducted more or less 27 agriculture research and development projects, presented over 22 technical and scientific papers in national and international professional fora, team leader of Philippine Agriculture and Extension Study and Technical Team (PAEST), graduate research associate of the United States National Center for Research in Vocational Education, team leader of international academic missions for VSU to New Zealand and Australia, and also as team leader of several award-winning community-based projects involving upland and lowland farmers here in the Philippines.
But I believe that the very peak of the professional career of Dr. Ponce was at the Bureau of Agricultural Research (DA-BAR) where he served as executive director from 1998 to 2003. It is with DA-BAR that Dr. Ponce provided the overall intellectual and managerial leadership in implementing the reforms that strengthened the national research and development system in agriculture and fisheries as mandated by the Agriculture and Fisheries Modernization Act of 1997 or more popularly known as the AFMA law.
In DA-BAR, Dr. Ponce advocated for one system, one approach program for the Department of Agriculture, improved the quality of governance and accountability inside the agency that he willingly led, improved the quality of science, research prioritization, and resource allocation, strengthened knowledge management in the DA by establishing the Agriculture and Fisheries Research and Development Information System (AFRDIS), developed active partnerships with farmers, producers, civil societies and the private sector, and solidified the role of 30 Regional Integrated Agriculture and Fishery Research Centers.
I can go on and on about the amazing professional journey of Dr. Ponce. But more than his credentials and the many feathers in his cap, Dr. Ponce is a very devoted family man and a Christ-centered fellow who opted to retire here in our region to spend more time with his family and enjoy the simple but fulfilling life here in the province.
Needless to say, we've lost a great and honorable man with the passing of Dr. Ponce. And for those who have been trained by him, including those who've experienced the combined discipline and mentorship of Dr. Ponce, I'm sure that they will always remember him for his commitment to public service and professional excellence.
I would like to personally thank the family of Dr. Ponce for sharing with us a research and extension leader who pioneered many things here in VSU. I'm sure that because of the many works that he had to do during his prime, many opportunities were lost for your family to spend quality time with each other especially because I personally know how workaholic and dedicated Dr. Ponce has been. But I'm also sure that wherever he is right now, Dr. Ponce is happily looking down at us, humbled by the many works he accomplished and proud of the family he built right here on earth.
As Ecclesiastes chapter 3 verses 1 to 4 says and I quote, "There is a time for everything, and a season for every activity under the heavens: a time to be born and a time to die, a time to plant and a time to uproot, a time to kill and a time to heal, a time to tear down and a time to build, a time to weep and a time to laugh, a time to mourn and a time to dance".
This bible verse is a great reminder for all of us of the small-time we have in this world. But even so, people like Dr. Ponce have taken advantage of their short stay right here on earth to make a dent and somehow improve Philippine agriculture because just like many of us, he aspired for a better life for our small rural farmers who are basically feeding this nation.
I really hope that as we pay our last tribute to Dr. Ponce right now, may we all be inspired by the many things he did and be reminded of the lessons that he embodied while he was still with us. With this, allow me to leave all of you with a quote from Chuck Palahniuk that goes, "We all die. The goal isn't to live forever, but to create something that will".
Reflecting on this, I believe that Dr. Ponce, despite his passing last week, has been immortalized by the many amazing works that he proudly accomplished here in our world. And all of us here will continue to remember him because of that.
Daghan kaayong salamat and again, my prayers and thoughts are with all of you as we send off a great Viscan to eternal rest.
God bless everyone.