VSU Integrated Media Head is elected President of national Devcom organization
Details

Written by Neil Bryan B. Fulache

Published: 11 January 2022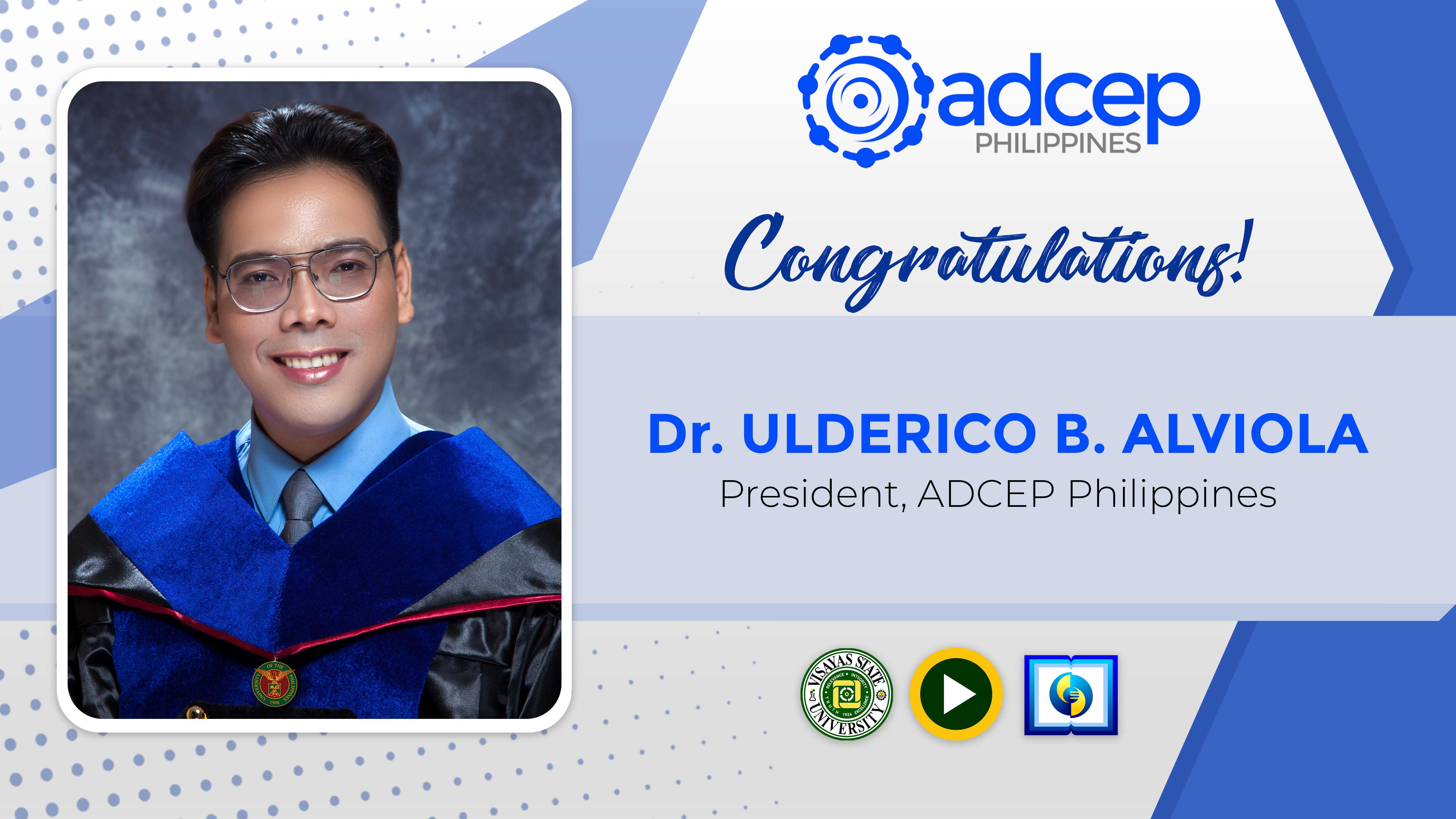 Dr. Ulderico B. Alviola, the Head of the University Integrated Media Center (UIMC), was elected as National President of the Association of Development Communication Educators and Practitioners (ADCEP) Philippines.
Now with more than 100 members across 27 schools offering Devcom in the country, ADCEP Philippines was mainly organized to expound on the praxis of development communication by sharing and discussing about the narratives, trends, challenges and the future of the field in the local, national and global contexts.
Dr. Alviola was overwhelmingly elected last year in a virtual General Assembly held on December 4, 2021 attended by almost 100 duly registered members of the organization.
The new ADCEP President is the second #ProudViscan to serve as prime mover of ADCEP with Dr. Rotacio S. Gravoso completing two terms from 2015 to 2018. He succeeded Prof. Sorhaila Latip-Yusoph of Mindanao State University (MSU) in Marawi City who was on hold over capacity for more than a year because of the ongoing pandemic.
Dr. Alviola recently completed his Straight Doctor of Philosophy (PhDS) in Development Communication from the University of the Philippines Los Baños (UPLB) under a joint scholarship grant from the German Academic Exchange Service (DAAD) and the Southeast Asian Regional Center for Graduate Study and Research in Agriculture (SEARCA).
He is the first graduate of such a hybrid degree program in DevCom that includes an all-in-one master's and doctoral degrees.
Aside from serving actively in ADCEP Philippines, Dr. Alviola has also been active in other national professional organizations as he is also the longest serving Vice President for the Visayas of the Philippine Association of Communication Educators (PACE) from 2014 up to the present.
PACE is the oldest and largest professional organization of communication teachers in the country.
50 years of DevCom
In an exclusive interview, Dr. Alviola shared how his election as ADCEP Philippines President coincided with the 50th year of Devcom as a distinct field of communication discipline.
"My Presidency in ADCEP Philippines comes at a time when we are commemorating the golden year of Devcom. And I see this more as a challenge because there's still so much to be done to continue enriching our field so that more people will become aware of how important DevCom is in shaping the future of our very own country where this field originated including in other developing nations," the new ADCEP President expressed.
A year-long celebration will be held to celebrate 50 years of DevCom this 2022. One of the activities that will be held is the Devcom Lecture Series that will feature 50 development communicators who will talk about the trends and challenges related to the field.
"ADCEP Philippines is one of the main partners of the UPLB College of Development Communication (CDC) for the Devcom Lecture Series and our call for nominations is currently ongoing until January 31. I really hope that this event will encourage all the 27 Devcom schools in our country to tell us about their unique brand of Devcom and also share to us how are they pushing the boundaries for our field, 50 years after Nora C. Quebral coined the term in her seminal paper," Dr. Alviola added.
Joining the new ADCEP President in the Executive Board are the following: Dr. Digna Mac Paner-Alba (Vice President for Luzon) from the Ateneo de Naga University; Asst. Prof. Rona Del C. Alingasa (Vice President for Visayas) from the West Visayas State University; Asst. Prof. Jovelyn F. Gesulga (Vice President for Mindanao) from the University of Southern Mindanao; Dr. Vaberlie P. Mandane-Garcia (Secretary) from the Batangas State University; Mr. Peter P. Dalocdoc (Treasurer) from the Benguet State University; and Asst. Prof. Maria Teresita B. Osalla (Auditor) from UPLB.
Completing the officers of ADCEP Philippines who will sit as part of the Advisory Council are Dr. Rotacio S. Gravoso from VSU including four other faculty members from UPLB-CDC. They are Asst. Prof. Romel A. Daya, Asst. Prof. John Mervin L. Embate, Dr. Rhodora Ramonette M. De Villa-Custodio, and Mr. Elijah Jesse M. Pine.
Under Dr. Alviola's leadership, the first project of the ADCEP Philippines is the ongoing relief efforts for Typhoon Odette victims where 200 families from 3 towns of Southern Leyte became beneficiaries of food packs and basic hygiene kits obtained from a current donation drive being undertaken by the organization.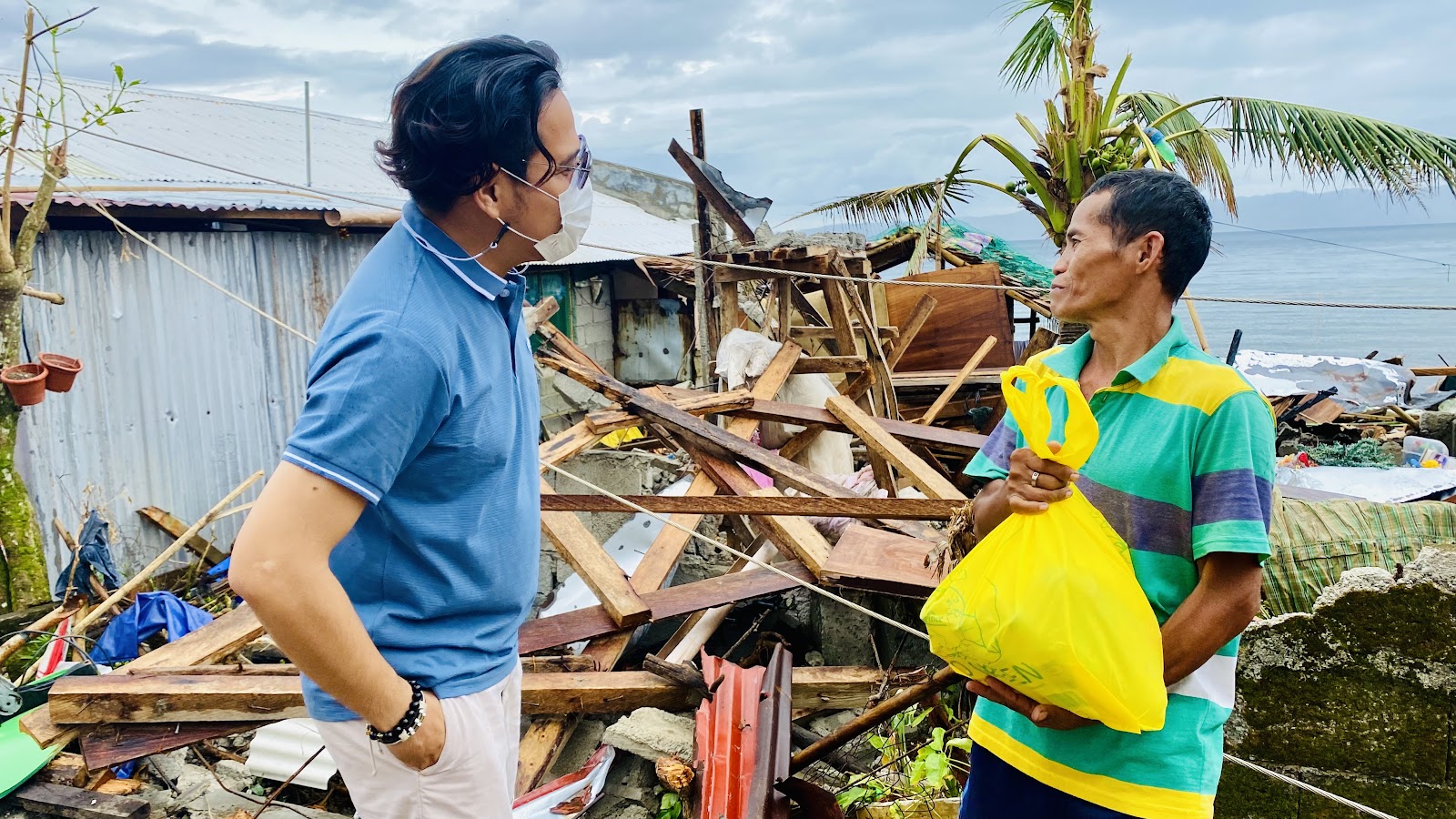 On Christmas eve, ADCEP Philippines President goes to Santa Paz, San Francisco, Southern Leyte which is one of the badly-hit towns of Typhoon Odette.
The new set of officers is expected to hold a strategic planning workshop in early 2022 to lay out the plans for the organization in the next two years.