VSU Main Campus to offer AB Philosophy next school year
Details

Written by Neil Bryan B. Fulache

Published: 15 January 2022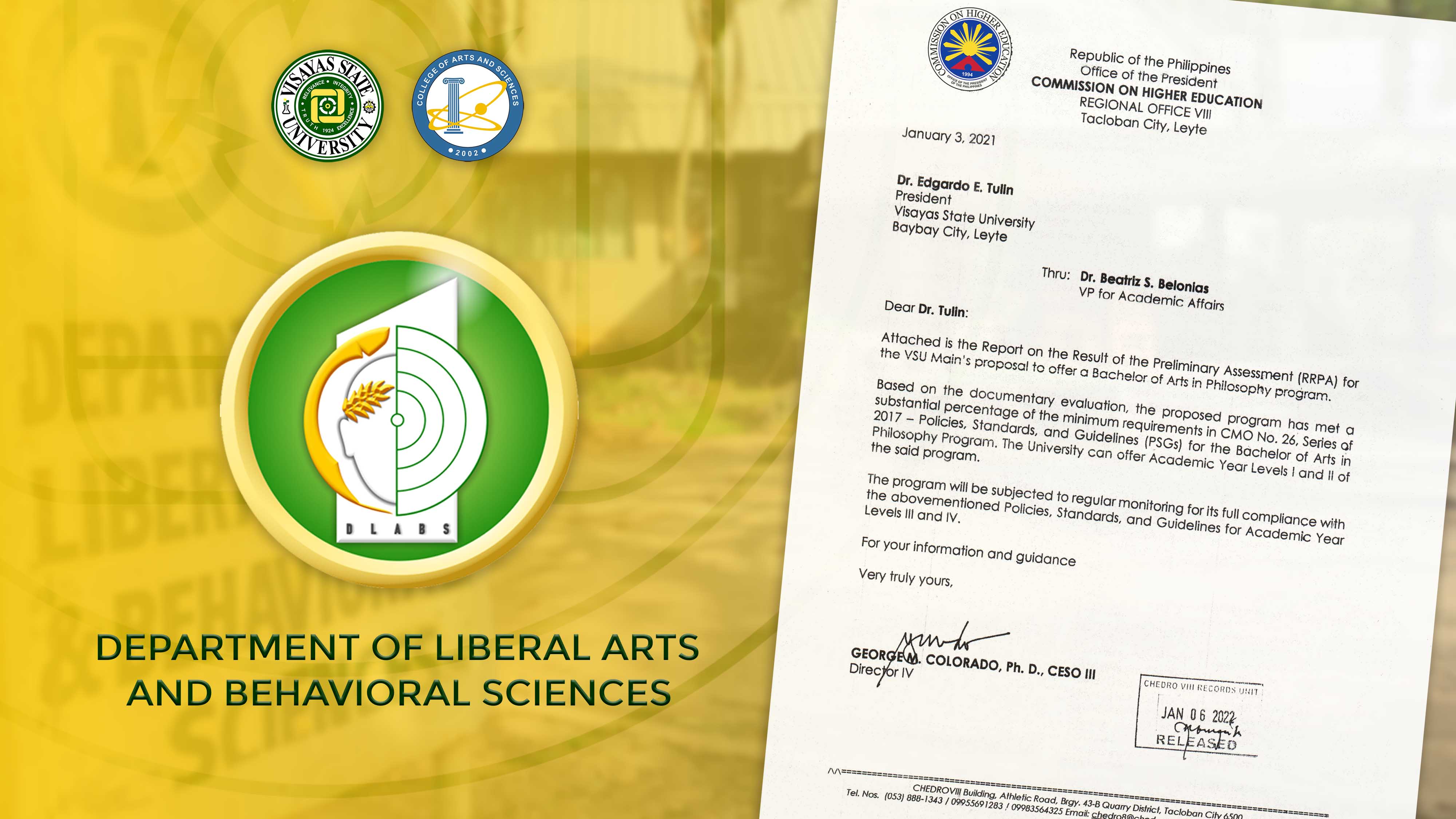 It's official!
The Bachelor of Arts in Philosophy will be the newest undergraduate degree offering of the Visayas State University Main Campus to be opened in August this year.
Because of this, VSU will be the first non-sectarian institution in Eastern Visayas to offer this new curricular program.
AB Philosophy will also be the second Bachelor of Arts (AB) program of VSU following the revision and reconstitution of the Bachelor of Arts in English Language Studies (ABELS) in 2018.
This new program will also be the second four-year degree offering under the Department of Liberal Arts and Behavioral Sciences (DLABS) of the College of Arts and Sciences (CAS)—the most diversified college in terms of program offerings within the VSU system.
Dr. Jett C. Quebec, DLABS Head expressed his excitement after their department was finally given a go signal by CHED Regional Office VIII to offer the AB Philosophy program in an official letter sent to VSU on January 3, 2022.
In an interview, the DLABS Head also revealed that the initial curriculum design was focused on agricultural philosophy to align it with VSU's unique context, but this was later redesigned to a pure philosophy curriculum following the recommendation of higher authorities to align it with CHED Memorandum Order (CMO) 26 series of 2017 that specifies the core competencies expected in the offering of AB Philosophy program.
Dr. Quebec added that the proposal to offer AB Philosophy started in 2021 after obtaining the endorsement of the University Administrative Council (UAdCo) and the VSU Board of Regents (BOR).
CHED Eastern Visayas evaluated this proposal and has approved it after meeting a substantial percentage in the minimum requirements set in CMO 26 series of 2017. This approval only covers the initial offering of academic years 1 and 2 of the AB Philosophy program and shall be subjected to regular monitoring for compliance in the policies, standards and guidelines (PSGs) set by CHED for the continued offering of academic years 3 and 4.
Dr. Quebec is hopeful that incoming freshmen will take interest in applying for the first non-sectarian AB Philosophy program in Region 8.
"To all senior high school students out there, especially those taking the humanities and social sciences (HUMSS) track, we're finally offering AB Philosophy here in VSU. This program is meant for students who have a keen heart and mind in pursuing critical and philosophical thinking. This program will surely help you enhance your problem-solving skills by analyzing concepts, definitions, arguments and real world problems to organize your ideas and deal with questions of greater value," the DLABS Head said.
Dr. Quebec also disclosed that their department is currently planning to offer another 4-year degree program in literature.
"The next project for DLABS is to offer AB Literature. It is important for us to have a venue for our literary minds, especially that in Leyte, there is yet to be an institution to offer this degree program. And our pool of faculty members in our department are currently specializing in this discipline. I see this as an opportunity for DLABS to expand our offerings based on the needs of our region and the existing pool of expertise that we are nurturing in our department," he explained.
DLABS is composed of 52 strong faculty members with 90% of them expected to finish their doctoral degrees by 2024.
A massive faculty development program allowed VSU faculty including those coming from DLABS to pursue full time graduate studies here and abroad to further strengthen the faculty profile of the university.