IN PHOTOS: VSU pursues various relief efforts for affected students and other victims of Typhoon Odette
Details

Written by Margraf Von Jean G. Eslopor

Published: 18 January 2022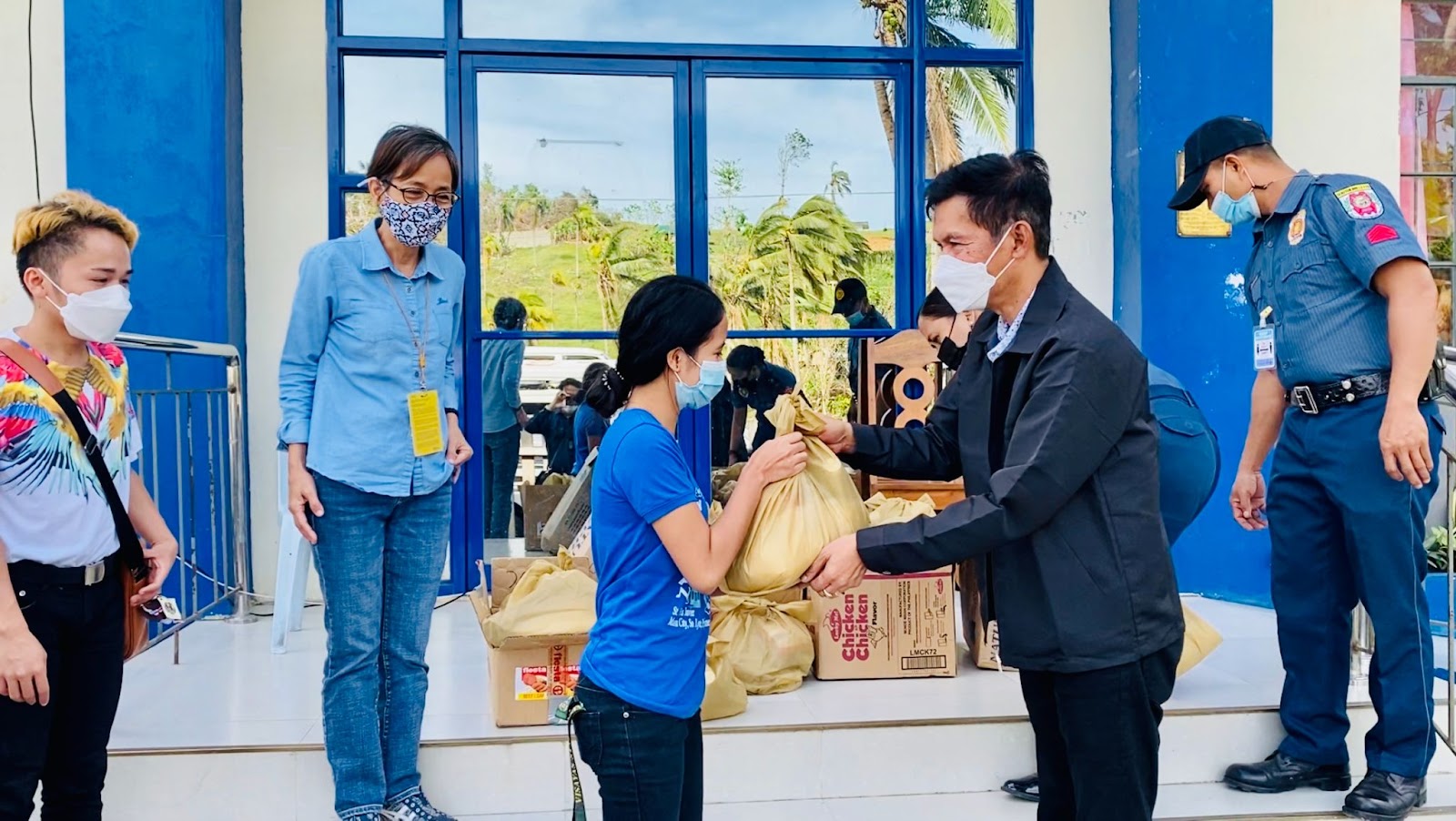 VSU President Edgardo E. Tulin leads the distribution of food packs in Bontoc, Southern Leyte during the second wave of relief distribution for affected students of Typhoon Odette.
Even if VSU was also badly devastated by Typhoon Odette, Viscans did not hesitate to pick up the pieces and also provide aid to our brothers and sisters in Southern Leyte who lost their homes and their livelihood.
For the VSU students alone, the university already distributed a total of 252 food packs across the nine coastal towns of Southern Leyte. More are expected to be distributed in the coming weeks to include other provinces outside of Eastern Visayas.
The relief drive for affected students was mainly implemented by the Office of the VSU President, the Office of the Vice President for Student Affairs and Services (OVPSAS), and the University Supreme Student Council Federation (USSCF).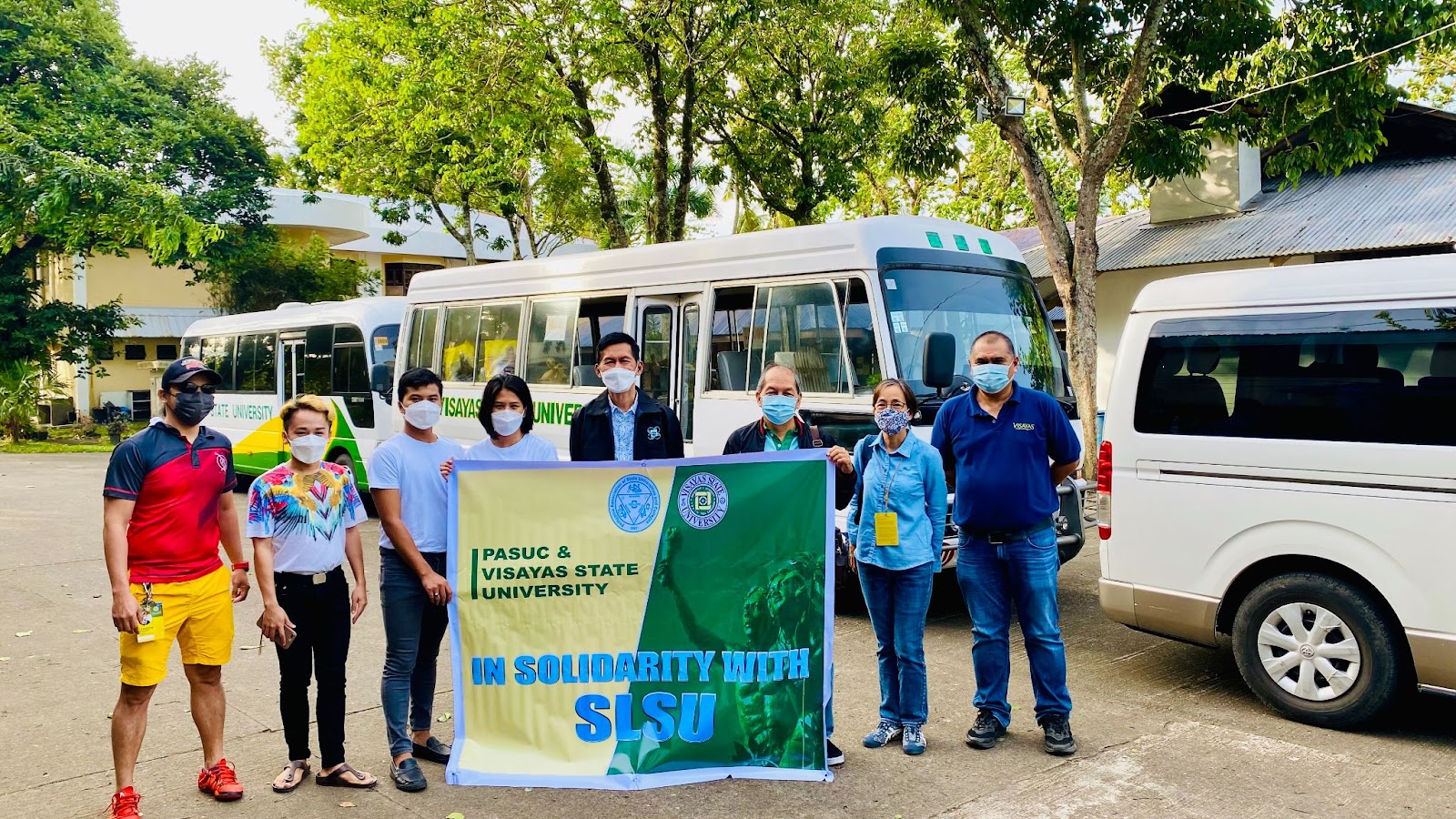 The VSU student relief operations team take a photo op before embarking on the second wave of relief operations to Southern Leyte. A total of two VSU buses were utilized to carry the food packs for 134 students residing in the towns of Bontoc, Sogod and Tomas Oppus.
Almost Php300,000.00 worth of cash and in-kind donations have been poured in to VSU for the relief operations intended for students, to which Php100,000.00 came from the Eastern Visayas Chapter of the Philippine Association of State Colleges and Universities (PASUC-8), Php60,000.00 from the Pangasinan State University (PSU), Php33,000.00 from PASUC 11 in Davao Region, and Php25,000.00 from the Eastern Samar State University (ESSU).
Meanwhile, VSU also helped our neighboring school, the Southern Leyte State University (SLSU), to obtain Php100,000.00 cash donation from PASUC-8 and additional Php33,000.00 from PASUC-11.
On top of that, VSU also provided several sacks of rice and fresh root crop harvest to SLSU as in-kind donations to affected faculty and staff of their university.
Other independent relief operations from the VSU community
Aside from the relief operations spearheaded for affected VSU students, faculty and staff of the Viscan community also initiated other relief operations this time for community people who have not been able to receive their relief goods a few days after the landfall of Typhoon Odette.
The Association of Development Communication Educators and Practitioners (ADCEP) Philippines partnered with VSU to reach out to 31 VSU students and 89 community people in the island town of Limasawa on January 3, 2022.
This island community is the historic site of the first Easter Mass in Asia and considered as the birthplace of Christianity and Catholicism in the Philippines. A quadricentennial (500th year) celebration was held in Limasawa last year to commemorate this religious event.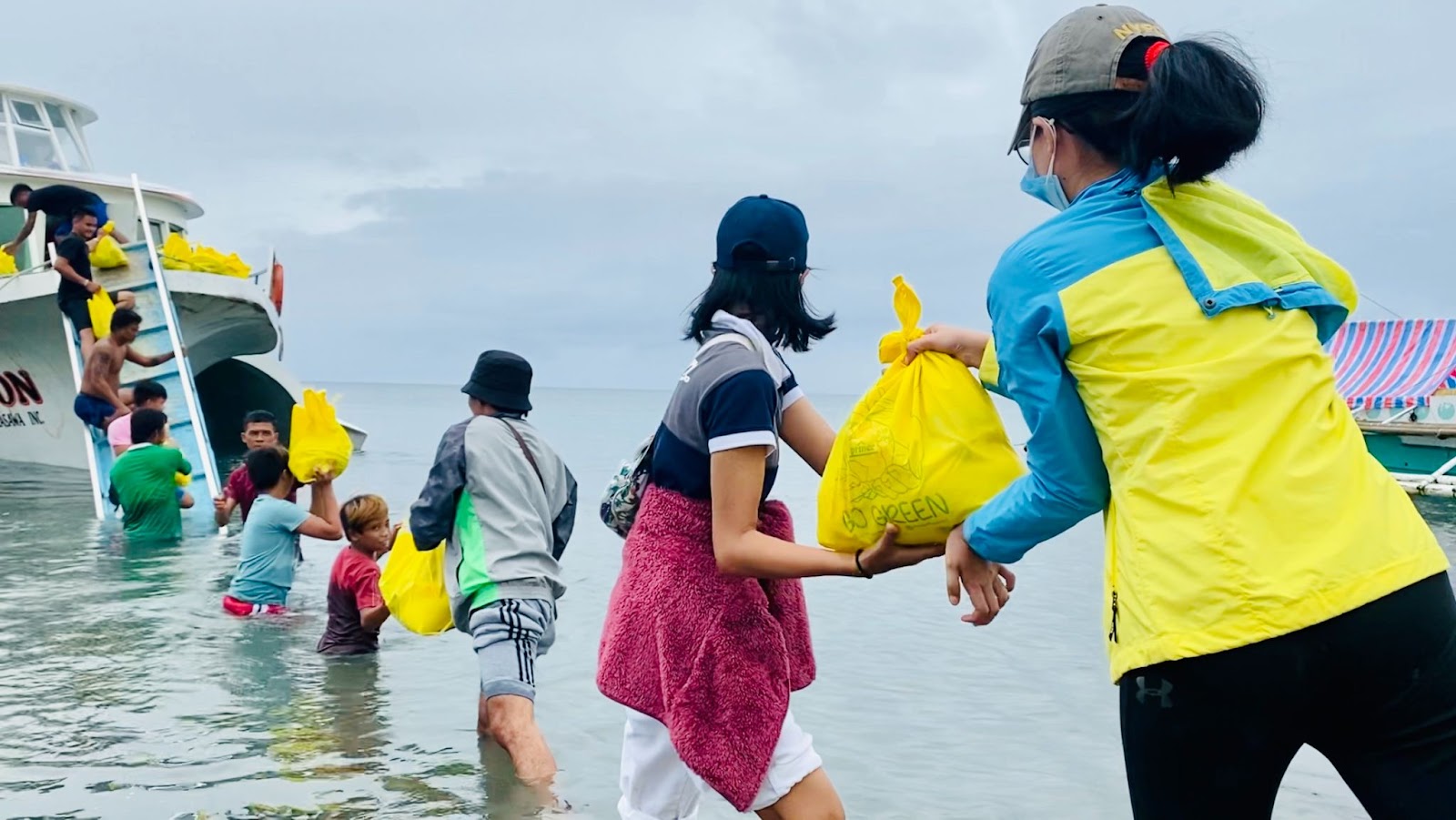 Volunteers from VSU and ADCEP Philippines worked together in transferring 120 food packs and basic hygiene kits to Limasawa using a banca from the Holy Cross Parish.
Unfortunately, this historic island municipality was flattened and severely damaged by Typhoon Odette affecting more than 6,000 people living in the area.
Dr. Ulderico B. Alviola, VSU Integrated Media Center Head and the concurrent ADCEP Philippines President, facilitated the relief operations in Limasawa in partnership with the Holy Cross Parish.
ADCEP Philippines also helped 50 families in Santa Paz, San Francisco, Southern Leyte—a coastal barangay that was reported to have experienced a storm surge that washed out houses made from light materials.
Also, sisters Ea Kristine Clarisse B. Tulin and Edelle Marie B. Tulin who are daughters of VSU President Edgardo E. Tulin, spearheaded a relief operations that raked in a whopping Php340,000.00 worth of cash donations from Japanese and other overseas donors.
Their group partnered with the 802nd Infantry Brigade of the Philippine Army to distribute food packs and other hygiene kits to over 600 families in 6 locations around Southern Leyte.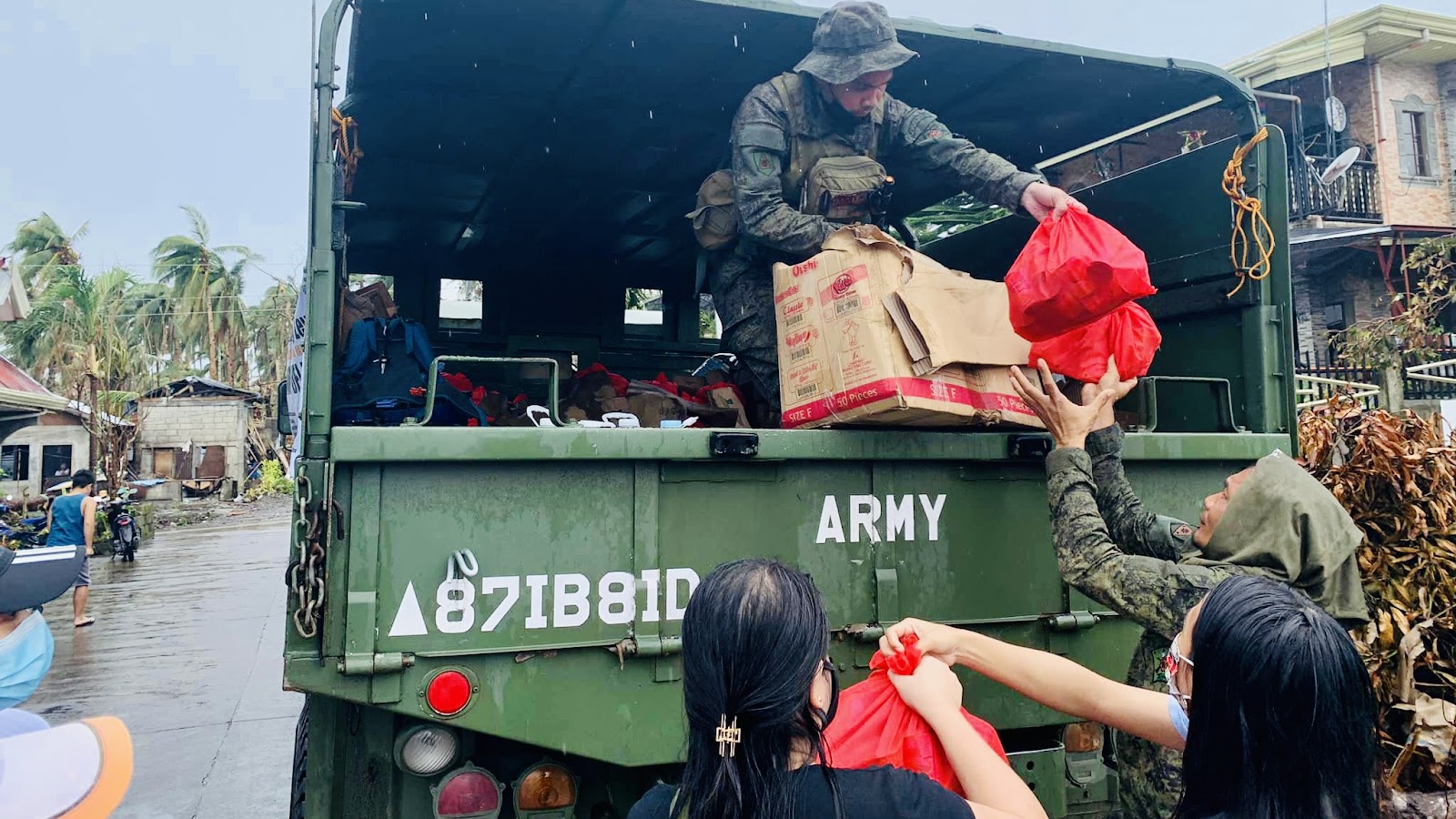 The Philippine Army personnel distribute the relief packs and hygiene kits coming from another independent relief drive led by sisters Ea and Aya Tulin.
On the other hand, the VSU Young Economist Society (YES) in partnership with the College of Management and Economics, ADCEP Philippines, and the Association of Filipinos and Filipino-Australians in the University of Queensland (FilOz-UQ) also worked together to bring in relief items to Bubon, Cabalian, Southern Leyte.
In this donation drive, they collected more than AU$1,000.00 or equivalent to around Php37,000.00 that benefited more than 50 families in the town of Cabalian.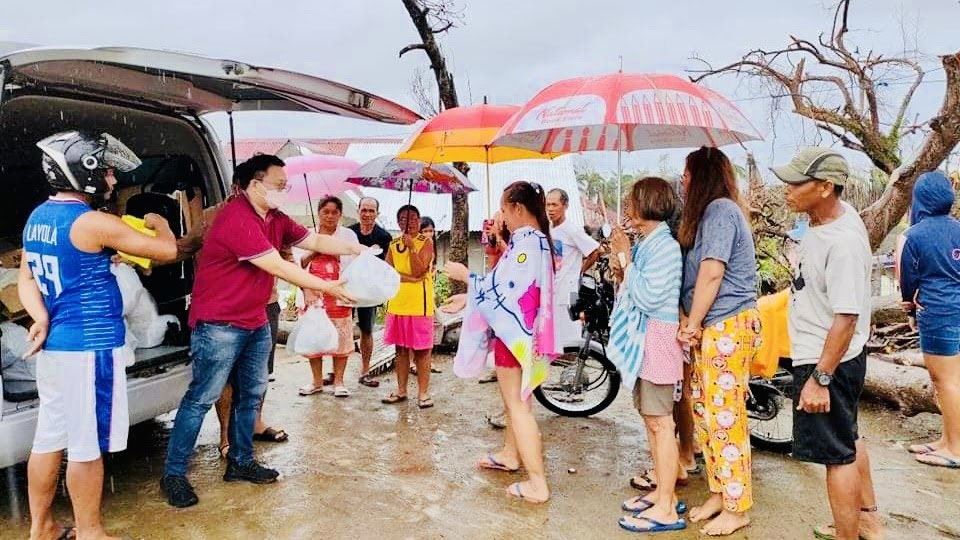 CME faculty Karl Galvez leads the relief operations in Bubon, Cabalian, Southern Leyte.
Another independent relief operation that was facilitated by Viscans was coming from the members of Tau Omega Mu (TOM) fraternity and sorority based in VSU.
Their group was headed by our Chief Medical Officer and resident physician Dr. Elwin Jay V. Yu.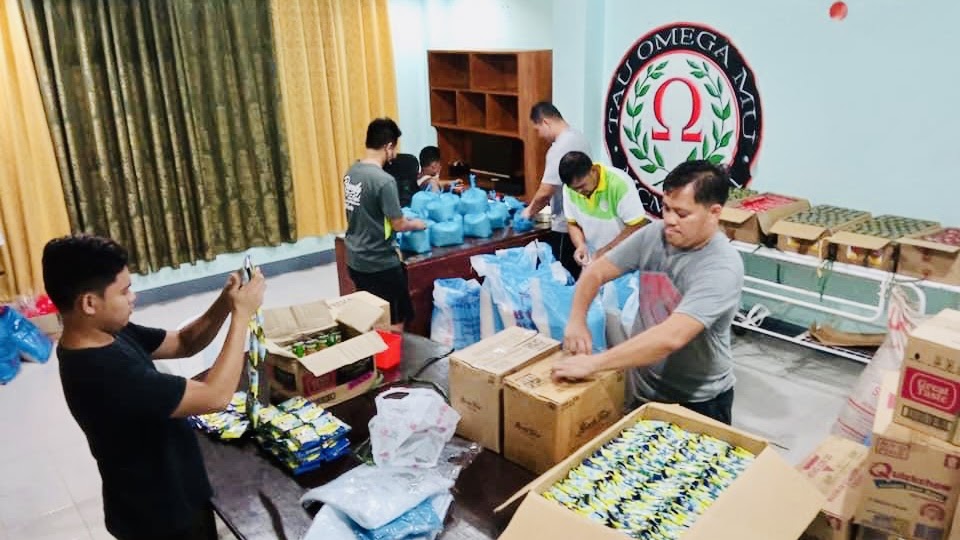 Chief Medical Officer Dr. Elwin Jay V. Yu assists in the repacking of relief items from donations obtained by Tau Omega Mu fraternity and sorority based in the VSU Main Campus.
TOM and Dr. Yu's group were able to collect more than Php179,000.00 that covered 370 households in the towns of San Francisco, Saint Bernard, Macrohon, Limasawa island and Maasin City.
Lastly, VSU faculty and staff who hailed from Sogod, Southern Leyte also initiated their own relief drive to help their fellow Southern Leyteños.
Headed by VSU Web Team staff Shanette Vivien Joy C. Amador, their group collected over Php100.000.00 that went to basic food packs and other important materials for people who have been affected by the typhoon soecifically in the town of Sogod.
But unlike in the other relief operations that concentrated on distributing relief packs, this group also provided financial assistance to families who lost their homes because of Typhoon Odette.
A total of 18 households received Php3,000.00 cash assistance while 75 families received basic food packs and hygiene kits.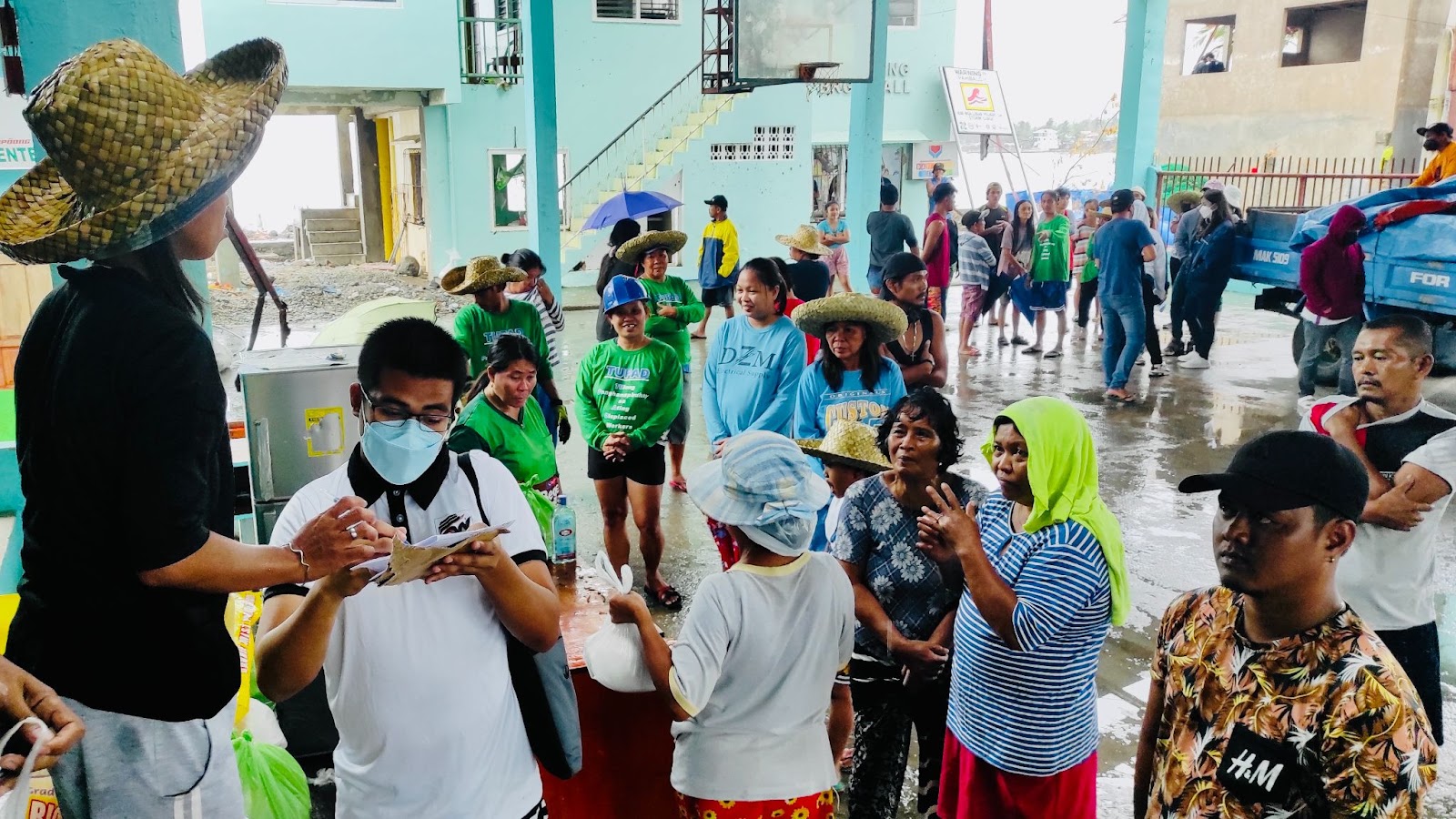 Community people from Sogod, Southern Leyte receive their basic relief packs from the group of Ms. Amador.
With VSU relief operations for our students alongside the many independent donation drives that were initiated by VSU faculty, staff and students intended for the community people, this is a great testament to the spirit of volunteerism and generosity that thrive within the community of Viscans far and wide.